July 25, 2022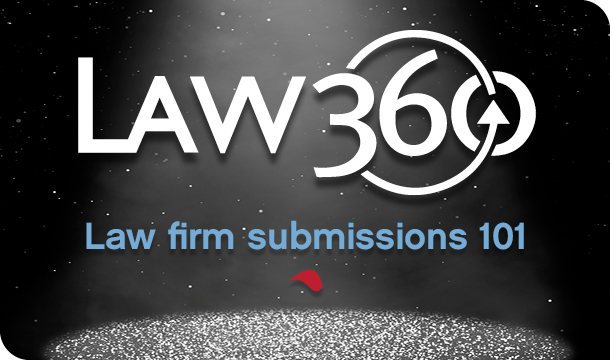 There are more legal rankings and award opportunities than degrees on our summer thermostats.
And while some are legitimate recognitions for your law firm and attorneys, many are money grabs that give way more of an "aWaRdS" vibe — they aren't worth your time and truly don't serve to provide a distinction.
Now, we don't want to come across as too negative. There are many legal awards we highly recommend for clients (Chambers, The Legal 500, Super Lawyers and The Best Lawyers are some of our favorites).
Today we are exploring Law360 awards and rankings, and why we think they are worth the non-billable hours for your firm.
Tell me more about Law360
Sure!
Last year Rep Ink's principal and president Michelle Calcote King chatted with Kerry Benn, Director of Series, Surveys and Data at Law360, on our Spill the Ink podcast (the full episode can be found here).
Most legal professionals are familiar with Law360, but just in case, let me provide some quick context.
Law360 has been covering the legal industry for a long time (17 years, to be precise), and provides a space for legal practitioners to shine. Founded out of a "love of news," Law360 "[tracks and mines] federal litigation" to feature the latest judicial and legal news on their site. Owned by LexisNexis, Law360 has a distinction of having access to tons of information and data.
They pride themselves on getting to news quickly, being the first on the scene. That's why speed is so important when announcing litigation wins — Law360 will likely cover the story before you've had time to write a press release full of important-sounding quotes from all the attorneys involved in the case.
In addition to being data-focused, Law360 covers the human beings behind the lawyers, so to speak. This human interest element has allowed their readership to grow, grow, grow. Lawyers want recognition for the work they are doing, which Law360 provides. The publication also accepts bylined articles, allowing practitioners to publish their own thought leadership articles to be read by peers and in-house counsel.
Okay, what is the deal with Law360 Pulse?
Readers wanted more numbers and more information about the business of law. Law360 wanted to be able to robustly answer the question, "How do I compare to my peers?"
So they did something we don't see often in the 21st century world of journalism: They hired like crazy. Their team continues to grow so they can bring their legal readership the latest in attorney hirings, national salary information, office openings and more.
Their team of journalists and analysts look to answer questions that place attorneys within the context of their peers: Are people going back to the office after COVID? How many hours are being spent on pro bono matters? What are partners being paid at other firms around the country?
Tell me about the awards programs.
Law360 has a couple of awards programs: Rising Star, Titans of the Plaintiffs Bar, MVPs, Practice Groups of the Year, Regional Powerhouses.
Fun fact! Rising Stars is their most popular award program, with approximately 1,400 annual submissions. Regional Powerhouses and Titans of the Plaintiffs Bar receive the fewest submissions, since they are more niche programs.
Every submission is reviewed by three editors with experience in that practice area.
Kerry emphasized in her chat with Michelle that each award submission is viewed within the context of other submissions. Even if your submission is beautifully articulated, it doesn't exist in a vacuum. It's going head-to-head with other submissions, ThunderDome style. So keep that in mind when drafting! Especially since there are only five winners per category.
Why should we participate in the awards program?
Law360 doesn't sell ads (it's a subscription-only platform), so pay-to-play isn't an option, lending recognition on the platform substantial credibility.
They also welcome firms of all sizes. So don't let your attorney headcount stand in the way of submitting.
Another facet to keep in mind: Law360 wants to tell the most interesting stories from a variety of perspectives. So if you have submissions that feature diverse attorneys, female leaders, the plaintiffs' side – they want to hear it! These aren't the deciding factors on whether a firm is selected as a winner, but the publication gets excited to feature a wide breadth of stories.
If you are looking to provide either your firm or attorneys with a distinction that sets them apart from peers, Law360 is a Rep-Ink-approved submission.
Ways to strengthen my submission?
So glad you asked! Kerry enthusiastically shared with Michelle what makes submissions stand apart, as Law360 wants to award the best of the best.
When submitting, keep in mind:
When the final submission question asks, "What else should we know?" – don't copy and paste bio information. Rather, throw some more meat in there. Are there any other noteworthy matters currently underway? Is the featured attorney also the head of the diversity committee? Give the submission committee more to chew on by not wasting this space.

With the quantity of submissions received, Law360 does no supplemental research. So if it's not in the submission, it's not being considered. Be thorough.

While their focus is recognizing the best submissions received, Law360 also wants to tell an interesting story to their readers. Focus on narrative. What makes your work unique? How is it engaging? Did something happen in a time crunch?

Are there common submission pitfalls?
While it's nice to have some tips and tricks, there are also things to avoid:
Don't include confidential matters. If you are working on a really impressive case but can't share any of the details, don't include it. If you can't provide meat for a good story, it's not worth the submission time.

Focus on demonstrative wins. The case doesn't necessarily have to be a wrap, but don't fill a submission with matters that are too new or ongoing. If something exciting is in the works, bookmark it to submit next year. If you're getting internal pushback on holding to submit, remind your team that Law360 wants you to wait until the work is as close to complete as possible. (Or have them listen to the podcast episode so they can hear it themselves!)

Be mindful of the space provided. It's limited, so being a succinct storyteller is key. Omit boilerplate language and get to the good stuff, fast.

Get the appropriate clearances before you submit. This is a common tripping point, so head it off at the pass!

How can my legal PR agency help?
Great question! As mentioned above, narrative is key to clenching a Law360 award win. As is quickly getting to the meat of why the work is award worthy (and why Law360 should want to publish it). Working with seasoned legal PR professionals (who are well-versed in drafting award-winning submissions) can help polish your firm's work so it shines appropriately.
As always, if you have any questions about legal rankings and submissions, feel free to reach out! Are there any award programs you'd like us to explore? Let us know in the comments!