October 29, 2021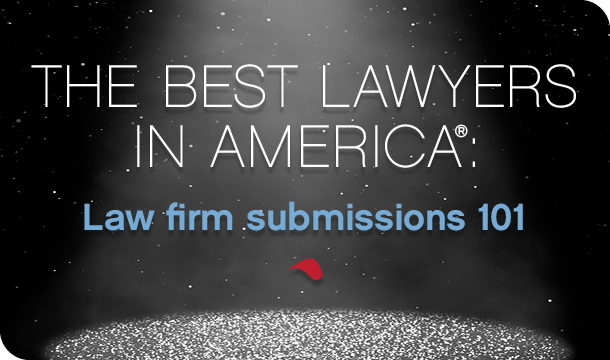 We love legal rankings.
Well. Let me rephrase.
We love legal rankings that are worth your time, and also carry credibility when awarded.
Recently, we did a deep dive into why we are fans of Chambers..
Another legal ranking we recommend? Best Lawyers®.
On our Spill the Ink podcast, Michelle chatted with Elizabeth Petit, Director of Research and Development, and Managing Editor at Best Lawyers. I listened to their conversation a few times (because I'm a big fan of the podcast and it was chock-full of incredible information), and have boiled down the highlights for you here!
*pop popcorn, reheat coffee, let's go*
What is Best Lawyers?
What a great place to start!
Best Lawyers is recognized as being one of the oldest and most respected peer-reviewed publications in the legal profession. It has evolved over the years, from a 1980s hard copy to the digital publications of today.
In its early days, Best Lawyers took the pulse of the industry and realized that, when individuals needed a lawyer, in a best-case scenario they would ask an attorney for a recommendation. This peer-review element has been a part of Best Lawyers from the beginning.
And that's one of the distinguishing factors of Best Lawyers. It doesn't call for a lengthy submission. They don't want your case matters, or even your bio. Once you're nominated, all that matters is the voting and peer review.
That peer-review process is what makes Best Lawyers different from Chambers and Super Lawyers. The latter two develop rankings looking at a different set of data points. Best Lawyers just wants to know how your peers view your work.
Ready, set, nominate!
First things first: Firms can self-nominate. And there is no limit to how many attorneys you can nominate. However, they recommend only nominating in three practice areas to keep the pool as undiluted as possible.
For Best Lawyers, the publication wants attorneys who have been in practice for a decade and prefers attorneys who have made partner. These credentials are not required, per se, but it is the standard against which attorneys are measured. Plus, it ensures the attorney has enough name recognition to make an impact on a ballot.
For Ones to Watch, however, Best Lawyers is taking into account your younger, less experienced attorneys. This recognition targets attorneys earlier in their career. For this nomination, Best Lawyers is looking for (though not requiring) attorneys who have been in practice for at least five years and are senior associates. 
Note for the wise: Ones to Watch is not a direct feeder program into Best Lawyers. Rather, it is an opportunity to highlight attorneys earlier in their careers.
Let's talk about this peer review a little more.
Let's!
Best Lawyers spends a lot of time customizing voting ballots for attorneys. That's right. In order to get the best information, they want to ask attorneys to peer review attorneys they actually know.
They want to put the most likely candidates in front of a voter, so the ballots are specialized based on practice area and market. It's an incredibly refined process created to get the best information possible.
The ballots ask voters, "If you were unable to take this case, how likely (on a scale from 1 to 5) are you to recommend this attorney for that case?"
The voters for these customized ballots are other recognized private practice attorneys.
Best Lawyers does have an advisory board that includes almost 500 leaders from around the world, including managing partners of major firms and corporate lawyers. And while the advisory board is tapped for various research initiatives, they aren't a part of this peer-reviewed voting process.
Things to know about voting season
So, when it's time to cast your vote, what are some things you need to know?
The first part of the ballot is candidates outside of your firm. Next, feedback on competitor firms. Finally, the colleague section!
Votes are not weighed equally for internal versus external candidates. Rather, the internal feedback is most helpful for those candidates who are on the border of being ranked or not.
Marketing directors! When voting is happening, get your attorneys to vote. More data makes the awards more accurate and it's how people make the list.
My attorneys are ranked, but they want to be Tier 1, ya know?
For sure.
Beyond the "continue doing good work" vibe, Best Lawyers is very open about chatting with attorneys. If attorneys at your firm are displeased or confused by their ranking, reach out to Best Lawyers to chat!
They recognize that the market won't necessarily reveal the best attorneys and law firms organically. Especially if you're a great attorney who isn't networking, or the nature of your practice is top secret. Best Lawyers wants to know if they're missing the bar (…get it?).
Talk to Best Lawyers. Look at who your nominations are and who is making the list. If something doesn't seem right, ask! Best Lawyers is game to ask voters for more feedback. They also have a lot of data they can share with your firm to help understand the rankings.
Best Lawyers v. Best Law Firms
In addition to its peer-reviewed lists of esteemed individual attorneys, the publication also runs Best Law Firms in conjunction with U.S. News & World Report. This recognition ranks firms as a whole.
Best Lawyers feeds into Best Law Firms.
(Excuse my proper nouns, but I think it helps execute my point!) In order for a firm to be eligible to be a listed in Best Law Firms, the firm must have at least one individual recognized Best Lawyer. And your eligibility as a Best Law Firm ties into your Best Lawyer's practice area.
For example, if you have an M&A attorney ranked in Houston for Best Lawyers, the firm is eligible for being recognized for M&A in Houston. Once eligible, you will be asked to submit more information to be listed as a Best Law Firm.
What will they want to know? Not a lot, but enough so you can flex that you really are the cream of the crop. The publication relies heavily on what lawyers say about firms, as well as what clients say about firms.
The law firm demographic survey wants to know a little bit about your firm. Plus, it shows the publication you're interested in being ranked if you're willing to give them as much information as possible. If your competitor shares a ton of information about their pro bono efforts and diversity initiatives and you stay … silent, well, that doesn't help Best Law Firms. They know you're busy and there's a lot of noise out there. But if you're serious about being ranked, a little information goes a long way!
They do ask for client referrals to provide feedback about your firm's work.
For client referrals, just like Chambers, make sure you are submitting clients who you know will respond. Best Lawyers is super communicative about the client feedback portion of the submission, and will even provide you with a live link to show which clients have and haven't responded. The publication will even let you know when they are going to reach out to your referrals in case you want to flag for clients that outreach is coming.
However, Best Lawyers is not in the business of pissing off your clients. They only send out one request to your referrals to submit data. After that, it's up to you to make sure everyone has filled out what they can to give your firm the best shot at a ranking.
Can I pay to play?
Nope.
Does firm size play a role?
It doesn't!
In Elizabeth's interview with Michelle, she reported that, the last time the American Bar Association released demographic information on firm size, Best Lawyers compared that data to rankings in their system, and it all aligned. (Meaning, if 20% of all law firms in the country are considered small or solo, Best Lawyers found that 20% of their rankings went to small firms or solo practitioners.)
Remind me again why legal rankings matter.
Let's pretend I've convinced you that Best Lawyers is one of the legal rankings worth their salt, and your friendly legal PR agency recommends you participate. Great. But why do law firms care about legal recognition?
Because it's credibility and validation. When a company is looking to hire a firm, quality legal rankings like Best Lawyers provide a feather in your attorney or firm's cap, and may be the distinguishing factor when looking at a shortlist of attorneys in the same area and practice group.
So if you are ranked, promote appropriately! (And make sure you're promoting the right way, per their publicizing guidelines.) How you tout the honor will depend on your marketing goals, but investing in Best Lawyers profiles can impact your law firm's SEO as well as make a difference if you're targeting new business efforts in your local market. If you need help navigating next steps once you win, your legal PR specialists are happy to help!
Timeline!
For the United States, you can nominate at any time. However, the timing of your nomination will determine when those nominees show up on ballots.
Looking at the 2023 Best Lawyers timeline:
December 10, 2021 – Deadline to submit nominations
February 14, 2022 – Voting begins
April 29, 2022 – Deadline to vote
July 12, 2022 – Embargoed release of the 2023 edition
Another note for our in-house marketing friends: You will receive an email a few days before your attorneys, letting you know everyone's rankings. This way, you won't be fielding frantic emails the day the information is released. Well. You might. But you'll be prepared ahead of time!
Thank you for joining us on another deep dive of legal rankings we think take the cake. Do you have a specific legal ranking you would like to chat about? Let us know!