March 2, 2022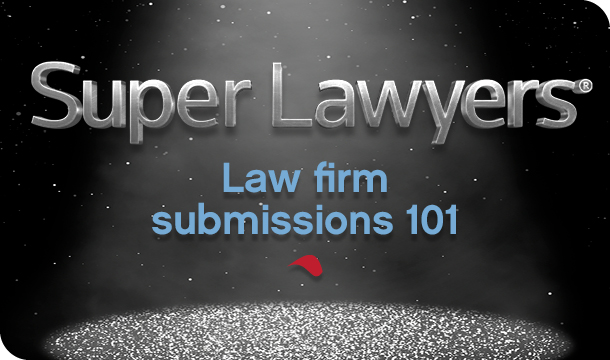 After a brief hiatus to cover all things LinkedIn company pages, we're returning our focus to our "law firms submissions 101" series, where we review everything you need to know about the top legal rankings and awards programs. 
When we last left our heroes, we had just learned all about Chambers and the nitty-gritty details covering the lengthy submission process, as well as the ins and outs of Best Lawyers.
This month we are investigating (dramatic drum roll pleaseeeee) Super Lawyers!
What is Super Lawyers?
There are plenty of rankings, awards, gold stars, you name it, surrounding the legal sector. While there is a lot of rough out there, Super Lawyers is a diamond we recommend clients consider.
Super Lawyers ranks attorneys by state, and they are looking for attorneys to nominate other "top lawyers they have personally observed in action, whether as opposing counsel, co-counsel or through firsthand observation in the courtroom."
Super Lawyers wants you to have witnessed another attorney put on their legal cape and flex their super attorney muscles, so to speak. Don't think about reputation; think about who has impressed you in person. 
How do I play?
Great question!
Keep a close eye on your state's nomination cycle. Then, when the time is right, get to it!
Super Lawyers is pretty proactive in outreach; any attorney who has been licensed for five or more years will receive an email invitation to nominate. Didn't get invited to the party? RSVP here to get access.
Practicing attorneys: To nominate an attorney for Super Lawyers, log in to the site during your state's nomination cycle and get to nominating. 
You can nominate up to 21 attorneys:
Seven of whom can be in-firm
Seven of whom can be out-of-firm
Seven Rising Star candidates (Rising Stars "must be either 40 years old or younger, or in practice for 10 years or less")
Friendly note: Self-nominations are not accepted. And no campaigning! Super Lawyers does not encourage friendly "Hey, plz nominate me, thx" vibes.
Super Lawyers takes this very seriously. Which makes sense, given that they are one of the few trusted rankings in the legal world and want to stay that way.
They won't tell you who nominated you, but they do track all nominations to safeguard against "you nominate me, I'll nominate you" energy. They also confirm that attorneys from the same firm don't cast identical ballots. Moral of the story: Don't try to game this system.
Non-practicing attorneys: To nominate, email sl-research@thomasreuters.com on why an attorney should be considered for ranking. NOTE: These friendly flags carry no point value, but "ensure that the attorneys are placed in our candidate pool for further evaluation."
Another form of nomination that has no point value? Nominations for attorneys in different states than where you practice. These nominations are treated the same as nominations received from non-practicing attorneys.
How are nominations scored?
What a nuanced, wonderful question!
You are right in thinking that nominations carry different point values based on who is doing the nominating.
And you're right in thinking that if a nomination comes outside your firm, it has "a significantly higher point value than nominations received from lawyers in the same firm."
If a nomination comes from another attorney within your law firm, it is counted "only if an equal number of lawyers or greater number of lawyers outside your firm are nominated."
So, don't think you can log in, nominate seven attorneys in your firm and scoot on out. That won't fly.
Those seven colleague nominations will only count if you also nominate seven attorneys from outside your firm.
Once nominations are submitted, Super Lawyers gets to ranking. They use "nominations, independent research and peer evaluations" to develop an attorney's final grade.
For their research process, Super Lawyers has an "attorney-led research staff" to ensure the cream of the crop makes the rankings list. They especially look for "lawyers who have attained certain honors, results or credentials" that speak to a high level of competency in a particular practice area. The Super Lawyers research team also does their due diligence to make sure no one is left off their list who should be included, such as:
Attorneys with nationwide presence (and without a strong state home base)
Attorneys from either small firms or small communities
Attorneys who work in "less visible or highly specialized practice areas"
All attorneys considered for ranking are judged against the below 12 criteria:
Verdicts/settlements
Transactions
Representative clients
Experience
Honors/awards
Special licenses/certifications
Position within the law firm
Bar and/or professional activity
Pro bono and community service
Scholarly lectures/writings
Education/employment background
Other outstanding achievements
Peer evaluation comes next.
Attorneys with the highest points in each practice area then go on to help Super Lawyers determine if remaining candidates should be included in the rankings. The final selection is made up of the 5% of attorneys from each state being chosen for Super Lawyers.
Timelines
Timelines vary state to state. Your PR agency should be keeping you apprised of all relevant dates for your firm. (Need one of those? I got ya.)
Make sure you are paying attention to the data verification date. If nominated, you are responsible for ensuring all the information on your profile is accurate within the allotted time frame.
Can my PR and content marketing agency help?
Gold-star question!
With Super Lawyers, not really.
In terms of actually ensuring you receive nominations from attorneys to make you Super Lawyers eligible, there's not much your agency can do to help.
*Big "However* – Having a law firm public relations agency on hand throughout the year to maximize the visibility of your wins and thought leadership is definitely a great strategy to ensure researchers quickly and consistently come across why you are awesome.  
Teacher's pet edition: Best practices
Bear in mind that being listed (or not) one year has zero bearing on whether you will be listed (or not) in subsequent years.
By the way, Super Lawyers offers this suggested language for your press release announcing the honor, but if you have a PR agency, they've got you covered.
Yes, Super Lawyers can seem … intimidating. There's really no strategy for being listed other than being the cream of the crop in your state and practice area.
That being said, it is worth repeating that having an in-house team or PR agency that is able to consistently highlight your wins and provide media opportunities for you to flex your expertise is a great way to be seen as a leader in your field, which helps when fellow attorneys are thinking of who comes to mind for nominations.