August 30, 2021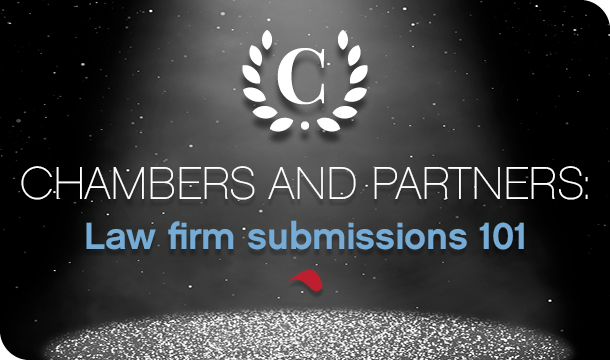 Chambers.
Does the very sound make you want to hide under your desk and weep into a lukewarm cup of tea?
At the risk of veering into melodramatics, the Chambers submission is a big deal for law firms. Not only is it considered one of the most weighty of law firm recognitions, but it takes a lot of time to put together.
So why bother?
What is Chambers and should we do it?
(Friendly heads up from your neighborhood legal PR agency: I am specifically referring to the annual Chambers USA rankings; they do have international rankings as well.)
Chambers is an award submission put together by Chambers and Partners that ranks the best of the best in law firms. It's exclusive and based on technical ability and client service.
There are six bands in Chambers, with the first band being the highest form of recognition.
Chambers is a big deal. Firms can spend upwards of 60 hours on a single submission. Is it worth it for your firm?
If a Chambers ranking fits into the big-picture plan for your firm, let's do it! The ranking lends third-party credibility to your attorneys, and provides an avenue for showcasing the amazing work done at your firm.
But, do keep in mind, if you want to keep that ranking year over year, Chambers will become an oh-so-fun annual event. It's not a one-and-done deal. Instead, Chambers is like the aunt who is emotionally taxing at Thanksgiving. She's so much work, but man oh man does the reward of her mashed potatoes make her presence worth it.
There is no limit to the number of nominations a firm can submit, but really be mindful. Given the robust nature of the submission, really swing for the practice areas in which you think you can score a ranking.
Okay. I'm sold. Our firm would benefit from a Chambers ranking. What now?
The Chambers 2022 schedule is live and ready to go.
Before you sharpen your pencils and clear your calendar, a few important things to note:
– Plan ahead. Chambers is not for the procrastinators in the group. It's for the highlighter wielding, Type A, already-done-with-holiday-shopping humans among us. Make sure you have the time and capacity to submit on time.

– Please also make sure you are submitting to the correct practice area. For real. This seems obvious but is a common misstep! Make sure the work examples you are submitting to support your argument fit in the practice group for which you are trying to rank.

– The researchers also prefer narratives when you are laying out your cases, not bulleted lists. Tell the story of why your firm rocks, rather than just assuming the judges will make that leap automatically.

– Fill out the submission properly. Again, this is not me being patronizing. This is a speed bump for a lot of submissions. 

– Use the space for all 20 matters allotted on the submission. Ten matters should be public, the other 10 can stay confidential. And don't just give a basic, blah summary. Come on! It's time to shine, baby! Emphasize why these matters are important or unique or especially noteworthy. 

– Make sure the client referees you're submitting have been warned and are communicative. Client referees are highly important for being ranked. Make sure your referees know a call will be coming from Chambers.

– Fill out the B10 section entirely — and don't fill it with marketing fluff or a reiteration of attorney bios. Take it seriously as another opportunity to emphasize why you should be ranked.
But, like, I have a day job. How can I get this done?
We see you. And we have a day job too: helping firms with legal award nominations like this.
An in-house professional is of course more than capable of handling a firm's Chambers submission, and is probably incredibly effective at tracking attorneys down for submission details.
However, an agency is nothing to scoff at. I know it's hard to take me super seriously when I'm saying this to you from an (award-winning) agency.
The benefit of working with a legal-focused agency is that we're familiar with what Chambers is looking for. We have the benefit of looking at the submission similar to how a Chambers researcher will, as someone not intimately familiar with the workings of the case but with enough legal knowledge to understand impact. Having a slightly removed yet savvy perspective is incredibly beneficial for these types of submissions.
We hope that helps answer questions surrounding Chambers. If you'd like to learn more or chat with us about potential submissions for your firm, we're here to help!

And if you'd like a monthly update of the latest legal PR opps and awards we are keeping an eye on (including Chambers), sign up here.