March 19, 2018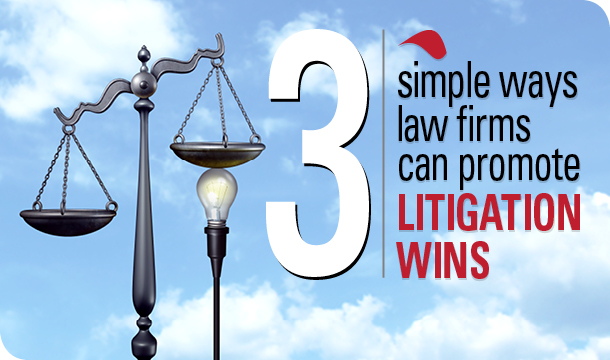 For litigation firms and practice groups, promoting your wins can be an uphill battle. Client confidentiality, multi-year timelines, last-minute rulings, and complex legal ideas and maneuverings make litigation promotion a unique art form.
High-profile cases require proactive media relations
Sometimes, litigation is high-profile and requires a proactive, ongoing effort to manage the public narrative as litigation unfolds. In this case, your PR team builds relationships, tells your side of the story in plain language, explains complex legal ideas and builds trust with reporters covering the story.
Not all litigation is media worthy
However, not all litigation is high-profile or media worthy. Or, clients' concerns about confidentiality prevent any kind of public relations until a favorable outcome is obtained.
In these cases, how can law firms showcase their prowess in obtaining victories on behalf of their clients and stay top of mind with prospective clients who face similar business risks?
First things first: Get client approval
I know, this seems obvious, but you would be surprised how often this is overlooked. Ask the client early on, and be sure they know you have their best interests in mind and will not release anything without allowing them to first review and approve it. Once you have the client's go-ahead, you're ready to get started.
1. Implement an email marketing strategy
Email marketing is one of the most effective — and underutilized — marketing strategies available to law firms today. Why? Because you are targeting the most fertile ground for referrals: your existing clients.
Note: Sending out mass emails in Outlook does not count. Not only is it ineffective, but it will get you blacklisted, and it violates the Federal Trade Commission's CAN-SPAM rules, among other things.
By periodically emailing your network of clients, partners, vendors and other connections, you'll stay top of mind and remind them of your experience, value and litigation skills, and you'll be the law firm they turn to when they — or someone in their network — has a need for your services.
What do you email them?
A brief synopsis of your case win. And I mean brief — simple and to the point. If this is all you have, that's great. Simply send an email about your case. However, you can also include:
Any upcoming changes in the law that may affect clients, with your take on the change
Firm news — new hires, pro bono efforts, awards, etc. (limit this and keep it brief)
News articles the firm has been mentioned in
Client testimonials (in compliance with Bar advertising ethics rules)
If you blog, your most recent blog posts
How do you start?
Choose an email marketing system

. We use SharpSpring, a comprehensive marketing automation system, which includes email among other tools. However, there is a wide array of email systems you can choose from, such as MailChimp and Constant Contact.
Import your contacts

. Get them out of your Outlook contact files and business card stacks.
Segment your lists by client type

— industry, role, etc. The more segmented, the better. This means you'll be able to send more targeted, personalized emails. For example, if you just won a case involving the agriculture industry, and you have an email list of agriculture industry contacts, you can send that email to those contacts only.
Create an HTML template

. Don't overdesign it — in email marketing, less is more. Include your firm's logo, brand colors and plenty of white space. Research demonstrates that understated, simple email design is much more effective, and often plain text can be the most effective. Flashy design can come off as salesy, especially in the legal industry.
Start emailing

. How often should you send emails? According to digital marketing consulting agency Newfangled's research, firms who send at least three to five emails per month to their full list of at least 3,500 contacts enjoy better email performance across the board.
2. Notify trade media
While the case might not be Wall Street Journal-worthy, it's likely of interest to trade publications that clients in that industry read religiously.
Today's trade media outlets have been revolutionized by the internet in the same way that national media outlets have. News moves fast, and so must you. (Click to tweet)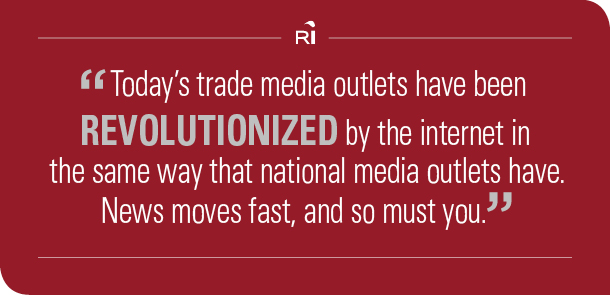 As soon as a ruling is reached, don't spend precious time writing a lengthy press release that gets picked apart by every single attorney involved in the case. Instead, immediately:
Send a notice of the ruling along with supporting documents to relevant reporters
Let reporters know your attorneys are available for interviews
You can then follow up with a formal press release for less time-sensitive publications, your website and social media. By respecting the two-way street with reporters and executing quickly, you create a win-win situation that launches your firm into the spotlight.
In addition, consider the win for legal trades such as Law360, American Lawyer, The National Law Journal and regional legal publications. Many feature "Litigator of the Week" columns.
3. Share the news on LinkedIn
If you are one of the few lawyers or law firms not on LinkedIn, you are missing out on the party. When you think of LinkedIn simply as a modern, interactive Rolodex, you can see its power. It is literally the world's Rolodex.
Not only can you see a person's work history, but also the college they attended, articles or posts they've written what professional connections you have in common, organizations you both support, and much, much more.
Use the summary that you wrote for your press release and share an update about the win. The key with LinkedIn is to ensure that the individual lawyers throughout the law firm share the update from their own LinkedIn profiles. LinkedIn is a peer-to-peer networking tool, and individual lawyers' networks are a goldmine.
By sharing a link to the press release about the win, lawyers will keep the firm top of mind with their networks and educate their connections about the firm's work. You can first share the update to the firm's LinkedIn Company page, then encourage the lawyers to share that update to their networks. It's as easy as clicking the share button.
Have you had success promoting your litigation wins with these or other tactics? Send me an email at michelle@rep-ink.com