April 4, 2022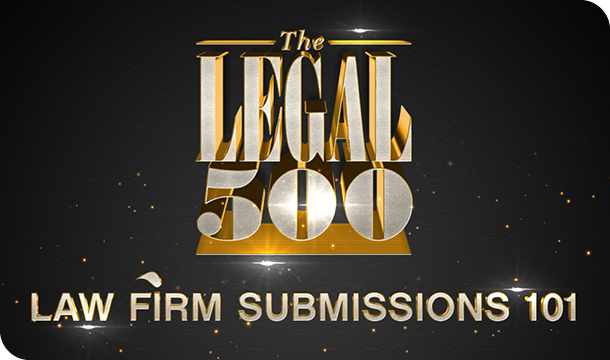 We're backkkkkkk.
I mean, we're no Euphoria but the Rep Ink office hotline gets frequent (and sometimes frantic) buzz regarding which legal rankings and awards are worth the time and how in-house marketers can best set up their firms for recognition. 
Last we left our heroes, we had chatted in depth about Chambers and Partners, Best Lawyers and Super Lawyers. 
Today's star is The Legal 500.
And it's … very similar to Chambers. So similar that, if you're already doing Chambers, we definitely recommend you consider also throwing your hat in the ring for Legal 500.
Warm up your coffee 'cause here we go!
Help me get my bearings
The Legal 500 ranks law firms by practice area and then subgroups within that practice area. Similar to Chambers, Legal 500 relies on interviews with practice group leaders and client referees.
Not all firms who submit to Legal 500 will be asked for an interview. Rather, they rely heavily on the written portion of your submission as well as your client referees.
Remember, an important aspect when considering which referees to list: Make sure the client referees you're submitting have been notified and are communicative. Client referees are highly important for being ranked so make sure yours are prepared for potential interviews with Legal 500.
Best practices for submissions
The Legal 500 wants to come to you.
In order to receive an invite to submit, you first have to request login details (which can be done here). Pre-register as soon as you know your firm is interested to get the ball rolling sooner rather than later.
The Legal 500 recognizes that they are very similar to Chambers.
So similar, in fact, that they encourage use of ConvertNow, which can transfer your Chambers submission to your Legal 500 submission. 
Have your Chambers submission ready, and it's off to the races.
But what if we don't do Chambers?
Great question!
If you aren't using a Chambers submission as your North Star to lead you through Legal 500, we recommend you plan ahead for this submission. Like in a big way.
They ask for a lot of information, from aforementioned client referees to case round-ups (both confidential and public). Be prepared to spend some time putting this submission together.
Which begs the question …
Is The Legal 500 worth my time?
Well, it depends.
If your marketing initiatives include more firm rankings and recognition, Legal 500 is one of the handful of legal submissions Rep Ink recommends. And there are a lot of legal recognitions, awards and lists out there. So we do try to really separate that wheat from the chaff.
However, if your firm is currently focused on business development through other avenues (increased thought leadership, updated bios, focused public relations efforts), then this probably isn't the strongest use of your time.
Timeline for submission
Similar to Chambers, Legal 500 has different due dates depending on what practice area you are submitting for. The research schedule for the United States can be found here. 
How can my content marketing and PR agency help?
Another great question!
Since it is not guaranteed that law firms will be asked to interview with Legal 500, your written submission needs to be as charismatic as possible. And while many lawyers pride themselves on their ability to write (and for good reason), there is a big difference between legal writing and legal PR writing. (And I'm not just saying that cause it's our whole job.)
Legal PR writing requires a nuanced understanding of both the legal world, as well as what journalists and award judges are looking for.
Like I've said in other blog posts in our legal award series: An in-house professional is of course more than capable of handling a firm's Legal 500 submission, and is probably incredibly effective at tracking attorneys down for submission details.
However, a legal PR agency is nothing to scoff at. I know it's hard to take me super seriously when I'm saying this to you from an (award-winning) agency. 
The benefit of working with a legal-focused agency is that we're familiar with what the publication is looking for — and this is, like, our 1,000th rodeo. We bring years of experience and the benefit of looking at the submission similar to how a researcher will, as someone not intimately familiar with the workings of the case but with enough legal knowledge to understand impact. Having a slightly removed-yet-savvy perspective is incredibly beneficial for these types of submissions.
We hope that helps answer questions surrounding The Legal 500. If you'd like to learn more or chat with us about potential submissions for your firm, we're here to help!