November 20, 2019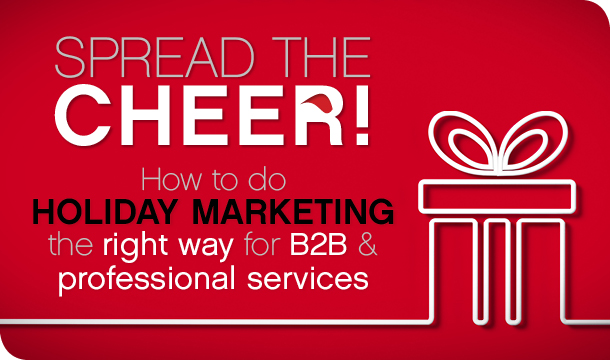 Ah, the holidays. A time when we're surrounded by warm wishes, those we love — and a never-ending sales pitch to get us to spend, spend, spend. The holiday fervor seems to start earlier every year, too (I swear I saw toy Santas alongside the American flags in one store this past July 4th).
This is the noisiest time of year in consumer marketing, with brands of all kinds clamoring for attention. So why would B2B companies and professional services firms — which have much different sales cycles — choose to enter that fray? Wouldn't it be best to just lie low and go big in January?
Unfortunately, that would mean disappearing from view for weeks, maybe even a couple of months. In today's connected environment, that can be a death blow when you're trying to maintain a consistent brand.
Done tactfully and in line with the spirit of the season, holiday marketing for B2B companies and professional services firms can help you maintain awareness while leaving a warm feeling behind that clients and prospects will remember all year long.
Some inspiration: Rep Ink's past holiday campaigns
Our agency has long prioritized holiday marketing. Our approach is to make these campaigns a gift, bringing entertainment and joy to our clients, prospects, friends and partners.
These projects do, however, showcase our team's creative talents and mad content skillz at the same time. They're on-brand with our agency's slightly irreverent (some would say cheeky) approach and culture. And, we send the message that we understand what it's like in the trenches, so here's something to make you laugh.
We've done this many different ways over the years:
2014: A Christmas content marketing story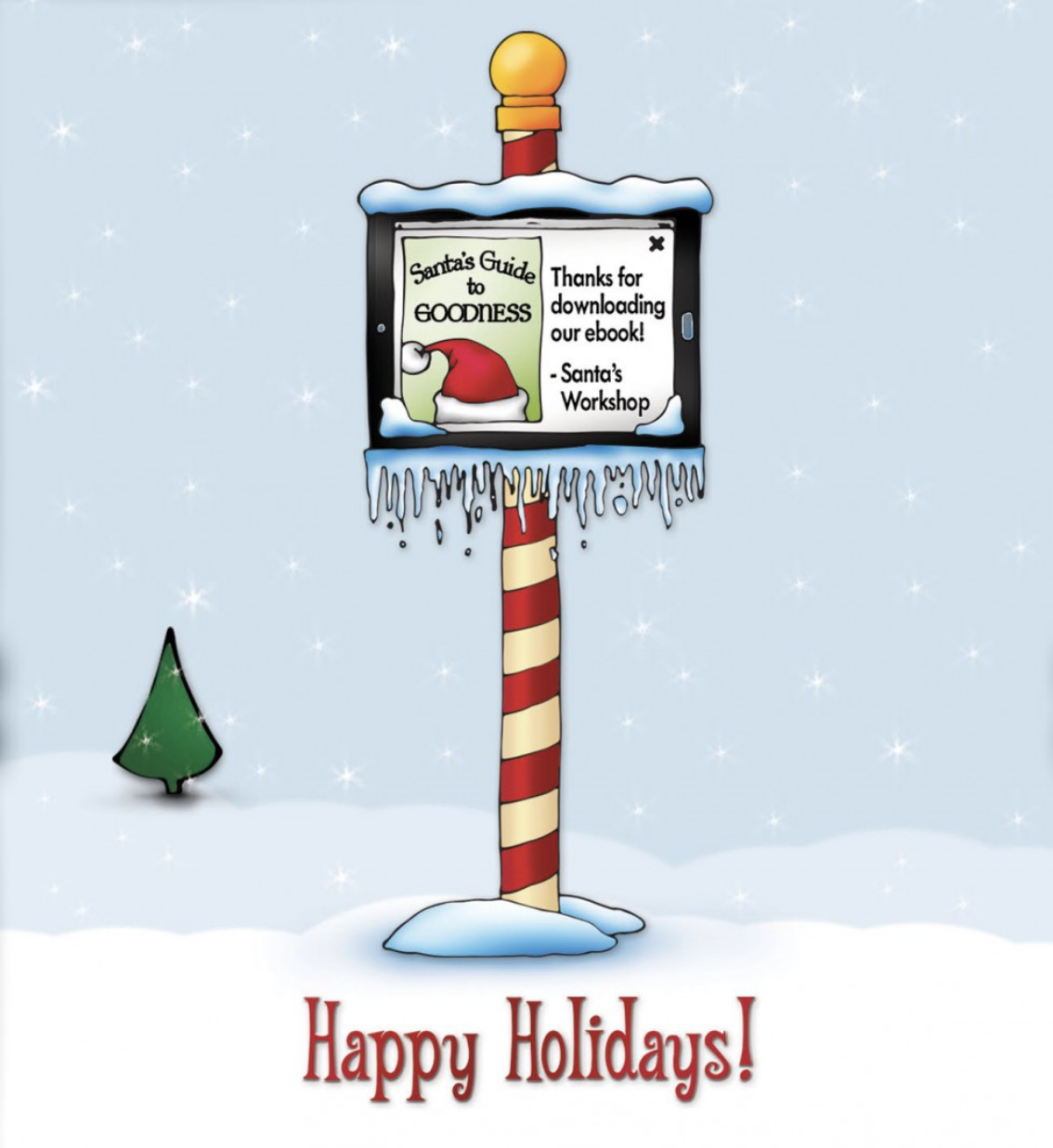 In 2014, content marketing was still relatively new and not as understood as it is today. For our holiday card that year, we told the story of a little boy named Timmy who used content marketing tactics to communicate his Christmas wish list to Santa. Using creative writing and graphics, we explained how Timmy's content marketing strategy — versus old marketing tactics — helped him reach Santa and earn the top spot on Santa's nice list.
2015: Crimes Against Content: The content marketing & PR party game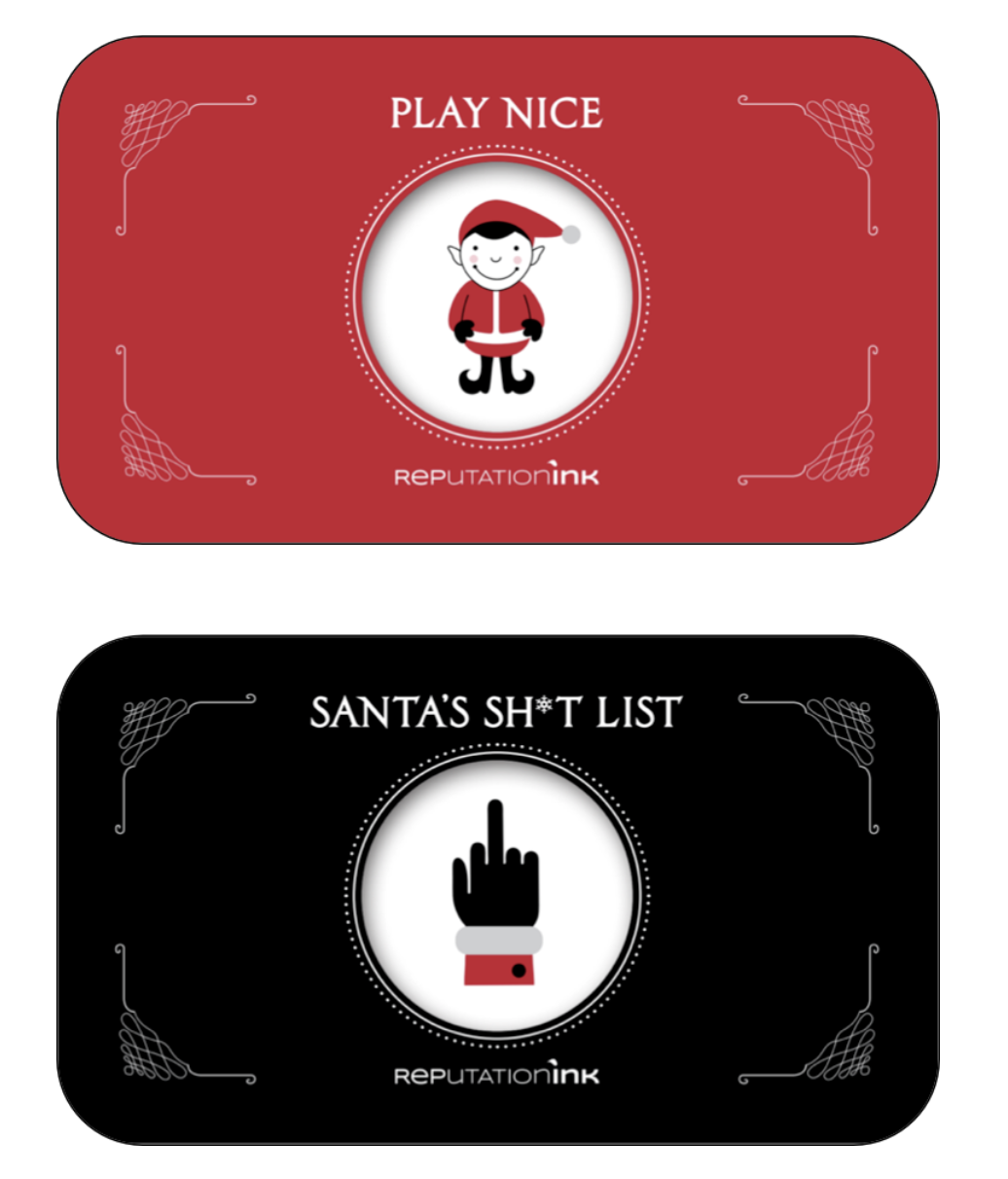 In 2015, we had an ambitious idea: spoof the wildly popular Cards Against Humanity game to create a marketing-inspired game. The result was Crimes Against Content: The content marketing & PR party game.
We delivered the game via a printed card and got tons of enthusiastic feedback from our clients and friends. We also won a gold district-level ADDY award from the American Advertising Federation for the campaign.
2016: F*ck 2016: A Marketer's Plea to Santa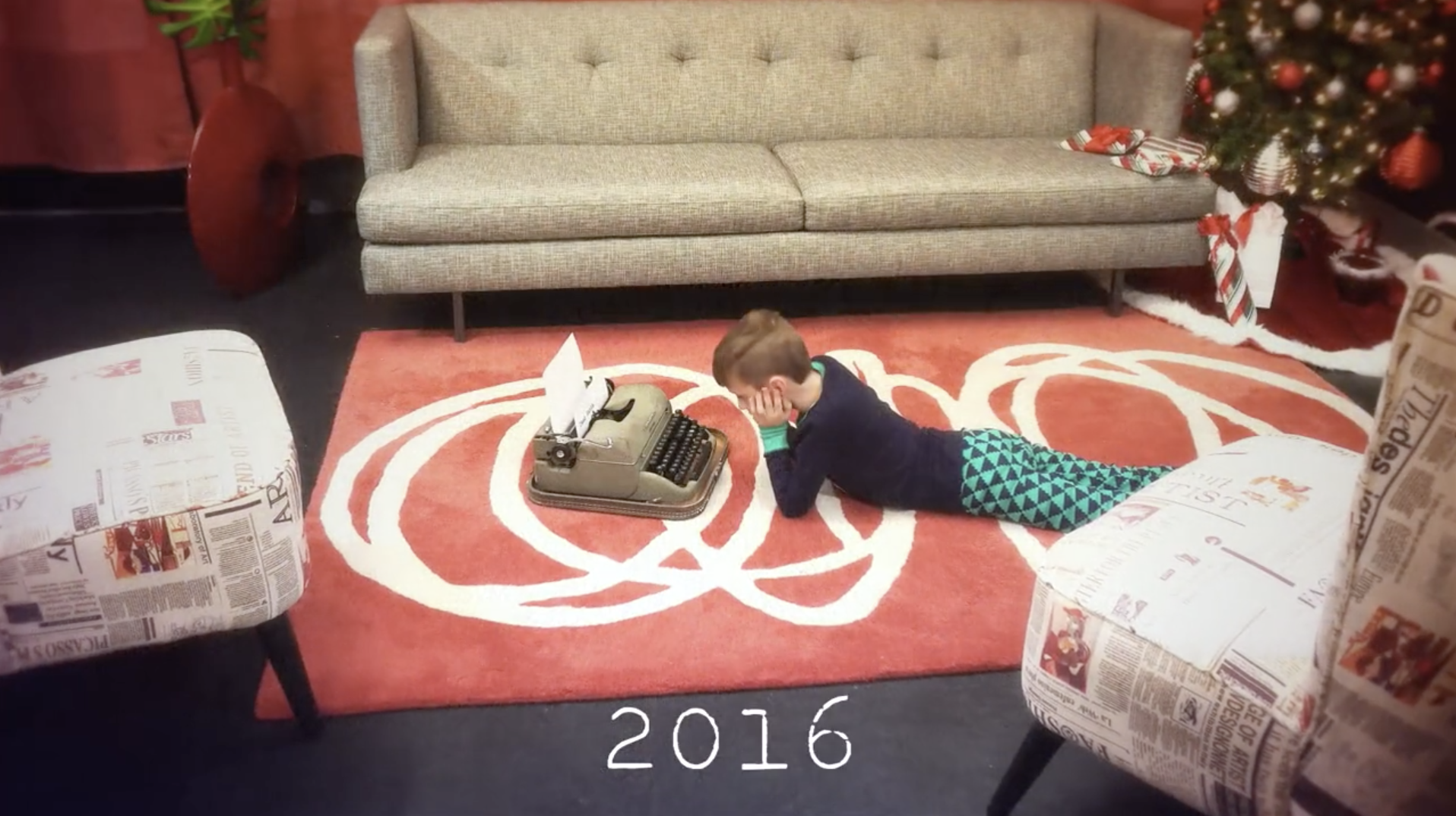 In 2016, we decided to move from traditional snail-mail cards to video and created "F*ck 2016: A Marketer's Plea to Santa." The idea was to play off the idea that 2016 was a rough year for everyone, including the little boy featured in our video. We shot the video in our office, showing a little boy lamenting the year's events and asking Santa for some marketing gifts. We also won a gold ADDY award for the campaign.
2017: The thought leader in the big red suit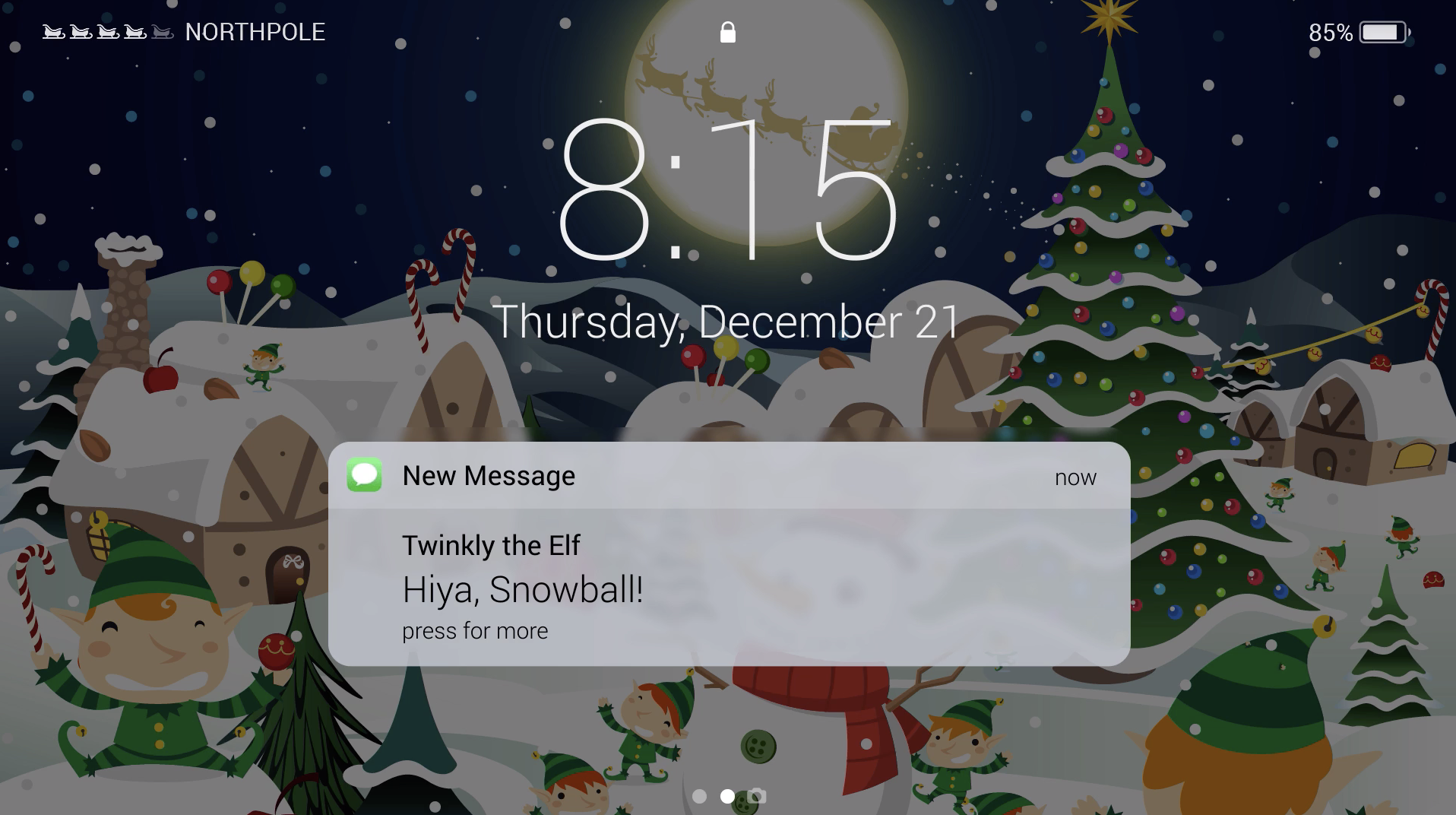 In 2017, we created a video featuring two of Santa's workshop elves (Twinkly and Snowball) texting each other about Santa's new wish: to become a thought leader. But… did Santa even know what being a thought leader meant? Not really. So, we ended the video with a link to a new guide, "6 ways to become a real thought leader."
2018: 12 Days of Rep Ink-mas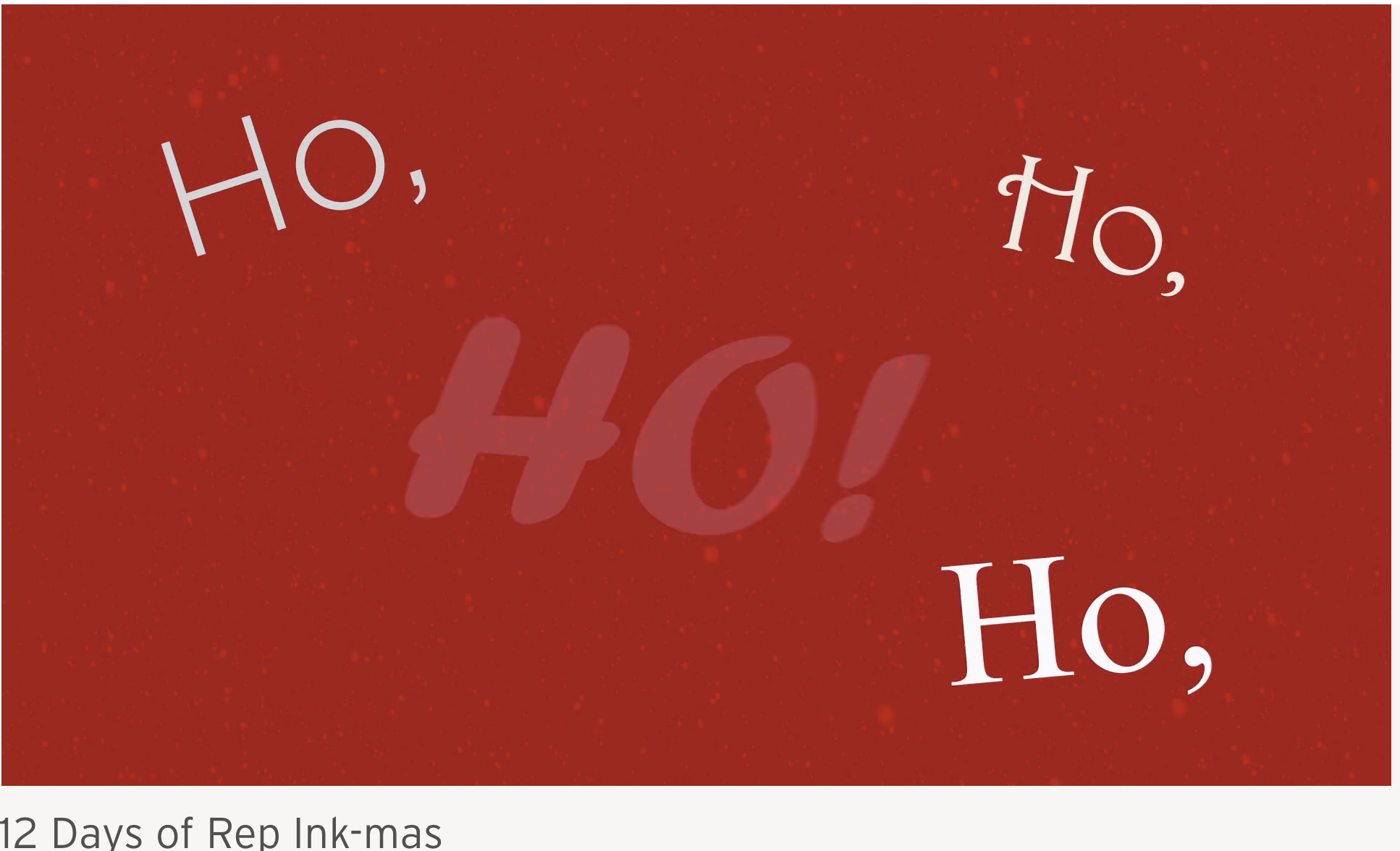 In 2018, we hired a group of singers (also good friends of mine) to create our own version of the classic 12 Days of Christmas song, showcasing the highlights from our year and celebrating our clients and friends.
Even though we don't set out to be self-serving with these, we are also happy to see them spread and get noticed through industry awards and social media attention. Still, these campaigns are about building relationships, and no award comes close to clients and prospects telling us how much they love receiving them (Warms the heart like drinking a whiskey-laced peppermint mocha in front of a roaring fire.)
So, have we put the jingle in your Kringle about holiday marketing? Good! Here are a few tips to ensure you do holiday marketing the right way.
Make them feel good about your brand
Along with relationships, this season is all about gratitude, and that's a theme to bring to any holiday marketing. Say thank you to the people who contribute to the success of your business: your clients and employees. Showing how you communicate with employees and current clients is a powerful way to strike a chord with prospects, especially during this heartwarming time of year.
How to do it? Create a grateful social media post or personalize a thank-you holiday card to send directly to clients you love working with. You might also consider a blog post, too. Humor goes a long way (see our examples above).

Join the list: Sign up for our email newsletter, INKsights
Curate content over the holidays
Website visits and social engagement this time of year tend to drop off as people aren't as focused on consuming business-related content. But, many do check in and catch up in bursts, and some people even use the holidays to engage with content they've put aside during busier times of the year. That's why it's important to keep your curation game strong right now!
This is the time to use social media posts to highlight blog posts that have done well in the past, or those that people might have missed when they were sleeping off Thanksgiving turkey. We do this on our social media feeds, and I also curate content in my LinkedIn posts.
It's also a good time to highlight other content your clients and prospects might be interested in. Every issue of our INKsights newsletter, for example, has a "What We're Reading" section that does just that. This demonstrates you're in touch with what's going on in the broader realm beyond your agency and clients.
Curation is a great way to make the most of distracted attention spans this time of year.
Create original content
Before you go face down into a pile of gravy-laden mashed potatoes — and a carb coma — take some time to draft one or two compelling blog posts and plan out social media posts to publish over the holidays. With people already in a sharing mood, they may be more likely to spread your content to others, too.
Some ideas include:
A "year-in-review" piece to highlight your successes or those of your clients.

Helpful tips to get clients and prospects organized for the coming year, like we did in this

"stocking stuffer" post

.

A trend-spotting post highlighting risks and opportunities for the coming year.

A round-up of your most popular blog posts of the year. To make this fresh, consider adding comments about what you might have also included in a previous post, any further reflections or even updates on situations you presented in the original piece. You can also address any responses you received, such as comments or social media replies.

A recap of key industry news from the past year with thoughts on the implications for your clients and prospects when January rolls around.

Instagram posts that showcase your unique culture. Try to avoid the usual — and boring — "people in nice clothes standing around balancing appetizers and drinks at the holiday party" images and opt for something that shows personality. Did you have an Ugly Holiday Sweater day? How about photos of the holiday goodies people bring to share? Do people decorate their offices and cubicles? Show that!

Give stuff away!

Yes, Virginia in Marketing, you can be Santa!

As we noted above, pairing useful

guides

or

checklists

with holiday blog posts is a great way to give back. And, if you happen to get a few more promising leads out of it…well…that will put you on the CEO or managing partner's nice list for sure.
Embrace the gift of holiday marketing!
Hopefully, this post provides some ideas if you're struggling with how to approach holiday marketing within the B2B or professional services context. Unlike B2C marketing this time of year — which is all about getting consumers to part with their hard-earned cash — B2B marketers can focus on what we do best: building relationships. We're not in this for a one-off purchase, and holiday marketing can reap benefits that will last well into the coming year.
Embrace the gift that is holiday marketing. Knock back some eggnog, plan out your strategy and then enjoy the warm wishes that come your way. And please share what you do below so we can all learn from each other!
Holiday marketing is a great way to engage with your audience and present yourself as a leader in your space. Want to learn more about how to amp up your thought leadership game? Download our free guide today.