July 30, 2015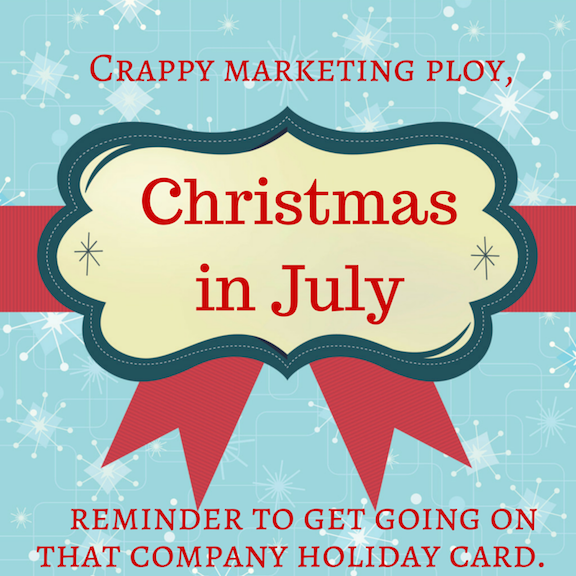 Not to sound like Scrooge, but I really hate all of these Christmas and Black Friday in July promotions. Come on, you pay your ad agencies millions of dollars. I'm sure they have art directors, creative directors and copywriters with the skills and desire to come up with something more creative, too.
On the flip side, I very much enjoyed the cookie I ate at our Christmas in July happy hour last week. 
Here's the before: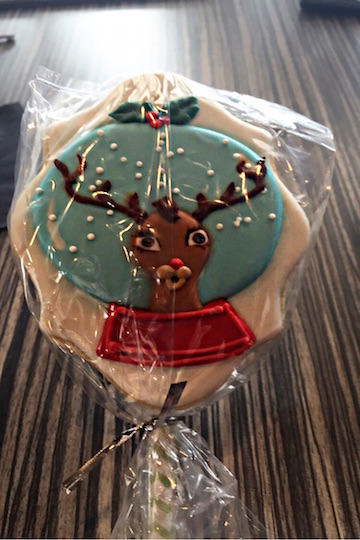 Trust me, the after is NSFW.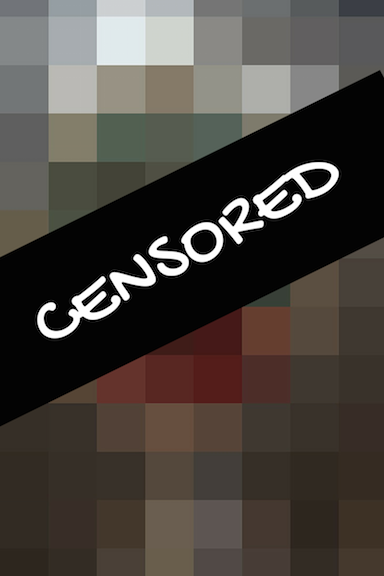 The only other good thing about Christmas in July? It serves as a reminder to start thinking about your company holiday card now.
Here's why:
It's more than a card, it's a connection – with fewer face-to-face interactions and in-person meetings, this is your shot to reinforce positive vibes between your company and your prospects, clients, vendors, etc.
It's fun (sometimes) – most industries don't allow for that much creativity and fun throughout the year, so here's your big chance to do something memorable. Your holiday card is a form of creative currency, where you can have some fun without too much restraint from the buzzkills in legal (just jokes, we love lawyers at Rep Ink).
It's painfully obvious when your card is an afterthought – slapping a logo on something is a piss-poor way to brand it. If you're going to take the time to send out a card, don't phone it in or what's the point?
Things to keep in mind 
Whether you go digital or old school with your holiday messages (there are definitely pros and cons for each, but we have our preferences), here are a few guidelines to consider:
Segment your audience – humor is a slippery slope, and if you don't know your audience, what you meant to be a joke could blow up in your face. Some companies still focus on Christmas instead of the holidays, and that is fine as long as it's well received by those on the receiving end. To CYA, you could also create two versions, if you know your audience well enough. For example, not everyone drinks alcohol and that is completely fine. Last year, we sent branded wine bottles to several of our clients, but also opted to send alternative gifts that were equally as nice to our clients we knew did not drink, or weren't sure about.
Stay true to yourself – if your company isn't trendy and hip, your holiday card shouldn't be either. There's plenty of room for even engineers (no offense, engineers), to have some fun with their cards. Our 2014 holiday card told a fun story while explaining the benefits of inbound marketing to clients and prospects. It was very well received, in part because we didn't try too hard to be cooler than we are.
Go big – if it's worthy, your card will be passed along the hallways of your clients' offices. I'm sure I'll get dinged for saying this, but chances are, several of those people at your recipient's company will be on to a new job by this time next year. Stay top of mind by making a good impression that will follow them to their next company. Yes, this means you can pull from your biz dev budget (or at least ask accounting).
Infuse some pop culture – but only if it makes sense – see point no. 1 above. The holidays are a great time to look back at the past year and what everyone was talking about. And while the Kardashians are always fair game, I'd shy away from their stepfather.
Consider going old school – even though we're digital marketers, at Rep Ink we like to send our holiday cards the old-school way: an actual printed piece that is delivered via mail carrier. We're very anti-paper around here, but this is the exception. As long as your budget allows, holiday cards should actually be printed and mailed. There's just way too much email going around these days and a digital e-card isn't going to stand out. Unless your idea is the next Elf Yourself (without being a variation of the original Elf Yourself), we recommend steering clear of digital cards.
Don't put it off another year – it's easy to put investing in a creative holiday card off until next year, but guess what? Next year you'll be saying the same thing. We're all busy, always. If you don't make it a priority, you're missing an opportunity to connect with clients and prospects without pitching yourselves. And now that July is over, you really need to get moving.
Have any fun corporate holiday card examples you'd like to share? Please comment below. If you'd like a little help with your company's card this year, hit me up (soon) at heather@rep-ink.com.