December 16, 2015

If you know Rep Ink, you know we do it up big with our annual holiday card. Last year, we unveiled a custom-illustrated storybook, telling the tale of  how little Timmy wooed Santa with some good ol' content marketing. Could we really top that? Abso-friggin-lutely. It may have taken us a few months of late-night brainstorming over cabernet, but we did it.
This year, we're replacing the ho, ho-hum gonfiabili in your holiday with the mother lode (Yes, that's really how you spell it. We checked like, a billion times.) for naughty and nice marketers.
Short version: We made a card game. Crimes Against Content: The content marketing & PR party game. 
It's less Christmas miracle and more total mockery of this industry we're in together, full of marketing ScenarEOs (SEO—see what we did there?) and solutions you should take to heart—whether you choose to Play Nice or end up on Santa's Sh*t List with us.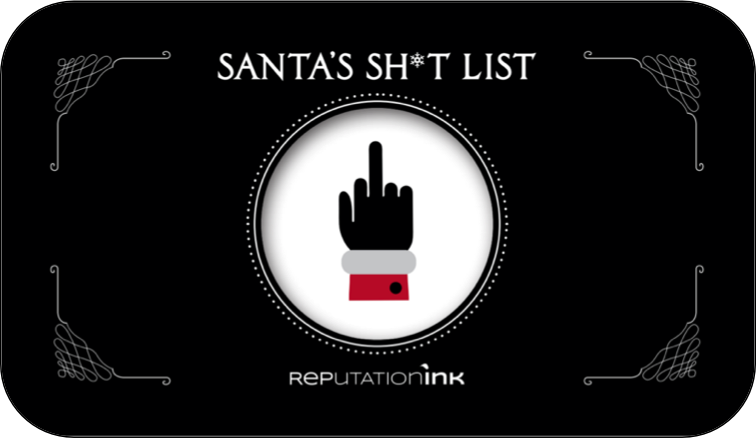 How do you play? It's like Cards Against Humanity, but with a content marketing spin. Here are the rules:
Each player draws five answer cards (Play Nice, Santa's Sh*t List or a combo).
The person who cursed last is the CHIEF CONTENT OFFENDER (CCO) for the first round and flips over a marketing ScenarEO card. The other players address that question or fill-in-the-blank ScenarEO with their most (in)appropriate answer card, playing it face down on the table. 
The CCO reads the other players' answers aloud and chooses the winner for that round, who hangs on to that ScenarEO card as a "point."
The same drill goes around the table in a clockwise formation until one of the players has won a total of five ScenarEO cards, becoming the SMOOTH CRIMINAL and winner of Crimes Against Content.
We mailed out hundreds of paper copies of Crimes Against Content (shoutout to All Purpose Printing and Graphics) this month, but if your mailbox didn't get hit, ain't no thang. We've got the FREE digital download for the game available below. Simply click, print, cut and play. Be sure to tweet Rep_Ink your naughtiest combos. Tweet to @rep_ink
 Oh, and enjoy your holidays. We'll see y'all in 2016.