December 16, 2014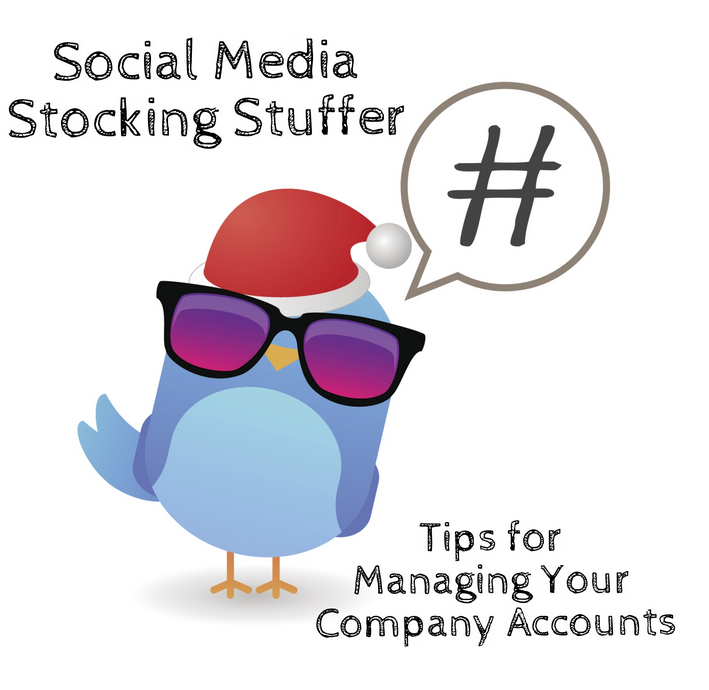 What's my secret to being the coolest Santa? Pinterest. I click over to the giftee's Pinterest page, scope out their pins and then I buy one of said pins. I'm jolly because it's quick and easy; they're merry and bright because they don't have to fake a smile and shove their way through the Wal-Mart returns line.
While I'm in the spirit of giving, I'll be straight up. I'm not going to all of your Pinterest pages to shower you with gifts. What will I give you? A social media stocking stuffer with helpful tips and tricks I've learned from managing business accounts.

So, the jig is up. I'm behind the curtain of Reputation Ink's four social media channels:
I've monitored and modified our accounts plenty—and I continue to do so. You can always increase engagement and craft better posts. Social media is like art—it's never done.
There are tons of tools and platforms you can use for your social media management such as HootSuite or TweetDeck. Since Reputation Ink is a HubSpot partner, I use HubSpot Social Inbox to create and schedule posts, examine interactions and measure engagement.
When I first took the reigns in September, I soon realized the answers I needed for a perfect "social life" weren't Google-able. There was no guide out there to tell me the best times of day to post, the best platform for my audience, how often to post, etc. It's unique to every business. So I toyed and tested things such as:
Post times

Post frequency

Content type

Platform frequency

Hashtags
For a good month, I took note of which types of posts got the most likes, retweets or favorites, observing the type of content, hashtags and corresponding platform. For Reputation Ink, I garnered the following insights:
Twitter is our most active platform.

8 a.m., 11 a.m., 2 p.m., 5 p.m. and 9 p.m. are our best times for Twitter engagement (retweets, favorites)

Facebook pictures get the most exposure and people love Boomer.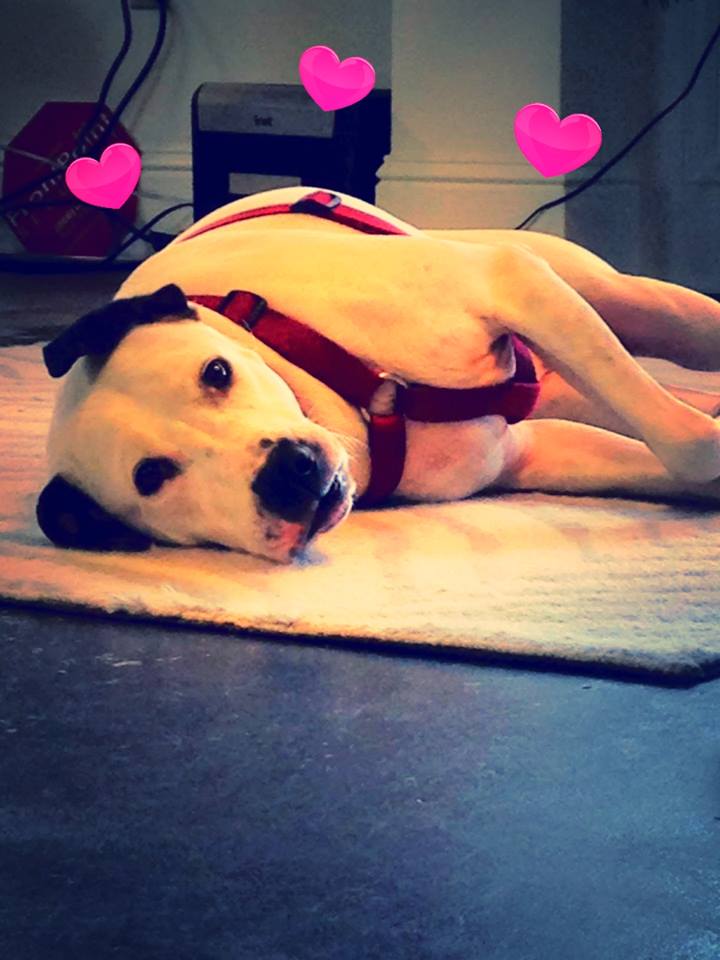 LinkedIn doesn't garner a lot of engagement.

Google+ is pointless and I hate it.

Content marketing/marketing posts on Twitter gain traction, and most of our followers are from Jacksonville, Florida (where Rep Ink is headquartered).
And with that, I made the following list of action items and followed some best practices:
Create a posting schedule.
At Rep Ink, social media is just a small sliver of what I do. I needed a way to manage it, track it and plan it. I'm no Excel expert (I was in journalism school for a reason), but I created a spreadsheet that I use every day to track post times, platforms and content types.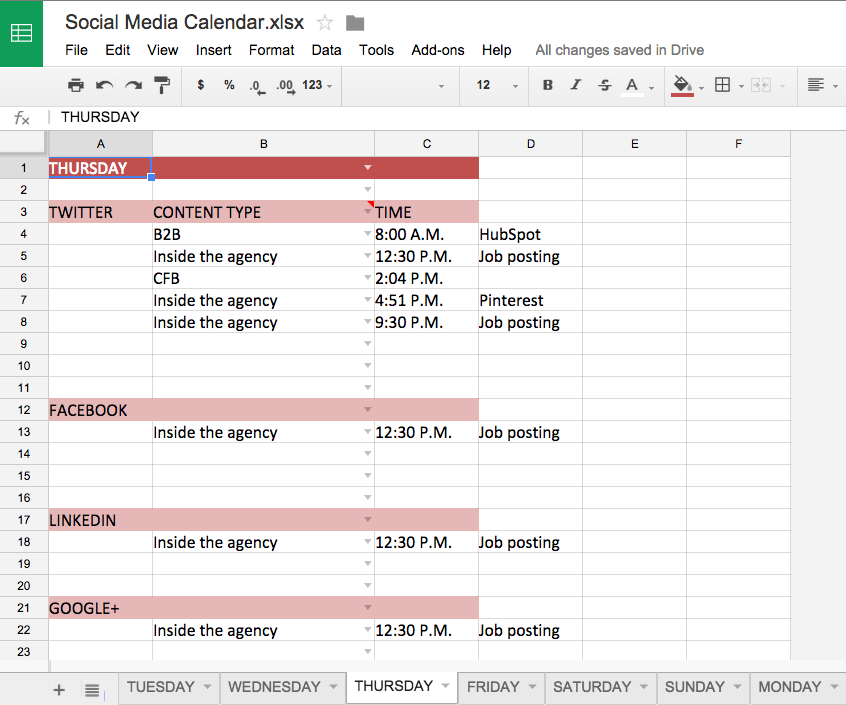 It's not anything fancy, but it's been my lifesaver.
Gather shareable content.
Social media isn't for Grinches. If you approach it selfishly, you'll find yourself alone in a cave with no friends. I think follower-first. So even if we have a blog post to promote, I focus on balancing it out with other articles and content I think our social media audience may find valuable. What type of content do they want to see? What could be helpful? What are they interested in?
In addition to having our team send me any interesting articles to share with our audience, I've found a super helpful tool that collects content for me. I set up a Feedly account which gathers articles about specific subjects. Based on insights and our agency specialties, I set it up for Jacksonville, law, marketing, content marketing, public relations and social media. I've found blogs from Marketo, HubSpot and Content Marketing Institute to be full of helpful, relevant resources, so I often share their links, too.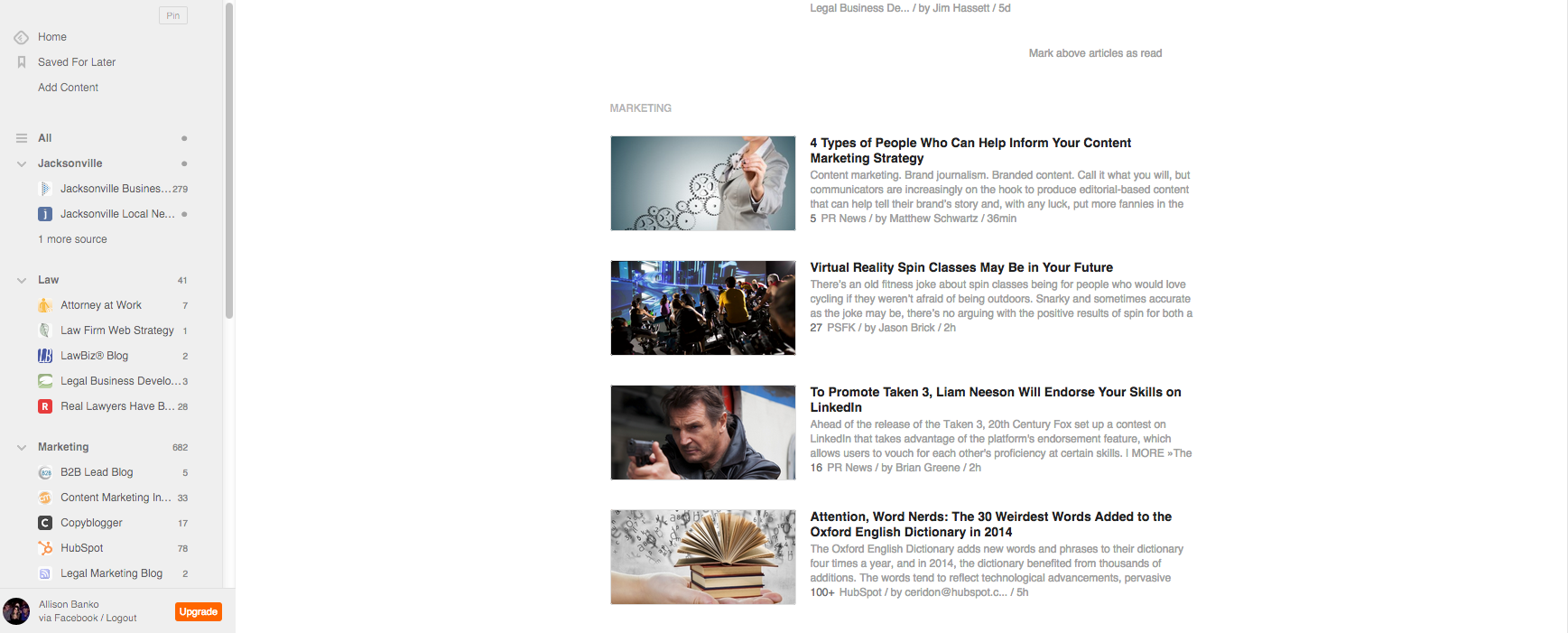 Think of your own habits.
From a personal standpoint, I'm on social media a lot. Like, a lot a lot. Twitter, Facebook, LinkedIn, Instagram, Pinterest, Vine—you name it. So when looking at developing a strategy for Reputation Ink, I thought of my own habits.
For example, when my alarm goes off in the morning, I scroll through my social feeds. So I decided to test out an 8 a.m. social post for Reputation Ink's Twitter—and it's our most successful post of the day.
On Mondays, I know I'm not feeling super motivated. Is anyone? On Twitter and Facebook I schedule photos of an inspirational quote accompanied by the hashtag #MondayMotivation for first thing in the morning.
#MondayMotivation pic.twitter.com/hCevMOyt87

— Reputation Ink (@Rep_Ink) December 15, 2014
Make it pretty.
Standing out in the social sphere is not easy. It's a crowded space where everyone fights to be seen. Visuals are key. With as many of our social posts as possible (especially Facebook), I add a visual.
On Twitter, I strive to make the image 440 px by 220 px so it'll pop out perfectly in our followers' feeds.
If we have a blog post to promote, I'll create an image in HubSpot, PowerPoint or Canva with a text title of the post over a corresponding stock photo (we use Thinkstock). This makes it easy to share socially and makes it Pinterest-friendly.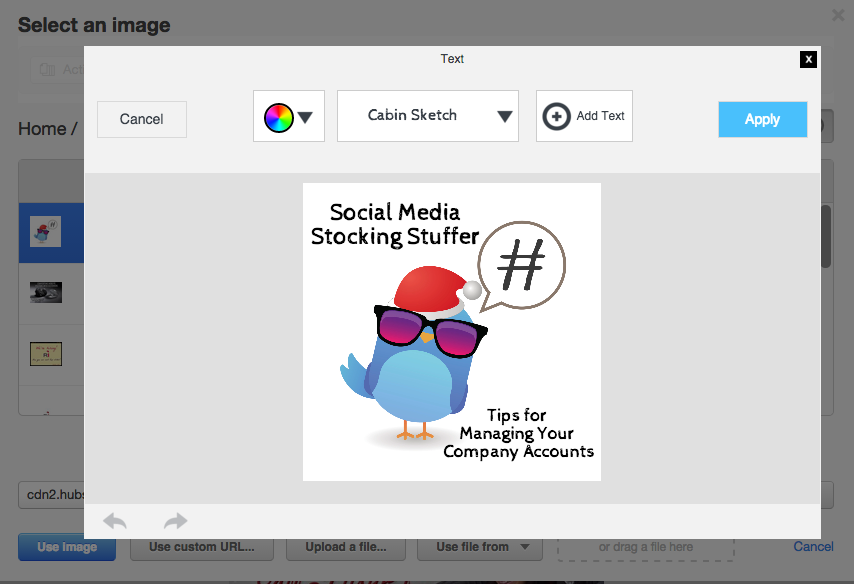 Levo League is a great example of a company who does this well.
Don't forget the social part.
There's a reason it's called social media. Social media is a two-way street: talking and listening. It's SO easy to get caught up in your own posts, hitting send and moving on to the next one. But that's not a strategy. To keep up with the "social," I take some time to go through our own social feeds to like or favorite posts I find relevant to our business. I'll also retweet influencers in our field and interact with followers if they take the time to respond to a tweet of ours.
Give each platform a purpose.
One of the biggest best practices in social media is not just posting the same exact thing across all of your platforms. While it's easy to draft one post and copy it onto Twitter, LinkedIn, Facebook and Google+, it makes you look like you don't know what you're doing. I examined the behaviors of our different audiences to tailor each platforms' purpose.
For example, Facebook is more agency-specific for us. I promote our blog posts there twice a week and post pictures of our office and office happenings.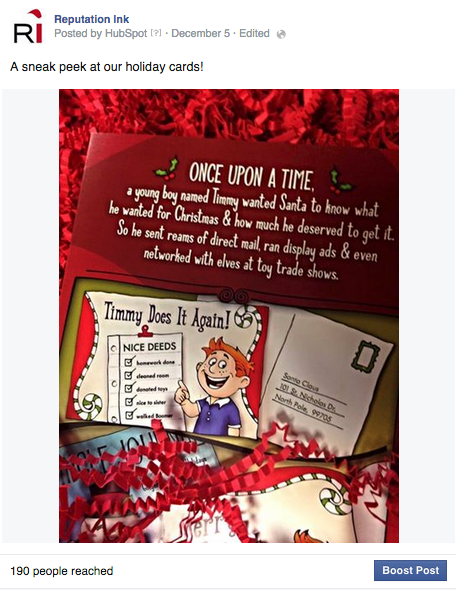 Twitter is more for thought-leadership, where we share articles and interact with marketers. Twitter feeds are more cluttered, so I'll promote a blog post on there twice a day and it isn't spammy. If I did that on Facebook, it would be.
Of course, I understand this is a learning process, and I still have a long way to go. By next Christmas, I'll have even more insights for you. Happy Holidays!