May 21, 2020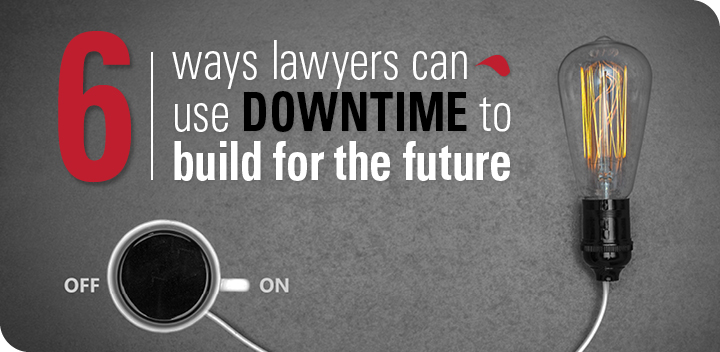 While much has been written about how to network and build business during the coronavirus pandemic, a lot of the advice has focused on short-term activities and gains. And while the recommendations are solid (as marketing and biz dev are critical during a downturn), a basic principle of marketing cannot be ignored: Marketing and business development are long-term endeavors. In professional services like the law, those who succeed are consistent over the long term with their marketing and business development.
However, marketing is time-intensive and requires the involvement of the attorneys themselves. This becomes a Catch-22 — marketers and publicists need access to lawyers' knowledge and expertise (I call our role in the process "knowledge extraction"), while lawyers' time is stretched thin as they meet aggressive billable targets.
That's why, as COVID-19 disrupts every aspect of our society, I see an opportunity. While some lawyers are busier than ever in areas such as bankruptcy, healthcare, insurance, employment and cybersecurity, others aren't faring so well, as M&A deals and court proceedings are put on hold. For those attorneys, now is the time to focus on the labor-intensive marketing activities that form the foundation of any successful practice.
Here are six ways lawyers with coronavirus-induced free time can build for the future:
1) Update your bio and LinkedIn profile
A good attorney bio — and by extension LinkedIn profile — is a critical foundation for marketing legal services. Take the time to review your bio and ask the following questions:
Does it reflect my practice now? The bio and LinkedIn profile may have been written years ago, with information that is outdated or no longer relevant.

Are there any articles, case studies, press releases, client testimonials or other content that I should add?

Do I sound like every other lawyer out there? Your bio should not be a laundry list of every matter or case you've ever worked on and instead should position you clearly and distinctly in your prospects' minds.
While you're on your LinkedIn profile, take the time to browse and join LinkedIn groups that may provide good networking opportunities. Follow your clients' LinkedIn pages and relevant hashtags.
And while you're working on your bio, take a look at your firm website's practice area description(s) and ask the same questions.
2) Ask for client testimonials
Referrals and relationships are the lifeblood of law firm marketing and business development. However many lawyers feel uncomfortable requesting and promoting client testimonials, endorsements and reviews. This is a big mistake.
Use this time to reach out to clients and ask for testimonials — you might be surprised that they are happy to be asked. For example, one of our own law firm clients recently emailed us after reaching out to his clients to ask for a testimonial: "Thanks for pushing us to do this! Our client was super happy that I asked him for a testimonial."
You should also put in place an ongoing process for securing client testimonials. After an engagement, law firms should always ask clients to provide a testimonial that speaks to the attorneys' "soft" skills (e.g., how attentive and responsive the attorneys working on the matter were) as well as the effectiveness of their representation. Just be sure that you request and use the testimonials in accordance with your state bar's ethics rules.
3) Write case studies
Buyers of legal services want to know:
What a law firm or lawyer has done

Who they've done it for

Whether the law firm or lawyer can meet their specific needs

How the firm is different than other competing firms
The best way to give them this information is by writing case studies, or short descriptions of your past successes for clients. But there is an art to writing great case studies. Read my article on how to write law firm case studies that win new business for some tips and examples.
4) Update your CRM system
Client relationship management (CRM) software is now vital to effective marketing. If you're still keeping client contact lists in an Excel spreadsheet — or if you somehow still own a Rolodex — now is the time to make the switch to a CRM system. If you already have one, review your lists and update outdated information.
Lawyerist provides a helpful overview of CRM systems if you're new to the software. And, as Introhive explains, "Bad data is the silent killer of CRM success. Without accurate data in your CRM, the information quickly becomes useless to your lawyers, partners, and business development teams."
So, take the time now to update your CRM information — you'll thank yourself later.
5) Start developing thought leadership content
While many lawyers and law firms have created a flood of COVID-related materials, if you weren't developing thought-leadership content before the crisis, now is the time to think strategically about what you want to be putting out post-pandemic.
As Wayne Pollock of Copo Strategies says:
No matter your legal practice or the size of your law firm, thought-leadership marketing is a tried and true way to market to current and prospective clients and referral sources. Most attorneys and law firms know this. But few are producing thought-leadership marketing content that clients and referral sources want to consume. Whatever the reason for this phenomenon — a lack of time, a lack of ability, or both — it provides you and your firm an opportunity you both should pounce on.
Make producing thought-leadership content an ongoing habit — not a scattered or one-off approach. Use this time to build a list of topics, educate yourself on best practices and get going.
6) Do an industry deep dive
Much has been written about the benefits of an industry-focused practice. However many lawyers haven't had the time to dive into their clients' sectors to stay abreast of market trends and to develop the connections needed to truly leverage their industry experience.
Use this downtime to:
Find, follow and connect with industry influencers (consultants, thought leaders and others who have large social media followings and high-profile visibility in the industry)

Identify and follow key industry publications

Sign up for industry newsletters

Research industry events (so you know which conferences and other events to attend when these start happening again)
Marketing for lawyers and law firms is a time-intensive, long-term endeavor. So, use this in-between period wisely to set yourself up for success. If you have questions about your firm's marketing or public relations, contact me at 904-374-5733 or michelle@rep-ink.com.