September 24, 2019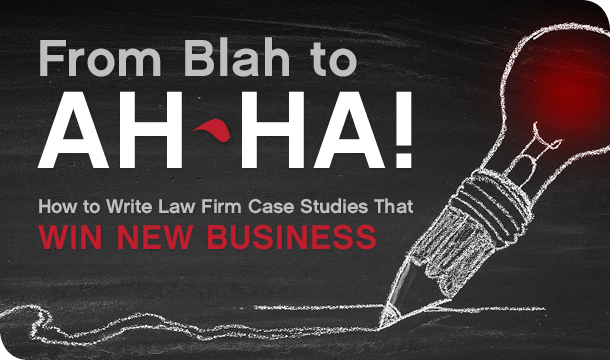 This post was first published on Law Journal Newsletters.
Visit any law firm's website and you'll find bulleted lists of representative matters and deals that look like this:
Represented leading international retailer and several of its officers and directors in securities class action and shareholder derivative suits.

Represented an investment fund in connection with a $500 million secured credit facility.
This might be the most wasted opportunity in the land of wasted opportunities called Law Firm Marketing. While laundry lists of every single matter an attorney has ever touched may be helpful on a resume, it's much less effective for law firm marketing goals.
Why is this? Buyers of legal services want to know:
What a law firm or lawyer has done

Who they've done it for

Whether the law firm or lawyer can meet their specific needs

How the firm is different than other competing firms
While the standard lists of representative matters and deal sheets may answer the first two questions, they fail on the last two (arguably the most important ones).
Instead of the "Did X for X" format, law firms must embrace a more strategic — and effective — approach by writing case studies in a "mini story" format that focuses on typical client pain points and illustrates the firm's unique value propositions.
Consider the following examples. (Full disclosure: My agency wrote these for one of our law firm clients.)
Law firm case study examples
Typical format:
Filed patent applications for Fortune 500 company for a new product.
Revised format:
Drafting and Filing Five Patent Applications in Five Days
One of our large Fortune 500 clients came to us with a unique problem — a new product was shipping in a week and not a single patent had been prepared or filed for this invention. Our team quickly responded by traveling to the client's office to collaborate with the inventors and in-house counsel. The technical expertise of our IP attorneys made it easy to get up to speed on the complexities of this unique technology and devise a patent strategy with a clear understanding of the client's objectives.
Between the initial draft, review by inventors and in-house counsel and revisions, writing one patent application usually takes about two to three months and more than 20 hours. Our team tenaciously worked to complete five applications in less than one week. All five applications were turned into patents and since that time, foreign patents have also been filed. The product shipped on schedule and fully protected.
Takeaway:
Yes, the firm filed patent applications. However, they did so under a tight timeline by drawing upon the unique background of their IP attorneys. Prospective clients are now aware of the firm's nimbleness and ability to quickly turn around patent applications when needed.
Here's another example:
Typical format:
Expanded client's patent portfolio in two key technology areas.
Revised format:
​Strategic Approach Enables Client to Dramatically Increase Annual Patent Filings
Our clients' patent filing expectations change each year. Sometimes, they can change dramatically in response to product releases, mergers, acquisitions and the like. Recently, a client drastically increased its annual filing target in two key technological areas and turned to us to achieve its goal.
Our plan included leveraging two of the firm's offices located close to the client's site and identifying a select team of six attorneys well-versed in the client's technology and procedures.
Our hand-picked team of attorneys converged on the client's site for multi-day visits with inventors to fully develop filing strategies based on existing invention disclosure documents. In addition, our attorneys conducted extensive mining sessions with technology group leaders to identify additional patentable subject matter in key technological areas. By using this two-prong approach, we were able to rapidly expand the client's patent portfolio in the key areas to accomplish its strategic goals.
Takeaway:
This case study allows the firm to showcase its ability to help clients when their business development needs change, as well as its strategically located offices and practice of digging deep to identify additional patentable inventions.
3 best practices for writing law firm case studies
What do the above case studies do that most law firms' representative matters lists fail to do? They are written according to three key best practices:
1) Address the "how"
When writing a case study, dig to find out what was unique, innovative or beneficial to the client.
Did any interesting, uncommon or complicated legal issues arise? Did the lawyers approach the work in a unique or particularly effective manner? How did the firm handle the matter in a way that another might not be able to? Why was the firm particularly well suited to solve the problem?
By showcasing how the work is done — versus simply stating that the work was done — law firms can illustrate their competitive differentiators in a powerful way.
The 2019 Altman Weil Law Firms in Transition Survey found that "almost half of the firms in America cannot point to a compelling differentiator that would significantly elevate them above other firms in clients' eyes."
The finding isn't surprising. Law firms are notorious in their inability to demonstrate how their services differ from peer firms competing for the same work. (A commitment to quality service and good client relationships are not differentiators). By addressing the "how" in your case studies, you'll uncover — and communicate — competitive advantages that clients value.
2) Follow the "so what" principle
People encounter hundreds of marketing messages every day. Senior executives are especially bombarded with countless sales pitches and bids for their attention.
To ensure you are addressing a prospective client's needs when writing a case study, ask yourself, "So what? Why would my client care? What's in it for them?" By doing so, you'll force yourself to consider the client and write from their point of view. This is the same question that reporters and editors ask when considering whether or not to cover a potential story. If there's no answer to the "so what?" question, the story doesn't get covered.
The same Altman Weil study mentioned above, for example, found that 96% of law firm leaders agree that "a focus on improved practice efficiency is a permanent trend in the profession." With such industry-wide agreement, it's a pretty good bet that your clients care about efficiency, too. What case studies can you write that demonstrate your firm's efficiency? What processes or structures do you have in place that you can describe?
That said, concerns vary from client to client. While most clients want relevant expertise, professional service and good communication, others might have different pressing priorities. In order to successfully answer "so what?" you must understand your clients' individual priorities and concerns.
3) Tell a story
I know you've heard this advice a gad-zillion times by now, but stories work. In fact, our brains are wired for them.
When we read a bulleted list of facts (i.e., typical law firm representative matters), one part of our brain is activated: the language processing part, where we decode words into meaning. Nothing else is activated.
However, when we read a story, not only is the language processing part of the brain activated, but also every other area that would be activated if we experienced the story firsthand.
Consider the case study examples above. While the revised version is longer, which is more engaging? Is it the one with the narrative that pulls you in, or the one that states basic, dry facts of an engagement? The answer is pretty clear.
To write in a story format, consider the journey or the steps the firm took to solve the client's problem. This is where readers begin to identify and empathize. Whether we're considering what to cook for dinner or a problem at work, we think in narratives — cause and effect. We're constantly making up short stories in our heads.
So engage your prospective clients' brains and tell them a story. They might actually read your case study, remember it and take action.