January 7, 2020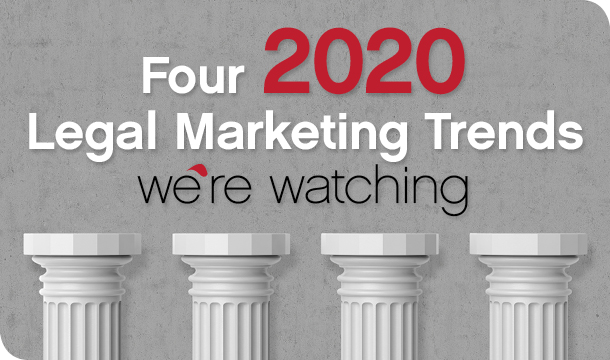 It's hard to fathom that it's 2020. Where the heck did a decade go? I guess it's true — time flies when you're having rum (maybe that's just me).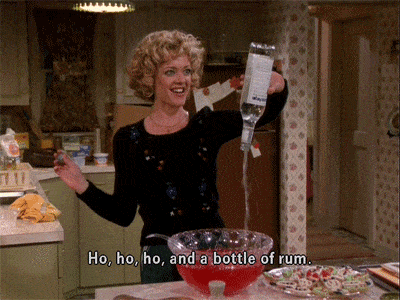 And, yes, we know you're just now recovering from the holiday season, which can be a blur of budget planning and executing holiday marketing ideas. But, as we jump start this new decade, it's time to get ready for what's next.
For 2020 there are four trends that have caught our attention: the growth of niche marketing, an emphasis on consistency, the rebirth of LinkedIn and the continued dominance of email as an essential content channel.
1. Niches bring riches
You can debate all you want about whether it rhymes, but regardless of how you pronounce it, this could well be the legal marketing tagline for 2020. If you haven't heard it already, expect to hear phrases such as "niching down" or "power niching" a lot in the coming months. Why? Because in an increasingly crowded legal marketplace there's a significant benefit to having a narrow focus.
An article in The American Lawyer put it best: "The ability to maintain and grow client relationships hinges on law firms' ability to match their technical, legal knowledge with sector-specific insights."
There are many factors driving this trend:
Increased

competition

(due to an oversupply of attorneys and a flood of non-lawyer competitors) means law firms that can find a way to stand out will win more business.

Online marketing

, while creating opportunities, is easier to do when you are promoting just one thing.

Law firm marketers now have access to sophisticated

data

and

marketing automation tools

that makes narrow targeting much easier.

And, as some feel we are heading into

potentially choppy economic waters

, marketing a niche practice or firm is far more

cost-effective

.
A great case study for this appeared in a Washington Lawyer Magazine profile of Kinner and McGowan PLLC, a firm focused on the growing area of cannabis law. In "niching down," the firm was able to cultivate (pun intended) a thriving practice in the highly competitive and crowded Washington, D.C. market.
And, no, you don't have to get into cannabis to make niche marketing work for your law firm (though it may help with stress levels). But, figuring out what you do best and spending time and marketing resources on those areas could yield benefits in 2020.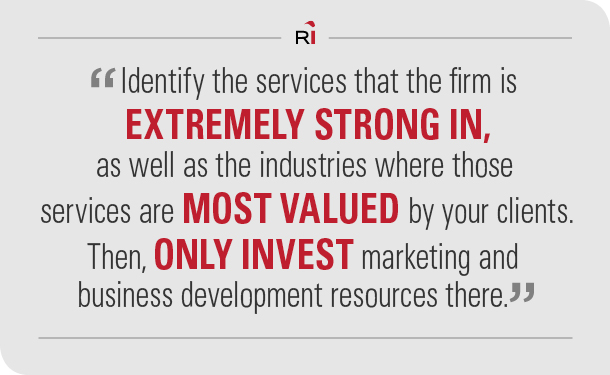 What should you do if you're an established, full-service law firm that cannot afford to change its entire business model? Identify the services that the firm is extremely strong in, as well as the industries where those services are most valued by your clients. Then, only invest marketing and business development resources there. While this approach lacks the simplicity of a single market focus, it will force the firm to deepen its expertise in a handful of areas and enable you to get more mileage from your marketing investments.
2. Be consistent (while maintaining quality)
It's no secret we live in an era of short attention spans. Like, goldfish short. Our target audiences are increasingly distracted and also bombarded with new content and messaging every time they go online or check their email.
How, then, do law firm marketing efforts stand out? By being consistent.
Remember "appointment television" before DVRs and streaming? In order to catch your favorite show, you had to tune in at a specific time. Networks made that easy by airing episodes at the same time on the same day every week.
We see the same need for consistency in law firm content marketing for 2020. The key is to create a schedule and stick to it. That doesn't mean you have to post something new every week, especially if quality will suffer. The important thing is to have a predictable rhythm for when you'll post to social media, email your subscriber list or write a new article.
Consistency creates trust and helps your brand "stick" in your audiences' minds better. If your clients and prospects see you keeping to a content schedule and showing up reliably, that says a lot about how the firm approaches working with them. Knowing your posting frequency will also make planning content a lot easier.
3. LinkedIn is back
Brace yourself. LinkedIn is in the middle of a resurgence. Yes, that LinkedIn. The social network that professionals, especially lawyers, flocked to more than a decade ago, and then abandoned as shinier platforms such as Facebook and Instagram gained prominence, is back.
But LinkedIn never really went away, and is now even more popular, particularly with the rise of content marketing and social selling. Since Microsoft bought it in 2016, LinkedIn went on to hit 500 million members in 2017 and hasn't looked back. Today, two professionals join LinkedIn every second.

LinkedIn is more than just the place to go when you need a new gig. Built on trusted connections, the site has become a powerhouse for business interaction — and that's why law firm marketers should up their LinkedIn game in 2020. (Also, feel free to add our team members as LinkedIn connections if you haven't already.)
4. Email is still a legal marketer's best friend
This is starting to feel like an "everything old is new again" post, but email is once again a powerful legal marketing tool. We've written about why you shouldn't ignore email before, and offered a good case study as well. But, hey, don't just take our word for it — the Wall Street Journal agrees with us.
In 2020, though, just queuing up a scattershot drip campaign is not going to cut it. To get those coveted clickthroughs, segmentation is key. Narrowing down your audience and speaking directly to them means they are far more likely to (1) read your email and (2) go on to visit your law firm's website and maybe check out your services and a few lawyer bios while they're there.
In 2020, consider increasing your firm's investment in email, then get serious about identifying key audiences and segmenting your lists. It'll pay off, trust us.
On trend for a successful 2020
Nobody can truly predict the future. However, we think these trends are worth watching in the coming year, and putting time into even just one will bring a host of benefits for any legal marketer trying to cut through the noise in 2020. We would love to see all our clients and industry friends succeed and make this year the best ever.
How about you? What do you have your eye on as a legal marketing trend for 2020? Tell us below or send me an email at michelle@rep-ink.com.