February 19, 2019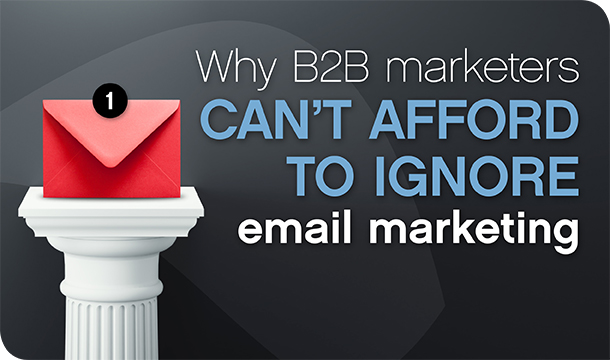 If you're a B2B marketer and not taking advantage of email, you've missed the effective-marketing boat (sounds like a fun party, doesn't it?).
To put it in a way your CEO will understand, if your B2B company is not engaging in email marketing — including email newsletters, drip campaigns, lead nurturing emails, prospecting and promotional emails — your client acquisition and retention will suffer.
Here's why:
The data supports it
The research is clear — email marketing is vital to effective B2B marketing: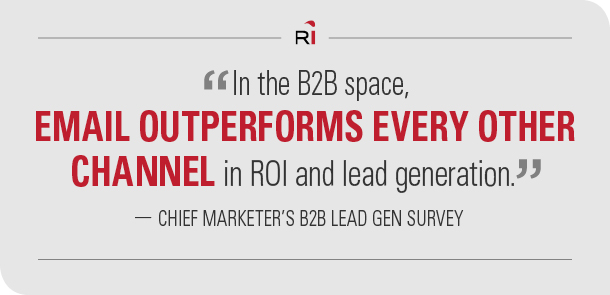 I could provide many other studies, but hopefully you get the point: Email is highly effective in achieving B2B marketing goals. Not only that, but it's where people are, especially in business-to-business industries. Data from 2017 found 85 percent of adult internet users were on email, compared to 22 percent on social media and 15 percent on search engines.
People want more control
Our social media feeds are out of our control.
As networks have worked to monetize their platforms, advertising, click-bait and "fake news" have flooded our feeds, leading to declines in social media usage. For the first time ever, fewer Americans are using social media than the prior year (down to 77 percent in 2018 from 80 percent in 2017).
And while a 4-percent drop may not seem significant, as Jay Baer of Convince & Convert reminds us, "social media usage has increased a minimum of three percent, and an average of 7.77 percent, for the past nine years."
Baer also argues that "we may have reached 'peak social media'" across the "the primary social networks" (Facebook, Twitter, LinkedIn, Instagram) and that we'll see subsequent declines in 2019.
As people become less satisfied with social media, they are turning toward platforms that give them more control, such as email. MarketingProfs Chief of Content Ann Handley maintains that an "email newsletter is the only place where individuals — not algorithms — are in control. So, what if marketing leaned into that inherently personal space?"
Not only is it personal, but it's permission-based, governed by strict laws meant to prevent spamming, deception and privacy violations. In the U.S., the CAN-SPAM Act gives recipients the right to stop you from emailing them, with violators subject to tough penalties.
You need that control, too, and email delivers
Unlike social media platforms and other digital channels, as the email sender you have more control over who sees your content and when they see it. Consider these stats from technology market research firm Radicati:
90 percent of email is delivered to the intended recipient's inbox, while only 2 percent of your Facebook fans see your posts in their newsfeed.
A message is five times more likely to be seen in email than Facebook.
As you build your email list, that database of people who are interested in what you have to say becomes a marketing gold mine. Want to start marketing a new product or service? You have a ready-made audience that you can communicate with quickly and effectively.
Email is personal and helps build relationships and credibility
The B2B buying cycle is long and complex. You must stay top of mind with decision makers for months or even years, while establishing a personal relationship built on trust and credibility.
With 91 percent of people checking their email on a daily basis, email allows you to reach clients where they already are, on their terms. They can open, click, archive or delete at their discretion — and if they are no longer feeling the love, they can unsubscribe.
People like to do business with people they know, trust and like. A post on social media can feel more like a broadcast, whereas a personalized email gives the receiver a sense that the message is meant just for them.
If you focus your email strategy on delivering informative, helpful content throughout the long B2B purchasing cycle, you'll build credibility and establish a relationship with the receiver. Ideally, your audience will find the content so valuable that they share it with others in their network, expanding your reach.
Email allows you to segment your audiences and tailor your messages
Effective marketing today leverages technology to deliver the most customized message possible. Email offers limitless possibilities for customization, ensuring you don't send the same message to everyone on your list. Instead, you give them content meant specifically for their needs.
Most marketing automation platforms and email systems allow you to slice and dice your email lists based on a variety of factors, such as:
Industry
Role
Level of experience
Geography
User behavior (downloading a white paper, visiting certain pages on your website, attending a trade show)
While it takes time and effort to segment lists, the payoff is significant. MailChimp compared users who segmented their emails versus those who did not, and found that the former enjoyed:
9.4 percent fewer canceled subscriptions
3.9 percent fewer abuse reports
14.3 percent higher open rates
10.6 percent higher unique open rates
101 percent higher click-through rates
It's highly measurable and trackable, allowing you to hone your messaging and strategy
How many people on your list are opening emails? What links are they clicking? Are they forwarding your emails? Are you building or losing subscribers? What's working? What's not?
All of this information helps you refine your messaging and strategy. Success in marketing requires you to continually refine and improve, and email gives you the data to do that.
We practice what we preach. Sign up for our INKsights email newsletter, delivered every other week, for valuable insights and the latest trends in B2B marketing and public relations. We promise to respect your inbox and your privacy.