March 5, 2019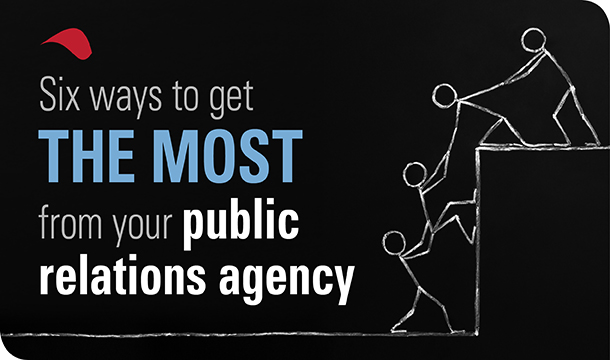 If you've ever worked with a public relations agency — or any consulting firm or professional services provider for that matter — you know that the outcomes can widely differ. There are many, many PR firms out there, and their level of expertise, experience and ability to consistently deliver results varies greatly.
But let's say you lucked out and hired a high-quality public relations agency (yes, that hyperlink is to us… wink, wink). What's your role in ensuring the success of the relationship?
It's pretty significant.
As with most things in life, you get back what you put in. A successful PR initiative requires investment — not just the cost of the PR agency, but your own time and expertise.
So how can you get the most from your public relations agency? Here are six ways:
1) Bring them into your inner circle
By far, the number-one challenge most PR pros have is getting the information they need to do their jobs. As a general rule, you can't give your PR peeps too much information.
Bring your PR team into your inner circle. Make sure they are regularly briefed on strategic company moves, industry trends and developments, and any internal experience or expertise related to timely events.
Often PR agencies are given a data dump at the beginning of the relationship, but ongoing communication suffers as the relationship continues. Remember that the more you involve your PR agency in the flow of information, the better equipped they will be to tell your stories. Add them to email distribution lists, send them regular FYI emails and consider inviting them to regular sales or product meetings.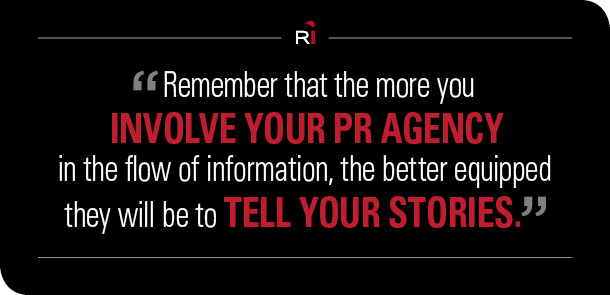 2) Give your PR agency information in a timely manner
Don't tell your public relations agency the day after you do something newsworthy. For example, let's say you're a law firm and you won a big case. If you haven't already briefed them about the case (which would be ideal), tell your PR consultants the moment the judge hands down the decision.
In today's 24-hour digital news cycle, you can lose control of a story minutes after something happens. Either get ahead of a story or be the very first one out the gate with it.
3) Streamline approval processes and ditch the committees
While it's important to have a well-thought-through review and approval process for external communications, sometimes well-meaning marketers can go overboard in their quest to gather feedback and secure approvals for press announcements.
Think through who really needs to weigh in on a press release before it is distributed, and document that process and rationale. Lengthy internal arguments over minor style preferences are a waste of time (and a lapse in perspective). Remember that the more bureaucratic layers you create, the less effective your PR agency will be.
4) Integrate PR with thought leadership and content marketing
Increasingly, firms are hiring PR agencies that also specialize in content marketing. Why? Because public relations and content marketing both rely on content — stories, expert insight, analysis, opinions, news and ideas — to fuel them.
PR professionals build relationships with the right people (editors, journalists and influencers) who can tell your story. Content marketing professionals create insightful, educational and valuable content that your audiences want.
Combine PR with content marketing and you'll put ready-made stories into the hands of journalists who can give your content the powerful boost it needs to be seen by a wider audience. You can also significantly impact your digital marketing goals by generating backlinks from high-domain-authority websites (the golden ticket for SEO success).
In addition, journalists turn to the internet when writing stories, and the company or firm that blogs will win the attention of the journalist first.
5) Educate yourself on how the media works
The media landscape changes at lightning pace — no other industry has undergone such dramatic transformation over the past decade.
Educate yourself on today's media landscape. What companies are being covered? What kinds of stories are being told? Use that knowledge to build reasonable expectations for success and to give your PR agency informed direction.
Most PR agencies are staffed with former journalists. These professionals can provide valuable perspective and guidance, as they've been on both sides of the table and know how journalists think and do their jobs.
6) Trust their advice on the newsworthiness of a story
PR pros have spent years mining their clients' businesses for newsworthy stories and pitching them to the media. They've gotten journalists' feedback on numerous pitches. And they monitor the media daily to see what's being covered.
In short, they have a pretty good sense of what makes a good story and what doesn't. When it comes to judging the newsworthiness of a story or pitch, take their word for it and work with them to improve your story angle.
Do you have tips for effectively working with public relations agencies? We'd love to hear them. Comment below or contact me at michelle@rep-ink.com or 904-374-5733.