February 6, 2018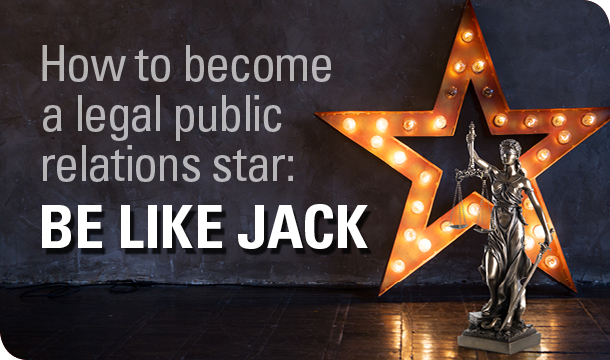 Becoming a trusted media source can be an incredible boon for lawyers and other professional services providers such as accountants, architects and management consultants.
The media's third-party credibility provides nearly the same power as a personal referral — the gold standard in professional services marketing. And, when compounded over and over again (with multiple media appearances), it can even beat personal referrals.
But becoming a media star is no easy task. Yet somehow, some attorneys are always quoted and featured in top media outlets, over and over again. Take Jack, for example.
How does Jack do it?
Jack Sharman is head of the white-collar practice at the Birmingham, Alabama-based litigation firm Lightfoot, Franklin & White. He is regularly quoted and featured in The Washington Post, Bloomberg, Reuters, USA Today and The New York Times and has been a guest on "The Today Show," "Meet the Press Daily" and "The 11th Hour with Brian Williams."
Since his firm began working with us nearly a year ago, Jack has truly embraced our legal PR strategies and become a trusted media resource. How does Jack do it? Here are six ways you can be a media star like Jack:
1. Jack is a bonafide expert.
There's no way around this one. As the media continues to consolidate, and top media outlets like The New York Times and The Wall Street Journal flourish, your credentials are incredibly important to achieving media success.
In 2016, the Alabama House of Representatives Judiciary Committee retained Jack as special counsel to guide its impeachment investigation of then-Governor Robert Bentley. However, that was not his first time in this role. Jack served as special counsel in the mid-1990s to the House Banking Committee (now called the Financial Services Committee) in the Whitewater investigation of President Bill Clinton.
So Jack knows a thing or two about congressional investigations and the unique role of a special counsel. And what's happening right now that Jack can provide the media insight on? Anyone? Anyone? Mueller? Mueller?. That's right, the Trump Russia investigation.
But there are lots of top national law firms with congressional investigations practices (simply google "congressional investigations practice" to get a sense of Jack's competition). There have even been other, higher-profile special counsel. (Anyone remember Ken Starr?) So how did Jack Sharman rise to the top of the media fray?
2. Jack is helpful.
Jack doesn't always talk about himself. In fact, he rarely talks about himself other than to provide his credentials so that media knows he's achieved step #1 (see above: bonafide expert status).
Jack draws upon his decades of experience to break down complicated, fast-moving issues for reporters who are time-stretched and cover an ever-increasing array of complex topics.
3. Jack knows what reporters want.
Jack was an eager student of ours. We taught him what journalists want, and he now uses that knowledge to zero in on the most important issues, never wasting any time. He doesn't ramble, never uses jargon and gets straight to the heart of the issue.
He answers questions such as:
Why is this recent development important?
What's the relevance?
What does this mean?
What's likely to happen next?
This makes him an incredibly valuable media resource.
4. Jack is fast.
When Michael Flynn pled guilty to lying to the FBI, we issued a quote from Jack to our media contacts that morning. Not that afternoon. Not the next day. That. Very. Morning. We could do this because Jack sent us his quote while the news was breaking.
The result? USA Today. Washington Post (he was actually quoted twice that day). MSNBC's "Meet the Press Daily."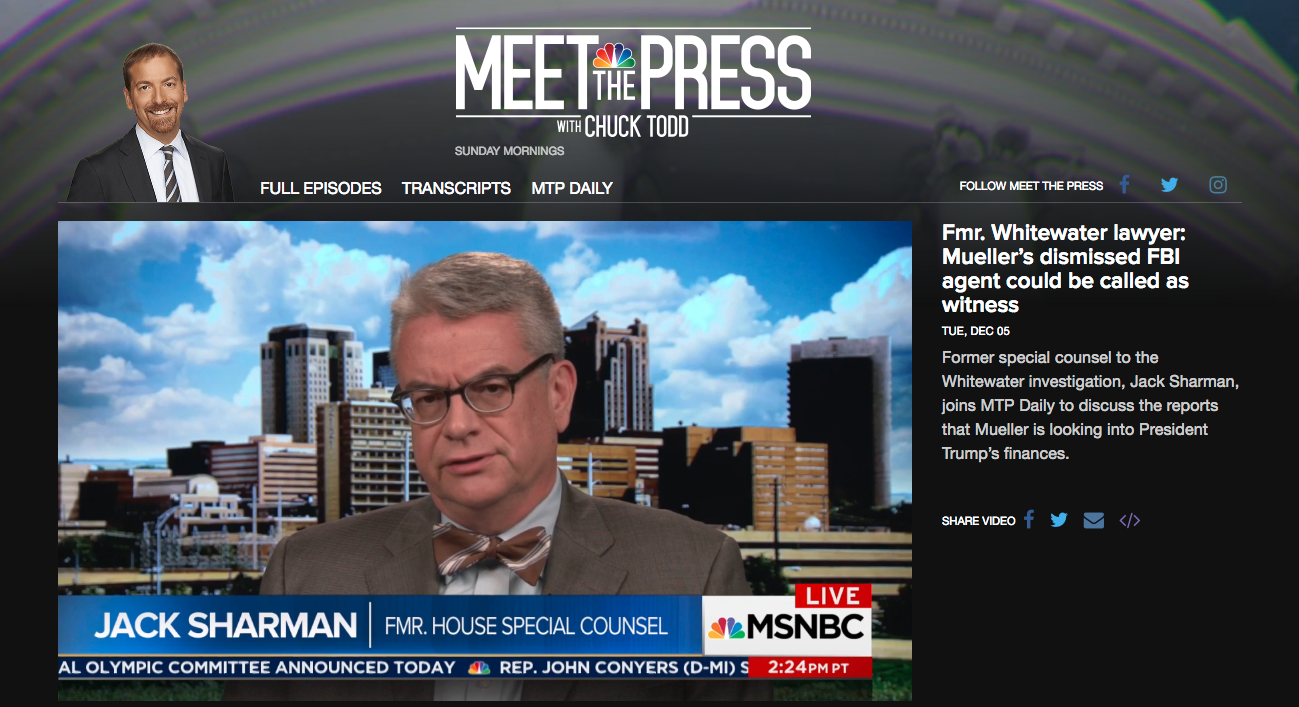 The quote succinctly gave the media Jack's take on the plea — its significance and value as an investigative tool for Special Counsel Robert Mueller. This showed journalists Jack's insight on the topic and how he would be able to contribute to interviews.
5. Jack is accessible.
We have Jack's email, mobile and office number. He lets us know in advance when he is going to be unreachable.
Jack is willing to talk to the media on their timeline. He knows windows close fast in the 24-hour news cycle, so he responds quickly. He's done interviews after close of business and even on Sundays so a Bloomberg reporter could file his story first thing Monday morning.
He's also an active blogger and shares his posts with us, providing us additional insight into the kinds of topics we can pitch him on.
6. Jack partners with his PR agency.
Some people are natural at PR. But even Jack needed to learn how the process worked. Once Jack saw firsthand that by demonstrating to reporters how he could add value to their stories, they would be more likely to talk to him (and then come back again), he quickly became one of our best clients.
Jack values our public relations expertise and national media contacts, and we value his legal expertise and newly earned PR savvy. By combining them, we've been able to achieve impressive results.
Do you have questions about securing media coverage or want to become a media star like Jack? Contact me at michelle@rep-ink.com or 904-374-5733.