October 24, 2023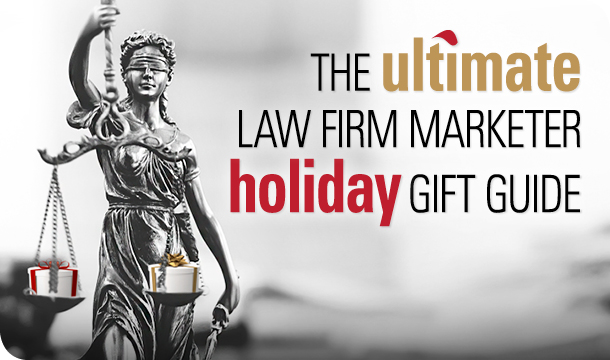 'Twas the night before holiday vacation, and all through the law firm, not a body was stirring — except for you, that dedicated marketing director finalizing next year's budget.
OK, maybe you're also watching for price drops on Amazon. 'Tis the season, after all.
Since you likely bought, wrapped and sent all the firm's client gifts, plus dreamed up an awesome holiday e-card, isn't it time to treat yourself a bit?
With that in mind, we've compiled the ultimate holiday gift guide for legal marketers. There's something on this list for everyone — and you might want to share it on your social media so colleagues and loved ones see it in case they're at a loss for what to buy you.
Of course, printing off copies and "accidentally" leaving them lying around is also acceptable. Just as long as you circle your top choices in red ink.
For the bookworm law firm marketer
Law firm marketers are book people. It's just a fact — and one that goes hand in hand with the job description. These are some great ideas guaranteed to please any bookworm.
For the stressed-out law firm marketer
The life of a law firm marketer isn't easy at times, and there are days when it can be a bit much. That's when a good self-care routine comes in handy — maybe supported by one of these gifts?

For the traveling law firm marketer
Whether it's heading to the annual LMA conference or getting face time with a firm's offices, law firm marketers can travel a lot. Here are some gift ideas to make it fun and easy.
For the caffeinated law firm marketer
The key to effective law firm marketing? Caffeine. Lots of caffeine. These gift options can help any law firm marketer power through the hectic daily grind.
Blue Bottle Coffee

:

Blue Bottle has some great gift ideas to please every coffee connoisseur. Another option might be a

coffee subscription

or

one for tea

!


Ember Mug

: No more cold coffee! The Ember Mug makes sure that your drink stays at your desired temperature — even if you poured it an hour ago.


Cold brew iced coffee maker

:

Cold-brew coffee fans swear by the mellow flavors this slow-steeping approach brings out in their favorite beans. This gadget makes it easy.
For the law firm marketer with a sense of humor
You don't survive in legal marketing without a good sense of humor. Anything to tickle the funny bone can go a long way.
For the health-nut marketer
Staying healthy is key to being at the top of your game. Here are some suggestions to keep legal marketers in tip-top shape or maybe just more aware of their health.
VARIDESK Pro:

VARIDESK turns any desk into a standing desk. All you have to do is place the double-level stand on top of your existing workspace — no attachments or assembly necessary.


Hydration-tracking water bottles:

A great way to encourage a legal marketer to get enough water.


23 & Me:

Marketers love data. This unique gift gives them data about themselves. With a 23 & Me kit, you can get genetic insights into your ancestry, traits, and health. The kit delivers more than 150 personalized reports.
For any law firm marketer
Making a law firm marketer's job easier is also a great gift. Here are some things they might be hankering for but perhaps won't buy for themselves.
Spread cheer to every legal marketer this holiday season
Law firm marketers work hard all year long and deserve a little something for their efforts. The perfect gift will spark some joy that will likely sustain them through the year ahead. Happy marketers are effective marketers! So go ahead and treat someone to something from this list — or let us know below what you think would be the perfect gift.