May 1, 2020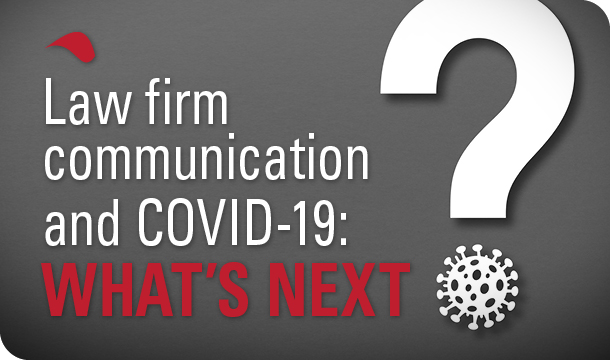 I was honored to be part of a panel discussion last week, hosted by three Florida Legal Marketing Association (LMA) groups: Orlando, Jacksonville and South Florida. If you couldn't attend the virtual event, you missed hearing from the following law firm public relations professionals:
The panel discussion was moderated by Laura Kaminsky of BakerHostetler. While we covered a range of topics, I've highlighted key takeaways below (the full webinar recording is available here).
How have law firms evolved since COVID-19 and how are they finding new opportunities?
Ioana Good:
Law firms were quick to establish COVID task forces and to write and disseminate thought leadership pieces on the legal implications of the coronavirus. Then, many transitioned to focusing on business continuity planning and restructuring. Now, Ioana expects many firms to focus on succession planning.
Todd Templin:
Entrepreneurial-minded law firms will have the advantage. Those firms are quickly pivoting and cross-selling, with some firms partnering with other law and professional services (such as CPA) firms to form COVID task forces.
Are law firms cutting budgets across the board and what can we expect in the future?
Michelle Calcote King:
Often in an economic crisis, marketing can seem like the easiest thing to cut. But that's not wise if you look at the research on marketing spending and recessions spanning from the 1920s onward. Reputation Ink took a deep dive into the research from organizations such as McGraw-Hill Research, Harvard Business Review, Bain & Company, McKinsey & Company and more and found overwhelming evidence that it pays to maintain — and in some cases increase — marketing expenditures during an economic downturn.
We have also found that law firms tend to rely more on — and spend more on — marketing in times of disruption. This was the case in the Great Recession, when many law firms that had never invested in marketing realized that they needed to change in order to survive.
Marketers should reallocate budget earmarked for in-person marketing and business development activities toward digital marketing and thought leadership, as more eyes than ever are focused on computer screens and people seek legal analysis of the challenges presented by the COVID crisis.
Vivian Hood:
At a time of economic uncertainty, it's critical not to cut the people who contribute to the growth of your law firm: marketers.
Ioana Good:
LinkedIn use is up 52% in the last seven weeks, with many in the legal community contributing. Those firms that have been absent during this time won't enjoy the same market share in the future as those who were active.

What is media saying and how are they evolving?
Vivian Hood:
The transition to virtual court proceedings is changing what the media can cover. Before COVID, a media outlet may not have sent a reporter to another state, for example, to cover an in-person proceeding. However, with more telephonic and virtual court proceedings, reporters can now virtually attend and cover the cases from their home offices. In this way, the crisis has expanded what reporters can cover.
Todd Templin:
Todd spoke with Cathy Wilson at Daily Business Review and said their coverage is shifting to the layoffs, pay cuts and other impacts of the crisis on law firm finances and operations, as they believe many professional services firms won't see the impact of the crisis for several months down the road, depending on the pace of billings.
Todd's agency has also had great success in placing attorneys on local television to provide context to TV audiences (not a usual media target for corporate lawyers) on the legal and business implications of the crisis.
What are some good things you are seeing that law firms are doing?
Michelle Calcote King:
Law firms are finding that they can work effectively from home offices. This message is incredibly important, as clients have been demanding greater efficiency from their firms for many years.
Lawyers are also showing more of their personal side, as the crisis has blended our professional and personal lives in ways never seen before. For a profession that is traditionally buttoned up and sometimes reticent to show the "human" side of their business, this is a welcome change. As the old adage goes, people do business with people they like. As lawyers increasingly feel comfortable sharing more of their personal lives, their practices will benefit.
Ioana Good:
Law firms are reallocating budgets earmarked for in-person marketing and networking and are investing in technology to facilitate connecting virtually. Firms are also doing more pro bono work. For example, one firm with a strong trusts and estate group is offering wills free of charge for frontline workers.
How will law firms adapt to going back to work?
Vivian Hood:
Law firms are planning now to return to the office and are considering a wide range of issues, from what childcare might look like (with most schools operating virtually for the rest of the year) to their business models and how they might have changed. She recommended a webinar by Michelle Friends and Timothy Corcoran, Reopening the law firm: timing, considerations and policies, for those interested in learning more.
Todd Templin:
The COVID crisis ramped up PR activity for many law firms, with many attorneys participating in media relations for the very first time as firms rushed to provide context and analysis of the pandemic. Many attorneys who "got a taste" for PR may now engage more in the process going forward.
While no one knows how long this will last, what are some things you can do to get ahead?
Michelle Calcote King:
Law firms should use this crisis as a lesson in the importance of visibility. In a crisis, people seek out guidance and direction from those they consider experts and authorities. If you aren't visible in a crisis, your audience will view your absence negatively. It's important to extend your presence — through public relations, social media, email and other channels — throughout the crisis and beyond, as the benefits of being visible to your audiences continue long after a crisis.
Content marketing and thought leadership are tailor-made for times like these. However, while many law firms and attorneys have been active in thought leadership for a long time, they aren't using digital tools such as marketing automation to leverage and extend the value of their thought leadership content. Now is the time to invest in digital marketing capabilities.
Todd Templin:
On the marketing side, the smart law firms are going to use this experience to take their firm's marketing to the next level, advancing their digital and social media skills and capabilities.
I encourage you to watch the recording of the webinar and if you have any questions about your firm's marketing or public relations during the COVID-19 crisis and beyond, contact me at 904-374-5733 or michelle@rep-ink.com.