June 19, 2019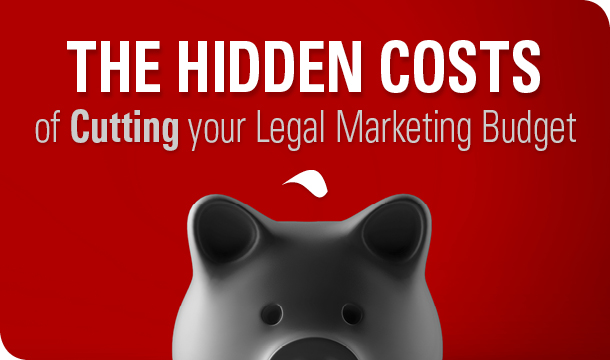 Note: This post was first published on the Thomson Reuters Legal Executive Institute blog.
It's the classic chicken-and-egg problem: You don't have money to invest in marketing, but you need marketing to grow. And while there are plenty of studies clearly demonstrating a direct link between law firms' marketing investment and financial growth, many firms still choose to cut back on marketing when money gets tight.
This was one of the findings from a recent study by the Thomson Reuters Legal Executive Institute. In the 2018 Dynamic Law Firms Survey, law firms categorized as "static" (no growth or contraction) reduced their marketing spend by 1.7% in 2017. That's a 5% point difference from "dynamic" (high-growth) firms, which grew their marketing spend by 3.4%.
So why do many law firms still axe the marketing budget first when looking to save money? My guess is that there's a lack of understanding surrounding the many hidden costs of cutting marketing. Below are seven of these tangible, day-to-day losses and how they impact a law firm long after the financial crunch is over.
1) Securing media coverage and speaking opportunities will be costlier in the long run
Getting the media to cover a law firm, its work, and its attorneys is a long-term proposition that requires consistent effort. When deciding whether a story is newsworthy, journalists first turn to Google to see what else has been written about the law firm. A lack of news about a firm will lead a journalist to question the firm's credibility and legitimacy.
2) Your marketing technology platforms will be out of date
Technology changes rapidly. What works today will be out of date — and possibly obsolete — in just a few years' time. A law firm's website, email platform, customer relationship management (CRM) system and more must be continually maintained and upgraded to ensure they reflect user laws, preferences, and digital advances. And, outdated technology can leave firms exposed to cybercrime and security breaches, a substantial threat in today's digital world.
3) Your SEO will become SE-Nope
Google makes hundreds of updates to its search algorithms every year. Many updates are minor, but some are considered "major" algorithm updates that affect search results significantly. If your site was optimized years ago with no updates since then, you will not only lose your search ranking, but may also be penalized by Google, by either partially or fully removing your site from being indexed.
However, one thing that's remained constant for SEO success is fresh, relevant content. If a firm stops making any updates to its website, it will no longer be supplying Google with what it wants most.
4) Your CRM system will be worthless
In an industry so reliant on relationships, inattention to your CRM system is a death blow. A neglected — or non-existent — CRM system will make client communications laborious and time-consuming, especially those that are reliant on data such as client names, contact information, industry, status with the firm, legal needs, past interactions, biographical information, cross-selling opportunities, and more.
5) Your library of marketing collateral will deplete, leaving you dry when you need it most
Case studies, testimonials, articles on recent trends and issues, attorney bios, attorney headshots, brochures, social media posts, and more are critical components of the marketing toolbox. Without a library of up-to-date marketing collateral, other marketing activities will be difficult to accomplish.
In particular, case studies and testimonials must be continually collected. Imagine reaching out to a client years after the successful completion of a case or other work matter to ask for a testimonial? Indeed, case studies must be written soon after the work is completed to capture information fresh in your attorneys' minds.
6) Your network will dry up
Networks are built differently today than in the past. Clients move jobs more frequently, are less reliant on in-person networking to maintain relationships, and look to digital avenues such as social media and email to maintain valuable connections.
Without a consistent effort to maintain and nurture your firm's connections, you'll lose valuable relationships and referral sources. Appearing seemingly out of nowhere after a drought of communication will make your task much more difficult, if not impossible.
7) Your brand will look outdated, leading clients to think the same of your skills and abilities
Brands must evolve. And while a brand is more than your logo, colors, typography, and photography, these visual elements must be cultivated and advanced to reflect modern preferences and styles. This is why leading consumer brands have changed their logos over time — they evolve to reflect new media applications and contemporary tastes. An outdated look and feel will make your firm look old, stuffy, unattended, and satisfied with the status quo.
The overall lesson of these seven hidden costs is obvious: If you don't demonstrate that you believe and invest in your firm, your clients won't either. In the long run, this will be more costly to overcome than the money you saved by cutting back on marketing.
Looking for marketing support at your firm? Contact me at michelle@rep-ink.com or 904-374-5733.