April 17, 2019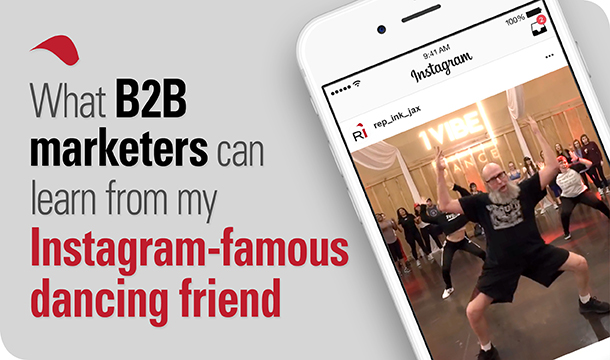 Last month, I was sitting backstage at The Ellen DeGeneres Show as my good friend danced onstage to the song "Wow." by Post Malone. While I sat there — both worried and excited for my friend — Rob Lowe casually walked past me a few feet away. At the same time, Will Smith's "people" were emailing and texting us, along with Good Morning America, Inside Edition, Steve Harvey and many more. A week later, my friend danced on stage with Post Malone and performed in the official "Wow." music video.
How did this happen? And why am I writing about it on Rep Ink's professional services and B2B marketing blog?
My friend, Mike Alancourt, had become a minor internet celebrity virtually overnight after a video of him dancing went viral in early March. As one of his best friends, I experienced this strange phenomenon up close — from the moment Will Smith shared the video, to preliminary Skype interviews with Ellen producers, to Mike being recognized several times in the airport as we made our way home from Los Angeles.
https://www.instagram.com/p/Buj5inbhBuZ/?utm_source=ig_embed
Mike isn't a celebrity, nor is he a professional dancer. He's a 43-year-old private individual who works as a teacher's assistant while taking classes at a local community college to become an American Sign Language interpreter. He decided to take hip-hop dancing classes in an effort to do more things that bring him joy. When the video (that went viral) was shot at 1Vibe Dance, it was his third time ever taking a class at the studio.
As of today (it increases every day), Mike has nearly 120,000 followers on his Instagram account. While it's not the millions of followers that some celebrities enjoy, Mike's followers are impressive and are opening up doors to new opportunities, if Mike decides to pursue them (the jury is still out).
As an owner of public relations and marketing agency focused on professional services firms (such as corporate law firms, architecture, engineering and construction firms, etc.) and B2B companies, I was fascinated by the entire experience.
How can someone attend a dance class one week and the next week be getting calls from Ellen producers and Will Smith's "people"? (Sorry, I can't help but put that in quotes because without them it just seems pretentious.)
While Mike did not set out to build a large social media audience, the reasons Mike's video was seen by millions of people around the world can serve as useful lessons for B2B marketers. Until the robots take over, human beings are still the decision-makers in B2B and professional services, and many of the reasons they share cat videos at home are the same reasons they consume and forward white papers, educational videos and case studies to industry connections.
Here are five lessons from Mike's viral video success for B2B and professional services marketers:
1) Figure out what kind of content your audience will share
Sharing isn't just caring. In today's #fakenews world, people trust each other more than they trust brands. When someone else shares your content, others are more likely to pay attention and believe the content to be credible. This is especially true in B2B and professional services, where referrals are still the number-one driver of new business.
Thus, shareability must be a key goal when creating B2B content. Track social media shares and test various types of content to determine what gets shared the most. A content share provides many of the same benefits as a referral. While different than a referral based on direct experience, a referral based on your reputation (e.g. "I've heard of XYZ company/firm and that they do great work") can be equally powerful.
However, this doesn't mean that B2B marketers should start making cat videos. Instead, figure out what type of content ties in with your brand message AND is likely to be shared by your audience. In B2B and professional services, shareable content is almost always educational and adds value to the reader without being promotional.
Post Malone featured Mike in his official "Wow." music video. (Skip to 1:24 if you don't believe me.)
2) Be authentic, genuine and — dare I say — human
In his new book, Marketing Rebellion: The Most Human Company Wins, Mark Schaefer argues that the traditional marketing mindset must be overhauled. He says that while "marketing departments have had their heads down, chunking out their content, ads, and social media posts…. the expectations and desires of consumers have taken a quantum shift away from us."
People — human beings — are now in control of the marketing process.
Mike's video resonated because he was authentically himself. He was having a blast doing something he loved. People could see themselves in Mike — trying new things, experiencing joy and taking a chance.
B2B and professional services brands must communicate as human beings. Instead of email blasts sent from a company email, send a letter-style email from an actual person. Use first person (Gasp! Horror!) in your materials. Write in a conversational style. Don't be afraid to be unique, creative and authentically who you are as a company, full of real, live human beings.
3) Build relationships with influencers
After Jen Colvin, 1Vibe's owner and choreographer, posted Mike's video on a Sunday night, the viral process began… likes, comments and shares started multiplying.
But on Wednesday that week, something big happened. Will Smith, aka the Fresh Prince, shared the video. As of today, that single post has been viewed nearly 13 million times. That post gave the video a virtual launch into the internet stratosphere, as other celebrities, Post Malone himself, and thousands upon thousands of people joined the cascade of shares and views.
While social media influencers aren't anything new, influencer marketing is gaining traction in the B2B world. That's because — as I mentioned above — people trust other people more than brands. As Mike's experience with Will Smith demonstrates, one single share by a trusted and well-liked influencer can give your content the boost it needs to be seen by a wider audience.
4) Surprise your audience
Mike is a 43-year-old guy with a long, gray beard, an earring stud in his bottom lip, a small pot belly (not throwing stones, I have one myself), and black wireframe eyeglasses. He's not the kind of guy you'd expect to absolutely kill it on the dance floor. But Mike DID kill it on the dance floor. And people went nuts.
Mike surprised people — it was unique, fresh and unexpected. In an era where we've truly seen it all, the unexpected catches people's attention. It's simply human nature to want new, fresh experiences and to see things in new ways.
B2B and professional services brands CAN do unexpected, fresh marketing. One of my favorite B2B marketing agencies is London-based Velocity Partners. Named by the Content Marketing Institute as its very first B2B agency of the year in 2016, Velocity Partners is the epitome of fresh, creative and surprising marketing. Browse through their website and blog, or read one of their most well-known pieces, Crap: the single biggest threat to B2B content marketing, and you'll quickly get my point.
5) Communicate emotion
Mike's video stirred people's emotions. They felt inspired by someone who looks "normal" dancing in such a carefree, uninhibited, confident and joyful way. In short, it made them happy.
Consumer brands have long used emotionally driven marketing to influence buyer behavior. However, B2B and professional services brands can also benefit by harnessing emotion.
Research from CEB's Marketing Leadership Council and Google showed that emotional connections with B2B companies and their customers are actually stronger than that of B2C companies and their customers.
B2B and professional services brands that connect with their audiences' passion, pride, sense of community, need for purpose and more will enjoy more engagement and loyalty than those who cling to the old ways of stuffy, emotionless marketing.
Do you have any other thoughts about how Mike's Insta-fame experience can serve as lessons for B2B and professional services marketers? I'd love to hear your thoughts. Email me at michelle@rep-ink.com or connect with me on Twitter.