March 19, 2019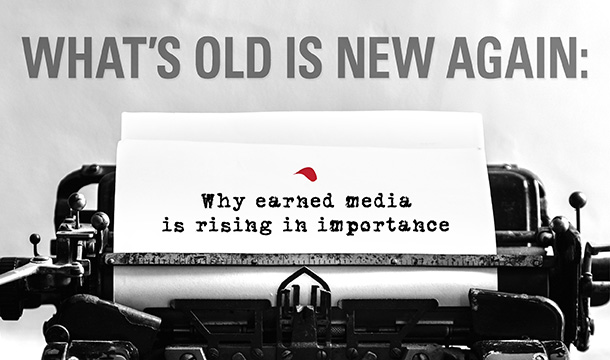 As digital media companies like BuzzFeed, Vox and Vice have recently lost web traffic and made staff cuts, The New York Times has grown to a record 4.3 million digital and print subscribers while expanding its newsroom to 1,600 journalists, the largest count in company history.
Wait, I thought old-school news organizations were dying? What gives?
Here's the reality: In a world of fake news (the actual kind), disinformation, bots and social media echo chambers, people are turning to traditional media outlets more than ever for information they can trust.
So what does this have to do with you, the business-to-business (B2B) or professional services marketer?
At this point, you may be having one of the following thoughts:
"I get why public relations is important for consumer products, but it's just not relevant for B2B companies or professional service firms."
"We're not a huge company with a big communications department. We don't do anything particularly newsworthy, so press coverage isn't a priority."
"We already do extensive marketing, have a blog and place paid ads. If we get contacted about a media request, that's one thing, but we don't need to do proactive PR."
If that's you, you've found that right place! I urge you to take a seat and hear me out for the next five minutes.
Earned media may be the biggest opportunity you're missing out on.
Earned media vs. owned media vs. paid media
I promised not to keep you all day, so here's a quick recap:
Earned media — Exposure gained through word of mouth (news mentions, customer reviews, social media interactions, content shares, podcast appearances)

Owned media

— Content you control (company website, blog, e-books, videos, social media accounts)

Paid media

— Sponsored promotion (paid advertising, advertorials, promoted social media posts)
There is value to each of these, but a modern B2B marketing and communications strategy cannot leave out earned media.
If that's you, you've found that right place! I urge you to take a seat and hear me out for the next five minutes.
Earned media may be the biggest opportunity you're missing out on.
Why is earned media so important right now?
According to the 2018 Cision State of the Media Report, 59 percent of U.S. consumers said fake news is making them more skeptical of what they read and see.
The political climate and questions about the authenticity of social media "news" has driven greater interest in information people can trust. Hence the so-called "Trump Bump" in subscriptions for The New York Times, The Washington Post, The Atlantic and other traditional publications.
Plus, we're continuing to see a declining trust in brands. Paid advertising can only take you so far in a world where:
Bottom line: There are a lot of eyeballs on outlets that produce good journalism, and people trust them more than ever. Are your brand and experts there, too?
What it means for you: The benefits of earned media
It doesn't matter if you're a boutique law firm, a mid-size engineering consultancy or a global tech company: When your experts are quoted in a story or your news is featured in a target publication, your brand gains a boost in more ways than one.
Greater reach
Merely appearing on the homepage of a website that gets hundreds of thousands of views per day can majorly boost your brand visibility. Even if only a fraction of visitors actually read the article, that's still thousands of people learning about your company. And those who don't read it? At the very least, your brand will be familiar the next time they see it.
Third-party credibility
Earned media not only boosts reach, but it boosts trust. If your brand mattered enough to a major newspaper or trade publication, then it will matter to many people who trust those sources. Savvy audiences today are quicker to trust these outlets — and, therefore, your company — rather than the "news articles" their great aunt is blindly sharing on Facebook.
Increased web traffic
Whenever your company is featured in a media story, there is almost always a referral link in there pointing back to your website for readers who want to learn more. In fact, 25 to 40 percent of all traffic and lead generation comes from earned media. Brands that leverage earned media see boosted conversion rates, too.
Better SEO and domain authority
When news outlets link to your website, it improves your domain authority, a qualitative measure of your site's trustworthiness. Sites with higher domain authorities tend to appear higher in Google search results, which ultimately means more visitors to your website.
Where do I go from here?
So you may be thinking, "This all sounds great, but one does not simply appear in The New York Times." And you're right. But you may not need to.
The key is to target media outlets that are relevant to your particular audience. This is especially true for B2B and professional services companies.
If you sell a solution that helps succulent growers do their jobs better, then being featured in Cactus and Succulent Journal (yes, that's a thing) may be more valuable than showing up in The Wall Street Journal.
Owned media and content marketing are still important, but these efforts must be paired with a public relations strategy to truly maximize their potential. At the end of the day, you can have the best quality content, but it won't matter if the right people don't see it.
Consider your current budget and priorities. If you want to be where your target audience is, move your public relations efforts higher up the list or find a partner who can help you get that valuable earned media exposure.