September 22, 2017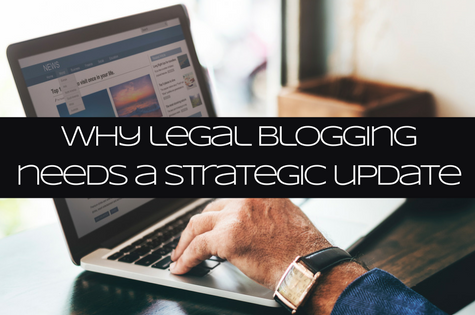 At the Legal Marketing Association's Southeastern Conference last week in Charlotte, North Carolina, in a session on content marketing, the presenters gave an overview of Greentarget's 2017 State of Digital & Content Marketing Survey. Unsurprisingly, the theme of the report: information overload. The survey found that 96% of in-house counsel say that there is content overload, while 81% of law firm marketers plan to produce more.
How to rise above this content deluge? Shift from a thought-leadership mindset to a lead-generation mindset. By doing so, law firms will be forced to become more strategic in how they reach their prospective clients, giving them the content that they want, when they want and how they want it. Because if they don't, the proof will be in the pudding: zero leads.
Law firms must step up their game to stand out
Law firms — notorious aufblasbares zelt kaufen for their disdain of marketing ("If I'm a good lawyer, I don't need to market myself") — have actually been at the forefront of one marketing tactic: blogging. Lawyers were blogging before blogging was cool.
The practice of law and blogging go together like peanut butter and jelly. Lawyers are experts, and blogging demonstrates that expertise in a way no other marketing tactic can. By blogging, lawyers build their reputations, establish trust and credibility and demonstrate how they think and work in a helpful, non-salesy way.
And while the actual practice of blogging — and doing so on a consistent basis — is about 70% of the battle in marketing professional services, the other 30% is critical, and sorely missing in law firm marketing strategies.
What's the missing 30%?
Two words: lead generation. Legal blogs must generate leads and then convert those leads to billable revenue. However, the majority of today's legal blogs put an emphasis on thought leadership (creating authoritative, educational content like client alerts, practice group newsletters, articles, social media, presentations, etc. to become a go-to person and trusted expert) over lead generation.
Thought leadership is an important goal in professional services marketing. Being seen as a thought leader in your area of expertise has numerous benefits. However, that's just one piece of the pie. That thought leadership must translate into new work (i.e., the Benjamins, bacon, bucks, cheddar, el dinero, moolah…. the money, honey).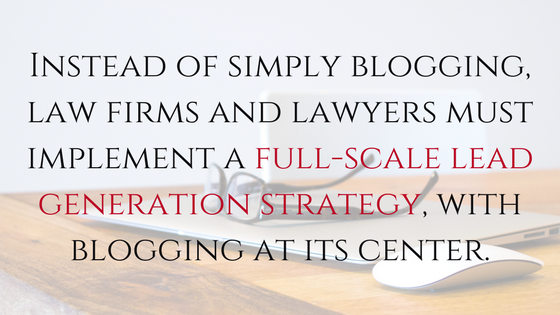 So how can law firms and lawyers take all this blogging and translate it into some delicious cheddar? Instead of simply blogging, they must implement a full-scale lead generation strategy, with blogging at its center.
Lead generation for law firms
Lead generation is the practice of attracting leads, collecting their contact information and following up to convert them into clients. The tools of lead generation and thought leadership overlap, but the critical difference is that you collect information on the people reading your blog posts and articles, and you engage with them further — on and offline.
Here's how you can use the most common lead-gen tools to ramp up your law firm's marketing game, and bring in new clients:
1. Gated content
If you're pumping out informational, valuable content (blog posts, client alerts, etc.), you're ahead of the game already compared to many other firms. But if you don't put some of it behind a "gate" — or a form that a user has to fill out — you'll never collect any information about who is consuming your content.
However, in order to gate content, you must produce content that a website visitor will perceive as valuable enough that they will give away some of their personal information in order to receive it. This is the basic "give in order to get" concept. You must give something — your knowledge in the form of an e-book, video or webinar — in order to get some information about your website visitor.
Keep in mind that you still need to create content that isn't gated (like blogs) as you must attract visitors to your website in the first place. However, once you get them there, you need to learn something about them. That's where gated content comes into play.
2. Marketing automation
Marketing automation is software that (you guessed it) automates marketing tasks such as email and social media. Leading marketing automation providers include HubSpot, Eloqua, Marketo, Act-on, Silverpop and Pardot. But marketing automation is more than just a time-saver. It enables you to use technology to deliver customized, personalized experiences.
So what can do you with a marketing automation system? Here are a few examples:
Send personalized content (e-books, white papers, blog posts, etc.) to the right people at the right time.
Track your website visitors' behavior — know where a prospect is in the sales funnel or buying cycle and what information they're looking for.
Develop optimal marketing patterns (email send times, subject lines, content formats, etc.) based on your prospective clients' specific behaviors and preferences.
Score (and segment) prospects not just by demographics, but by actions taken, such as pages viewed, times they visited your site, webinars attended, content downloaded, social media interactions and email opens/clicks.
Create landing pages for content such as white papers, e-books and webinars to collect information through lead forms, which then automatically sync to your CRM system.
Establish email workflows to move prospects along the buying path. For example, if a prospect downloads an e-book, you can send them links to blog posts, webinars and case studies on the same topic.
Integrate marketing channels — from your blog to social media and email marketing — to ensure a comprehensive, cohesive user experience.
3. Calls to action (CTAs)
Once you create content that you can gate, you need to create calls to action that you place throughout your website and blog to encourage website visitors to download your content. These can be as simple as a box with some text promoting the content and a link to where the user can download it. Some marketing automation software programs offer "smart" calls to action, routing specific CTAs to new website visitors that are mostly likely to appeal to them.
4. Landing pages, forms and progressive profiling
Once the visitor clicks on the call to action, they should be taken to a landing page devoted to that content. The landing page should be simple and provide a short, succinct description of the content the visitor is interested in downloading. It should also include a form that the visitor will fill out in order to receive the download.
The form is an area where marketing automation can help improve your conversion rates — you don't want to ask too much of new website visitors or you'll scare them off. But you want to know as much as possible about your prospects, right? With progressive profiling, each time a visitor fills out a form, you can progressively ask them more questions, as your system will recognize the visitor and auto-populate the form with the information it already has.
For example, the first time you may ask for just the prospect's name and email address. The second time, that information will auto-populate, and you can ask for company name and phone number. The next time, industry and company size. You get the idea. All the information is stored in the prospect's CRM record.
And finally, once the visitor has filled out the form, they should be sent to a thank-you page with a link to download the content. Here you can add some links to other content like blog posts that the visitor might find interesting.
5. Sales hand-off or lead nurturing
So how does sales get involved? With a lead-gen strategy, you can use your content to "qualify" leads. For example, if a website visitor views a lawyer bio more than three times, you can bet they are probably somewhat interested in your services. But if they are primarily just reading blog posts, they might not be ready yet.
By using marketing automation software, you can track what kind of content a prospect has consumed and use that information to determine whether they are "sales ready" yet. If they are, get sales involved and have them give the prospect a call. If not, use lead nurturing to stay top of mind with the prospect until they are ready for sales intervention.
For more information on law firm lead generation strategies and tactics, contact me at 904-374-5733 or michelle@rep-ink.com.