February 17, 2023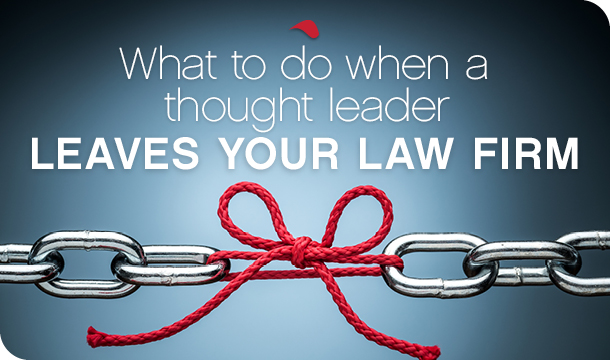 It's no fun trying to replace a law firm's in-house superstar. Think of all the countless hours of written-off billable time that the firm's leaders likely spent mentoring that next partner-to-be, only to let that candidate — and the substantial book of business they initiated and nurtured — slip into the hands of a competitor or solo venture. However, this is precisely a status quo situation that most law firms must navigate, as roughly 36% of law firms reported seeing an increase in associate turnover in 2021 compared to 2020.
Losing a leading professional hurts, especially if that lawyer or team member left an indelible mark on the firm. But they must still address the potential fallout from the departure, including how it may affect the reputation of its practice groups, team morale and how existing clients interface with the firm. An effective PR strategy — particularly one prepared by an experienced legal PR team — can help bridge these gaps and help the firm move onward and upward. Some considerations on how they can address this is presented below.
1. Identify why they left — and if those reasons reflect underlying firmwide issues
Regardless of why they left, law firm partners must work to identify the root cause of why the attorney departed — assuming they were not laid off or let go.
The reasons justifying an associate or partner's lateral move can be endless. For example, the attorney's new firm may have an office location that better accommodates the lawyer's lifestyle needs or is better suited to a family-related move.
However, many other common reasons prompting lateral moves can boil down to how the associate or partner viewed their career prospects and fit at the firm. The new law firm may offer more hands-on involvement in client cases for younger-career associates, or provide policies designed to foster work-life balance. For departing partners, their new firms could have better resources, teams and connections, facilitating more effective services for their hard-won clients. Even more fundamentally, some aspects of the firm's compensation structure, leadership and liabilities could have been enough to trigger the thought of lateraling elsewhere.
Regardless of why key thought leaders have left, it's within the hands of the firm to find common threads to help keep their subsequent cohorts of legal leaders committed for the long haul. Human resources teams — if they have not already — should encourage their departing associates and partners to participate in exit interviews so they can pinpoint the reasons for the practitioner's departure. Will it necessarily result in a forthright diagnosis of whether and how the firm was at fault? Possibly, depending on the circumstances of the exit and the firm's comfort level. But these kinds of meetings could offer a launch point for discussing possible culture-impacting or workload-related changes with law firm stakeholders.
2. Respond strategically to media inquiries and rankings outlets
When a departing lawyer holds clout within both the firm and the legal industry, it is inevitable for questions to abound — especially from reporters and influencers in the legal area. While a lateral move by a respected influencer may not necessarily break the front pages of The Wall Street Journal or The New York Times, it will likely at least capture the attention of the major legal trades and LinkedIn — mainly depending on the size of the firm.
For firms prioritizing their performance on Chambers, the afterquakes arising from key lateral movements go beyond seeing fewer ranked attorneys overall on a firm's Chambers profile. Notable departures can have a definite impact on how anonymous client and peer attorney referees report on the firm's reputation in the various practice areas in which the thought leader was involved. Any negative feedback during the research process can complicate a firm's quest to achieve or maintain that ever-desirable Band 1 recognition.
The paths to solving these issues will involve sophisticated, multi-departmental initiatives. While a thought leader's departure will ideally be free of widespread attention, law firm stakeholders should hold conversations with their public relations team to establish talking points about the lawyer and how the firm is moving forward. These conversations will be especially critical, and sensitive, if the departure stems from harassment allegations or controversial activities. With a strategy and messaging points in place, law firm leadership can deflect probing questions from media and others while focusing on the strength of the firm's existing talent and future plans.
When addressing rankings-related complications, firms will need to eye the long game. While thought leaders may come and go, there are always untapped opportunities to build up talent in-house and attract incoming laterals with budding promise. In this sense, a public relations team can work with law firm partners, shareholders and human resources to place stories about the firm's attorneys and their work, along with diversity, equity and inclusion initiatives that are so important in recruiting today. These efforts can help build upon the firm's overall efforts to ensure seamless client service and find new partners and associates who can step up to the plate and fill the void of a departing thought leader.
3. Address their thought leadership
There is also the issue of what to do with thought leadership pieces — articles, blog posts, podcasts and the like — attached to the departing lawyer's name. Permissible practices will vary by state. In Missouri, for example, law firms must remove all mentions and images of an attorney on their website, be it biography pages, imagery, or — yes — attorney-authored content.
Along these lines, the firm should work with the departing attorney to transfer ownership of any standalone blogs the departing lawyer managed to a new attorney or team. They should also redirect any hyperlinks pointing to the attorney's bio page to the firm's website or practice area pages, and remove any bylines that reference the attorney from on-site law firm content. While it would be a fool's errand to request publications to retroactively change a lawyer's law firm affiliation in previously published articles, the best a firm can do is to ensure any hyperlinks from those pages are appropriately redirected.
Despite the thought leader's departure, there are still steps they can take to maximize the departing lawyer's prior contributions. For example, any unpublished ideas or drafts the lawyer wrote can be fair game for future thought leadership content for the firm — so long as those ideas and drafts are considered "works for hire" owned by the firm. Suppose the departing lawyer left on good terms to join a startup, legal technology company, or an alternative legal service provider. In that case, leaving the door open for future collaborations with that attorney may be worthwhile.
4. Take steps to mitigate future thought leader departures
While losing one significant thought leader can be a lot to process, the last thing a law firm should want is to have it be the first departure of many. The steps a firm must take to stem this tide will depend on how it navigates its internal culture and makes worthwhile opportunities available to associates and partners.
How effectively a law firm manages this process will come down to the quality of information it gleans from exit interviews, talks with colleagues and supervisors, and how leadership delegates case and publicity opportunities across its partners, associates and employees.
To ensure that law firm leadership can hear all sides and perspectives, partners should explore holding town-hall-style meetings that give individuals at all levels in a firm the opportunity to speak their minds. Public relations professionals — including those from external agencies — should attend these meetings to understand the firm's underlying mechanics, identify meaningful publicity opportunities and keep track of notable developments and initiatives to promote.
Above all, however, firm leaders should do whatever it takes to move on from the departing thought leader and focus on identifying and propping up potential successors. Law firm leaders should work with their external and internal PR teams immediately to identify up-and-coming associates, freshly minted partners and already-established rainmakers who would be appropriate for pitching as subject matter experts. Setting up input calls with these lawyers can go a long way toward identifying their professional interests and singling out the specific publicity opportunities that would best cater to their strengths. They can also deduce practice area trends that would best align with the backgrounds of those attorneys, and pitch them to key publications to earn both the lawyer and firm increased recognition.
Navigating the loss of a thought leader can be a drawn-out process involving the interplay of many departments, obstacles and considerations. With the help of a dedicated legal public relations team, law firm leaders can establish game plans to move forward and support the next generation of firmwide thought leaders.