January 16, 2023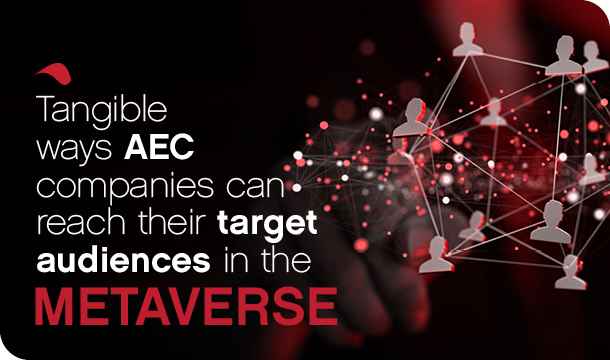 Although abstract in nature, the metaverse is transforming the universal business landscape (and by extension the marketing field) in ways that have real-world implications. Despite the burgeoning trend of using augmented and virtual reality in marketing campaigns, many corporations have been slow to adopt this new technology. In doing so, they're neglecting an enormous group of potential clients and employees (especially those younger cohorts). According to consulting company, Metaversed, earlier this year the population of the metaverse hit a major milestone, reaching 400 million unique monthly active users.
Being a pioneer in any field can be risky, but with great risk comes great rewards. The key for architecture, engineering and construction (AEC) firms will be to find their target audience before the market becomes saturated. Think of the metaverse as California in the 1800s. Everyone is rushing there for gold. You don't want to be knee-deep in frigid river water, bumping elbows with all the other 49ers who missed their cue.
How can the metaverse advance B2B marketing?
Perhaps some of the hesitancy with integrating into the immersive virtual world, where users can work, play, shop and socialize, stems from a lack of understanding of its usefulness in B2B marketing. Who can blame them? The first time I heard someone reference the metaverse I immediately pictured superheroes flying around fighting crime. Wrong M-verse, Marja!
In reality, the metaverse offers companies an unparalleled opportunity to reach the next generation of buyers and decision-makers. For instance, augmented reality ad campaigns allow clients a virtual experience in product demonstrations. Just think, what if instead of delivering a digital or hard copy of a new project bid you could generate an interactive experience that demonstrates exactly what it is your design or construction capabilities can offer your client?
Another compelling way to use AR in B2B marketing is at trade shows. Your AEC firm could hire an augmented reality developer to produce content that makes a big impression on potential clients. Think of it as a new way to tell your brand's story in an immersive digital world.
Business benefits of an immersive digital world
Since there are still fewer companies using non-traditional marketing platforms, marketing in the metaverse will allow your business to stand out. Another benefit to the metaverse is that businesses can opt to build their own digital world rather than advertise on an existing platform owned by another company.
By unlocking the full potential of Web 3.0, which is just the third iteration in the evolution of web technologies and software, business can create apps for phones or virtual reality devices that demonstrate their products and allow users to test them out. For instance, a heavy civil contractor could create an app that allows users to "build" bridges and other infrastructure.
Protecting your assets in the metaverse
If you decide to explore marketing in the metaverse, I would caution you to consult an intellectual property legal expert because the patents, copyright and trademarks you've secured for physical products and processes don't necessarily extend into the virtual world. One example would be Nike's lawsuit against online resale platform StockX for allegedly infringing on its trademark swoosh logo. If one of your competitors decides to use your logo or unique products in their digital world, you'll be glad to have proactively sought legal protection.
Success in the metaverse
It might seem complex but marketing in the metaverse is simply the next evolutionary step in the way we communicate and interact with the world. Just as social media and blog posts were once considered only the domain of consumer and personal information and services — and are now central to effective business-to-business marketing — so too will the metaverse evolve and play a critical role in complex industries.
You don't have to be an instant expert to dabble in the immersive digital world. The trick is to be an early adopter. However you decide to implement marketing in the metaverse, just know that the (digital) world is your oyster!
Still have questions on B2B marketing in the metaverse? Email me at info@rep-ink.com.