May 28, 2022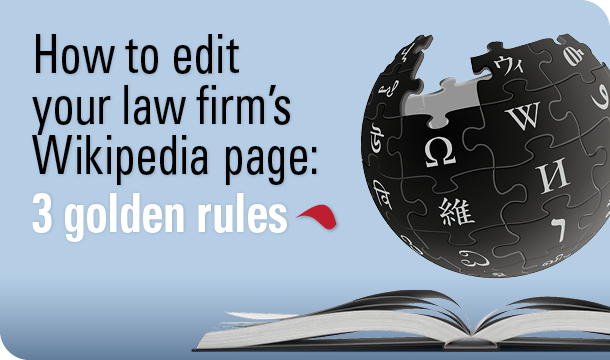 Just like death and taxes, if you're a marketer, it's inevitable that you'll be asked to edit a Wikipedia page (or worse: create one).
It's an understandable request given Wikipedia's prominence on the web. The online encyclopedia continues to dominate search results due to its high-quality, up-to-date content on a vast swath of topics. Its pages are frequently referenced in links from other sites, one of Google's predominant signals of authority. Google's addition of snippets and knowledge graphs has further cemented Wikipedia in the top few results for nearly any given search. 
Unfortunately, errors are rampant on the site. Correcting inaccuracies, however, is not a simple matter. Any edits, especially those to business pages, have to follow certain rules in order to pass muster. If you do it wrong, there's also a good chance you could get blacklisted permanently from the site. 
It's important to remember that Wikipedia is not your blog or news page. It's not a safe space for you to trumpet all the great things your law firm has done. Though flawed, it is meant to be an online encyclopedia that presents neutral fact-based information that can be verified and supported with citations. That accuracy is fiercely protected by an army of tens of thousands of volunteer editors who will not tolerate blatant, self-serving marketing speak and any other content misdeeds. So, tread carefully.
Rule #1: Be transparent
Wikipedia is a source of unbiased, factual information, not a marketing channel. The site's volunteer editors review all edits and frequently reject changes — or even entire pages — that they deem too promotional or not "notable." Users can also be banned from the site for making changes that the editors feel are inappropriate. 
Wikipedia editors take their role in preserving the accuracy of the information presented on the site very seriously. Because of this, any edits to a corporate Wikipedia page must be done in a highly transparent, non-promotional and verifiable way.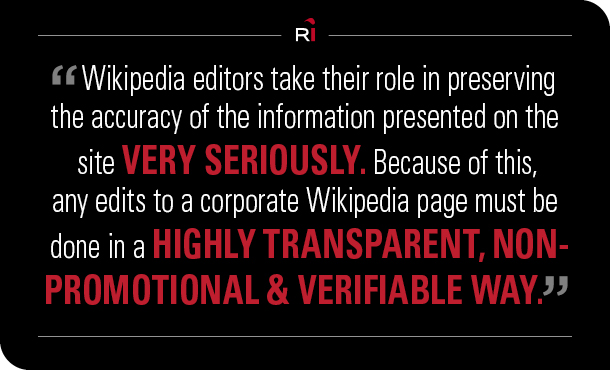 Use a non-conflicting, individual username
First things first: You must establish an account on Wikipedia to edit your page. Click on "create account" in the top right-hand corner. You'll need to choose a username, which is the first way you can get yourself in trouble.
Don't use a username that gives the impression that the account represents a group, organization or website. It's against Wikipedia's username guidelines for two or more people to share an account for any reason, and its editors will block the account if they suspect that to be the case. 
In other words, you should not create a username with your firm's name in it or the word "marketing," for example. Instead, your user name should reflect you as an individual. If you mistakenly set up a username that violates these guidelines, here's how to change it.
Declare your conflict of interest
Clearly indicate your conflict of interest (COI) by placing a note on your user page explaining your conflict. This step is incredibly important, and without doing so, you risk being banned from the site permanently.
According to Wikipedia: "Undisclosed paid advocacy editing is a black hat practice that can threaten the trust of Wikimedia's volunteers and readers. We have serious concerns about the way that such editing affects the neutrality and reliability of Wikipedia."
In other words, if you are editing a page as a function of your job (and thus being paid to do so) or have any financial interest in the subject matter, you must declare this conflict of interest. Previously, Wikipedia only encouraged users to declare their COI, but didn't require it. However, after a public relations firm called Wiki-PR was banned from the site for using hundreds of dummy accounts to edit pages in flattering ways for its clients, Wikipedia amended its terms of use to require COI disclosure.
When you set up your user account, you will be taken to a page that says "Tell us about yourself." This is where you should add something similar to this:
I work in [law firm's] marketing department and thus have a conflict of interest as defined by Wikipedia regarding [law firm]-related content. I'm here to contribute factual and verifiable information regarding [law firm].
I am aware of Wikipedia's policies and guidelines and will abide by them. As I am committed to acting in good faith, any violations of Wikipedia policy are unintentional. My edits will be restricted to talk pages, and I will not engage in editing directly any [law firm]-related page. Instead, I will volunteer information on the talk pages, and ask for Wikipedians' help.
If you want to contact me, please leave a message on my talk page [insert an inline citation with a link to your talk page], or e-mail me at [your email address].
Rule #2: Make suggestions, not changes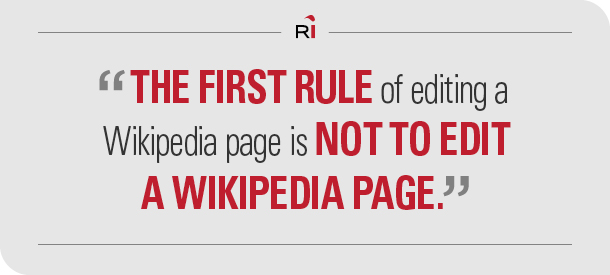 The first rule of editing a Wikipedia page is NOT to edit a Wikipedia page. 
But seriously, don't.
Instead, you should make suggestions via the "Talk" page of your law firm's Wikipedia page. By communicating behind the scenes with Wikipedia's impartial volunteer editors, you can ask them to make changes on your behalf. 
This practice is now widely accepted as the only way to credibly make edits when you have a conflict of interest. In 2014 several public relations giants, including Ogilvy and Edelman, issued a joint statement pledging to better understand and respect the Wikipedia community's rules, particularly those related to conflict of interest.
The talk page can be found in the top left-hand corner of the page. There are two tabs: "article" and "talk."
If a Wikipedia editor has already objected to some of your edits, you should also directly contact the editors (via their talk pages, which are linked to their bios) and provide them with your reasoning for your edits.
Rule #3: Provide verifiable, third-party sources
To ensure your suggested edits are accepted by the editors, you must follow Wikipedia's rule of notability. Wikipedia defines notability as something that's received significant coverage in reliable sources that are independent of the law firm. In other words, you should provide third-party sources that verify each of the edits.
The most reputable sources are articles by credible media outlets (score one for law firm public relations). For example, if you want to claim that your firm represented a major client, you should find a media article about that representation and include the link in your suggested edit. Do not provide links to your law firm's website as third-party sources.
In addition, follow Wikipedia's straightforward, non-promotional style and tone. Keep your edits focused, factual and to the point. Do not add superfluous information that cannot be substantiated as notable as the editors will likely remove it.
Finally, make edits over a period of time (and not all at once) to avoid triggering a flag on the page. One final note: Even if you follow all of Wikipedia's guidelines to the letter, there is still a risk an editor will see your changes as a conflict of interest. While that should not lead to an outright ban of the page, you may have to accept that some edits may not be allowed to stand. This is a battle you would be advised to walk away from and, instead, up your law firm content marketing game to better reach your key audience.