November 16, 2021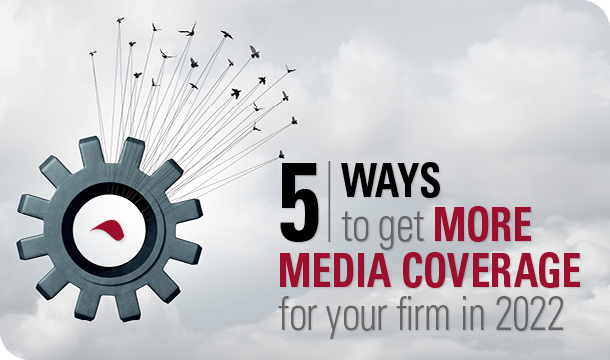 If your 2022 goals include increasing awareness of your law firm, becoming a well-known attorney in your practice area, or better promoting your firm's expertise and accomplishments, media relations must be a central part of your marketing strategy.
However, securing media coverage isn't as simple as putting out a press release. It takes a focused, dedicated effort and a deep understanding of how the media works. Here are five ways to get more media coverage for your law firm in 2022:
1) Capitalize on trending topics
As we all know, 2020 (and 2020 part two, also known as 2021) presented unique challenges that dominated the media landscape. Reporters were scrambling for legal experts to provide insights into labor and employment issues related to remote working and vaccine mandates, dramatic shifts in commercial real estate, Force Majeure and more.
As 2022 nears close, topics such as cybersecurity, cryptocurrency, diversity and inclusion, litigation finance, name, image and likeness (NIL) rules for student athletes and more are likely to dominate the news agenda.
Pay attention to what's being covered and determine how you can contribute to the conversation. Can you provide analysis or insights into a trending topic? How does your expertise fit within the discussion?
Get into the habit of writing up your thoughts on trending topics and sending those insights to reporters covering the issue. Make sure that you're not just regurgitating the news. Provide analysis that only an attorney who understands the legal issues can give: Why is this happening? What are the likely consequences? What might happen next?
2) Consume the news frequently
Much of a public relations pro's job is simply to read and watch the news. We frequently scan headlines, subscribe to newsletters, read trade publications, follow reporters on social media and more to understand:
What the media outlets are writing about: Have they launched a new regular column that one of our clients would be a great fit for? Are they planning a series of articles on a particular topic? Does a particular media outlet tend to feature certain types of stories over others? This kind of information can only be obtained by frequently reading, watching and listening to target media outlets.
Who is writing about what: Is there a new reporter covering a new beat? Is a reporter covering a case that one of our clients can comment on? Has one of our key media contacts switched beats?
What the trending topics are: See #1 above. It's critical to know what topics are leading the news agenda so that you can appropriately frame your expertise according to what the media has decided is important and worthy of coverage.
3) Track opportunities consistently
Many legal media outlets feature regular opportunities for positive news coverage, such as the AmLaw Litigation Daily's "Litigator of the Week" Law360's "Rising Stars" or one of its many other features, or the "Trailblazers" series in The American Lawyer and The National Law Journal.
These features are the perfect PR opportunity, as the media outlets are proactively seeking positive stories of law firms and lawyers doing great work. Some of these opportunities are ongoing, regular features (like "Litigator of the Week"), while others only happen once a year.
Most publications publish editorial calendars that provide details on these opportunities, others will simply post on social media about them. Make sure you are tracking these opportunities so you don't miss out.
4) Embrace podcasts
Podcasts are exploding. According to Insider Intelligence, this year more than half of all digital audio listeners will tune into podcasts each month. And, by the end of 2025, there will be over 144 million monthly podcast listeners in the U.S.
And while many niche podcasts might not have the audience size of an established trade publication, by appearing on the podcast, you are generating content that will help you land media coverage in more established mediums.
When reporters are pitched a story, they turn to Google to research the source. If that Google search turns up interviews of you on several podcasts, your credibility is boosted and the reporter is more likely to consider your pitch.
5) Dig deep to uncover the story behind the topic
When pitching an idea to the media, ask yourself whether you can tell a story rather than just describing a straightforward topic. For example, rather than pitching the fact that you won a case, tell how the case was won. How did you do it? Did you have to pivot to navigate a unique challenge? What attorneys were involved? What's interesting or unique about them?
Don't simply list facts. Pull the curtain back on your thought process or the steps that led to the outcome. Bring the topic to life by discussing real people navigating conflicts and solving challenges. A reporter's job is to tell stories and they'll feature a less-impressive case or matter that makes a great story over a more impressive one with no story.
About the author: Michelle Calcote King is the Principal & President of Reputation Ink, a public relations and content marketing agency serving professional services firms. She can be reached at michelle@rep-ink.com or 904-374-5733.