July 8, 2021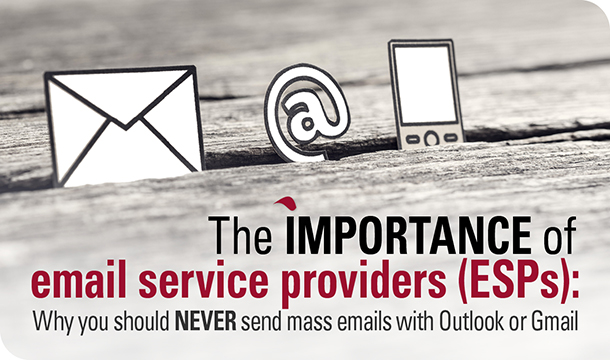 Email marketing is the most profitable marketing channel, garnering an ROI of $42 for every $1 spent. However, if you try to start a mass marketing email campaign through your Gmail or Outlook account, you're going to be hampered by send limits and you could even end up having your personal email or your entire organization's domain blacklisted (more on that in a moment).
So how do firms manage to conduct email marketing campaigns that send hundreds or thousands of emails and still hang on to their online reputation? Email marketing services or email service providers (ESPs) are third-party services that handle mass marketing email sends. ESPs take a number of measures to ensure they remain whitelisted and retain agreements with internet service providers (ISPs) that allow them to send emails in bulk.
You might be asking yourself, "Why do I need to pay extra to send emails when that's what I do all day, every day? Why not just send each marketing email individually from my individual email address?"
Aside from the mind-numbing amount of time that would take, there are actually quite a few good reasons why ESPs exist to protect you, while also making the process of conducting email campaigns easier and more effective.
Why can't I use Gmail or Outlook for email marketing?
Common email service providers like Gmail and Outlook have safeguards in place that are intended to cut down on the overall amount of spam and abuse coming from their services. In fact, sending mass email campaigns through regular email services could end up backfiring on you in a big way.
Daily limits
Outlook limits users from sending more than 300 emails per day, while limiting the number of recipients to 500 per message and total recipients per day to 5,000. Similarly, Gmail's daily send limit is 2,000 emails, 2,000 recipients per message and 10,000 recipients per day. If these limits are exceeded, the providers will restrict you from sending any emails for 24 hours.
These limits exist to cut down on the total amount of spam floating around on the internet. And you definitely don't want to get reported as spam by too many recipients. If you are, your ISP could report your IP address and you could end up blacklisted. If you are blacklisted, your emails could be rejected by mail service providers and you'll have to jump through quite a few time-consuming hoops to correct it.
You can check to see if your email address is blacklisted here.
Sender score
Your sender score is determined by an algorithm that calculates the reputation of an outgoing IP address on a scale from 0 to 100 by recording how often recipients unsubscribe or report emails as spam. The lower the score, the more likely an email is rejected.
Return Path, the organization that determines sender scores, estimates as much as 83% of rejected emails are due to a low sender score. Factors affecting the sender score include the number of complaints received, total email volume, external reputation, number of emails sent to addresses that don't exist, rejected emails, accepted emails, accepted rate (ratio of emails delivered to emails attempted), and unknown user rate (ratio of invalid email addresses to valid emails).
You can check your sender score for free at SenderScore.org.
Anti-spam legislation
The Controlling the Assault of Non-Solicited Pornography And Marketing Act of 2003, or CAN-SPAM, was signed into law in the U.S. in 2003. It established rules for commercial email and messages that give recipients the right to stop a business from emailing them. CAN-SPAM also created stiff penalties for violators — up to $16,000 for each single email that violates the act. If your mass marketing campaign with 5,000 recipients runs afoul of CAN-SPAM rules, that could add up quickly. I'll let you do the math.
More recently, the European Union implemented General Data Protection Regulation (GDPR) in 2018. For email marketing, GDPR mandates that brands collect affirmative consent separate from other terms and conditions (clearly marked subscribe/opt-in boxes), make it easy for recipients to withdraw consent and keep records of those who are subscribed and unsubscribed. Violators can face penalties up to €20 million or up to 4% of the violating company's global revenue, whichever is higher. After Brexit, the United Kingdom passed a virtually identical law for U.K. citizens called UK GDPR, so they're not off the hook either.
ESPs ensure your campaign is compliant
Using an ESP for email marketing will not only protect your sender score, it will also make sure your campaign stays within the legal boundaries set by CAN-SPAM and GDPR. Since the ESP is where the marketing emails are sent from, it's in their best interest to stay compliant.
ESPs work to maintain strong relationships with ISPs and preserve their reputations for sending consensual, permission-based email campaigns. Keeping clear permission policies for recipients helps make sure every email gets through — if one email triggers a blacklist, it could affect the entire campaign. When internet-wide privacy standards change or are updated, they automatically reaffirm customers' consent to the new terms of service. They also provide links to unsubscribe at the bottom of each email to make it clear and simple for people to opt out — a feature required by data protection laws.
Contact list management
When signing up for an email marketing service, firms often worry about the migration of their contact list from Outlook to the ESP. These precious contacts are the lifeblood of their marketing efforts and they are reluctant to trust an outside entity to ensure each contact ends up receiving their emails.
While this is a valid concern, these systems are designed to handle the transition and can usually sync up with the company contact list to stay up to date on changes.
On top of that, the ESP performs essential list management by regularly auditing your contacts against open rates, unsubscribe rates and spam ratings. It will remove contacts who don't want your emails to protect the ESP's whitelist status and prevent your emails from ending up in the spam folder.
It can be frustrating having your contacts removed from your marketing campaigns, but these list management actions are crucial to staying compliant. However, reengagement campaigns can be used to lure contacts back who seem to have lost interest and show low open rates.
Marketing campaign analytics and benchmarks
Email marketing services also offer you valuable insights into the performance of your efforts that Gmail and Outlook simply don't provide. However, the rates and benchmarks can be confusing out of context, so here's a breakdown:
Open rate: The percentage of the total amount of subscribers who actually opened an email.
Click-through rate: The percentage of subscribers who clicked on an image or link in an email out of all of the emails sent. This metric includes subscribers who did not open the email.
Click-to-open rate: The percentage of subscribers who opened an email and clicked on a link or image. This metric is a key measure of an email's success and immediate response.
Bounce rate: The number of emails that were not able to be delivered to the recipient address.
Unsubscribe rate: The percentage of subscribers who unsubscribe from your email campaign.
Email marketing service Campaign Monitor provided these email marketing benchmark averages by sector:
Professional services firms
Open rate: 20%
Click-through rate: 2.8%
Click-to-open rate: 15.2%
Bounce rate: .6%
Unsubscribe rate: .2%
Architecture, engineering and construction (AEC) and real estate
Open rate: 26%
Click-through rate: 3.5%
Click-to-open rate: 17.7%
Bounce rate: 1.4%
Unsubscribe rate: 1.4%

Compare your firm's email metrics against these benchmarks to determine where you're succeeding and where improvements are needed.
Sign up for our INKsights email newsletter, delivered every other week, for more valuable insights and trends in the B2B marketing and public relations world.