May 6, 2021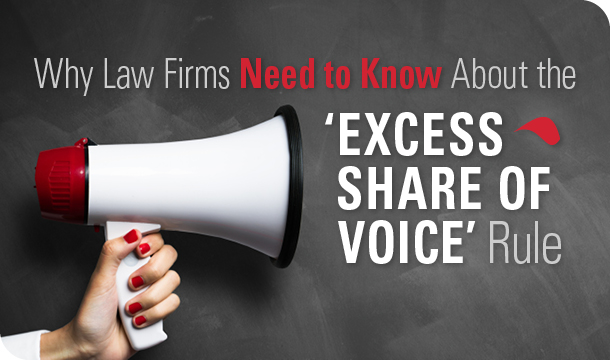 There's a well-known principle in business-to-consumer (B2C) marketing: Brands that have a higher "share of voice" than their "share of market" will grow. This is called the "excess share of voice" (ESOV) rule.
While market share is a widely known metric, share of voice (SOV) isn't as clear. It's defined a number of ways depending on the source, but it essentially means the number of conversations about a brand, divided by the number of conversations about a topic, industry or niche (i.e., whatever "market" you are measuring).
You achieve an excess share of voice — or ESOV — when you punch above your weight in a particular market. Let's say a brand has a 20% market share, but captures 30% share of voice, it has an ESOV of +10. In nearly every recorded case, a brand with a positive ESOV will gradually grow its market share to match its share of voice.
What does this mean for law firms? Recent research by LinkedIn indicates a number of important implications for B2B professional services firms. In this article written for Marketing the Law Firm, I explain what the ESOV rule is, why it's relevant for law firms, and what law firms should do about it.

You can view the article on Marketing the Law Firm here.