February 19, 2021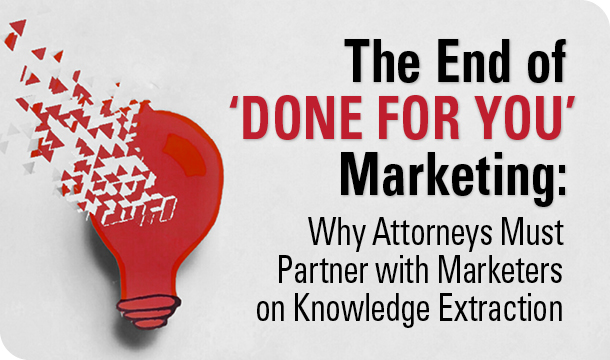 Thought leadership is a critical marketing strategy for business law firms. Today's legal buyers expect their lawyers to be at the forefront of issues that matter to them. They are seeking a trusted advisor — an attorney (and a firm) who they can trust with sensitive and high-stakes matters.
Demonstrating expertise through content such as blog posts, bylined articles, in-depth reports, videos, podcasts and webinars is the most effective way to build a reputation as a trusted advisor (beyond actually serving as one to an existing client).
While such thought leadership marketing is highly effective, it requires a cultural shift throughout a firm. You can no longer hire an advertising agency, hold an input meeting and then send the agency away to create ads and brochures and call it a day. The same goes for hiring in-house marketers. No matter how good your marketers are, they can't promote a law firm effectively without attorney involvement.
That's why attorneys must partner with their marketers on knowledge extraction. In this article written for Law360, I explain what knowledge extraction is, why it's important and how to develop a knowledge extraction process that works for your firm.
You can view the article on Law360 (subscription required) or download a PDF here.