February 1, 2021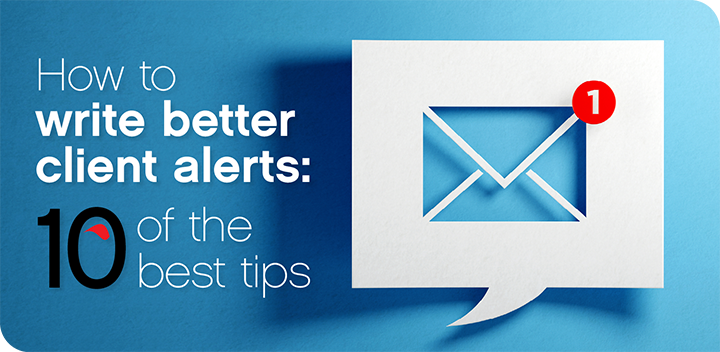 Client alerts are a staple of law firm marketing. These short news bulletins — generally written by attorneys and edited, formatted and distributed by marketers — inform clients of recent developments in the law and provide analysis on how these changes will impact their business.
And while client alerts play a critical role in a firm's marketing efforts, they are renowned in the industry for their lack of readability, substance and timeliness.
This poor quality isn't due to a lack of guidance on how to use this marketing tool effectively. Numerous articles by seasoned legal marketing pros provide excellent advice on how to write better client alerts. In this post, I've cherry picked the best advice out there and put it all in one place for you. If you're looking to improve your firm's client alerts, look no further.
1) Don't just state the obvious: Add a "journalistic twist"
In my experience, the number-one issue with most client alerts is a lack of analysis. They regurgitate the news, without any concrete, substantive advice.
In Breaking News: Drafting Client Alerts to Prepare for Practice, Cecilia Silver argues that client alerts must go beyond a discussion of the legal and factual information and "add a journalistic twist: What happened or what changed? How does that affect the client's business? What should the client do about it?"
This is where the age-old advice of asking "so what?" becomes, well, so important. By asking "so what" when writing client alerts, attorneys can provide what clients want most: an analysis of the issue from their business perspective, including insights into how the change will impact them, what might happen next and possible actions to take. In other words, focus on their business, not just the law.
2) Aim to be the first (and definitely not last)
Client alerts are about news: a change in the law or a new regulation, for example. If the change is significant enough to warrant a client alert, the media will likely cover the topic and other law firms will issue alerts about it. If you send yours out a week or so after the news happens, your clients will wonder why you're so late to the game (and what else you're dropping the ball on).
In Why Your Client Alerts Fail; Three Ways to Fix Them, Susan Beck and Aric Press argue that you should aim to be the first to inform a client of an important new development.
The authors point to Wachtell Lipton Rosen & Katz, one of the most respected U.S. law firms, and its consistent practice of sending client alerts within a day or two of a new development, and often the same day. "This urgency sends the message that client service is a priority at Wachtell."
Cranking out a client alert while the news is still urgent sends a clear message: We're on top of the issues that matter to you. What better signal could a law firm send?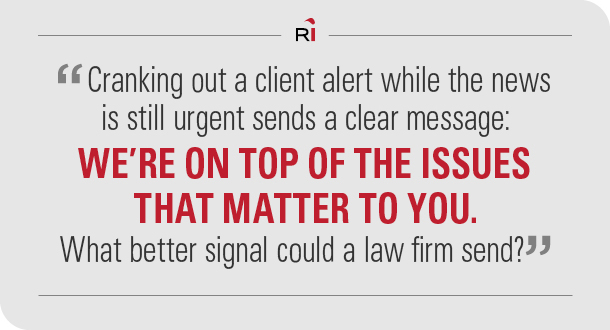 Create a system that enables your firm to distribute alerts the same day (or the day after) news breaks. And if you can't get the alert out fast, skip sending one and instead spend time on creating the processes that will ensure you won't be old news next time.
3) Follow a template
Speaking of systems and processes, consider creating a template that you use for every client alert. In Laurie Cunningham's article, How to Write Client Alerts That Stand Out, she recommends attorneys use the following template:
Headline
Section 1: What's changed
Section 2: What it means for you
Section 3: Actions to take
Section 4: Read more (optional)
She adds that for most alerts, attorneys should primarily use the first three sections and only include the fourth when they want to provide added context about the new law, policy or case for clients interested in the nitty gritty (which is rare).
By following the template, attorneys can avoid what Cunningham finds is the biggest problem with client alerts: a lack of practical advice (see point #1 above).
4) Segment your audiences and tailor the information to them
Great emails feel like they were written just for you, the individual reader. If you get an email in your inbox that seems like it was meant for someone else, you'll either ignore it, or even worse: hit the spam button.
In Good2bSocial's Best Practices for Client Alerts: A Checklist for Law Firms, the agency recommends identifying and segmenting audiences before creating and distributing client alerts.
"Energy companies don't want to receive health industry updates," says the firm. "European companies don't necessarily care about local New York news."
Create distribution lists in your marketing automation or email system based on shared characteristics, such as their industry, role or need. Then create alerts tailored specifically for those separate audiences. The more specific and bespoke you can get, the better.
5) Write an action-oriented, compelling headline
Great headlines are critical to winning the email marketing game. Without a headline that turns a browser into a reader, your email will go straight to the trash bin. So what makes a great headline?
They use action-oriented words
They are short and concise (for email subject lines, keep it to no more than nine words and 60 characters)
They are attention-grabbing
In The Step-by-Step Guide to Writing Powerful Headlines, Neil Patel recommends using the "four U's" for writing attention-driven headlines:
Make the headline

u

nique
Be

u

ltra-specific
Convey a sense of

u

rgency
Be

u

seful
6) Get rid of the legalese
In today's lightning-fast digitized business world, stuffing content full of legalese is a death knell. In How Law Firms Can Modernize Their 'Client Alerts' To Differentiate Themselves (And Attract More Clients), Rich Bracken and Matthew Prinn offer this opinion:
"Corporate counsel are extremely busy and stretched thin for time. Most are not looking for the 'Taj-Mahal' of client alerts with dozens of footnotes and legal annotations that read like an academic paper. They want to know in plain English how the change in the law will impact their business, what they may need to do to be prepared to handle the issue at hand, and what the potential outcomes may be if the matter is not addressed."
Bracken and Prinn also point out that corporate counsel "want to be able to forward or print immediately and hand to their CEO or CFO and have them able to understand the business implications." So, cut the legalese and aim for the plainest language possible.
7) Make it scannable
Along with stripping the alert of legalese, aim to make your content scannable. What does this mean, exactly?
According to web usability expert Jakob Nielsen, who writes on topics such as eye-tracking research, Web design errors and banner blindness, humans are informavores. On the Internet we hunt for facts. We assess a site quickly, looking for an "information scent." If we don't find it, we quickly move on. If we find it, we stay and eat. Nielsen calls this "information foraging."
To address this wild-beast-like behavior, we must create content that is scannable (think subheads, bullet lists, etc.) and visually appealing (no more white papers, but highly visual e-books).
Write in a way to enable readers to quickly discern whether it's worth engaging with the content on a deeper level. Use tools such as:
Subheads
Bullets and numbered lists
A summary at the top
Visuals
Short paragraphs
Pull quotes
Formatting such as bold or italics
In 4 Tips for Successful Client Alerts, Susan Beck and Lance Godard say:
"If an employment law has changed, a general counsel doesn't need to know the history of the law. They just need to know if this change affects their company and what they should do about it in fewer than 500 words."
They also advise law firms to "think small":
"A lot of firms publish comprehensive annual reviews covering many developments in securities law or antitrust or M&A. Packed inside each report are dozens of smaller, more focused nuggets of information that could have been sent as client alerts throughout the year."
8) Consider producing audio or video instead of relying purely on the written word
As we get busier and busier, more and more people are consuming different forms of content, including podcasts, webcasts and video.
Bracken and Prinn advise that firms should innovate their client alerts by producing high-quality, short (two to five minutes) video blogs or audio podcasts.
"Not only are you providing condensed, thoughtful content, you're also bringing the element of personal connection in as listeners can get a feel for your personality by listening to your voice," say Bracken and Prinn. "By using vocal connection vs. relying on your written words to convey your meaning, you are creating an emotional connection with your clients and prospects that separates you from the competition."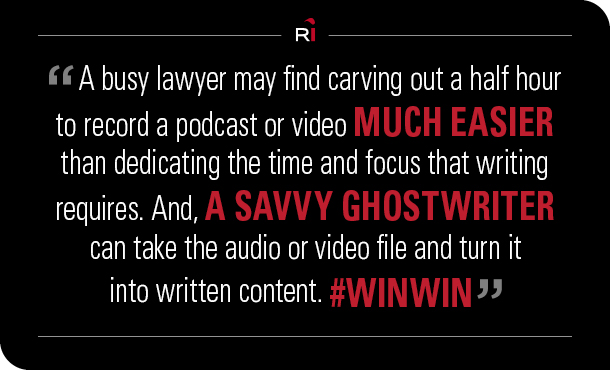 A busy lawyer may find carving out a half hour to record a podcast or video much easier than dedicating the time and focus that writing requires. And, a savvy ghostwriter can take the audio or video file and turn it into written content. #winwin
9) Review analytics and make adjustments
Today's digital technologies offer insights that marketers previously only dreamed about. With email, for example, you can measure how many people opened the email as well as how many of those clicked the links in the email, which links were clicked and who clicked them. Any modern email program will provide these insights. But the secret sauce isn't in the knowing; it's what you do with the information.
Adrian Dayton, in Why Law Firm Client Alerts Aren't Working, argues that law firms must prioritize reviewing analytics and acting on that information. "Reviewing analytics and making decisions based on these data require new behaviors for already busy attorneys. But it needs to be a priority. These data provide attorneys with the opportunity to work smarter, not harder."
Bracken and Prinn say that firms must go beyond click-through rates when using analytics: "You really want to know how many client alerts led to new matters. One way firms can measure that is via the new matter file opening process. When a lawyer opens a matter, a mandatory field on the form should be 'how was the matter developed?' One of the drop-down options should be client alert/marketing newsletter. This will give firms better insight into return on the investment of client alerts."
10) If you can't create quality content, don't create any at all
Finally, if you can't do it right, don't do it at all.
In her article, 9 Rules for Writing Client Alerts That People Will Actually Read, Susan Kostal argues that "a poor-quality alert is more dangerous to a firm's reputation than no alert at all."
Kostal smartly points out that lawyers are judged by the quality of not just their legal writing, but also emails, engagement letters and client alerts. As general counsel can easily receive multiple client alerts on one topic, the bad ones stand out — and not in a good way.
"Alerts are one indication of how the firm communicates and what it's like to interface with its lawyers," says Kostal. "Make a good impression."
If you'd like to improve your law firm's client alerts, contact me at michelle@rep-ink.com or 904-374-5733.