March 4, 2020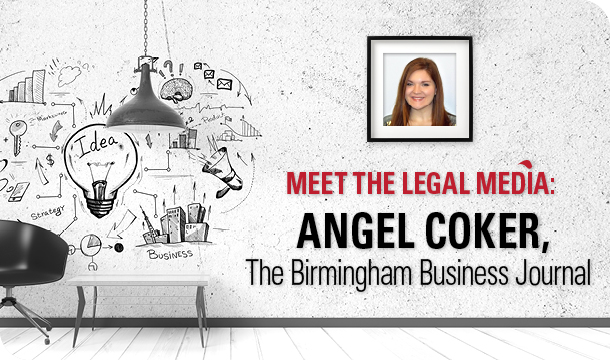 Name any major metropolitan area in the United States and it more than likely has a local edition of the American City Business Journals. Birmingham, Alabama is no exception. The Birmingham Business Journal keeps local entrepreneurs and professionals up to date on the trends and issues that affect their bottom line.
While not every Business Journal has a dedicated legal reporter, most have someone covering law firms as part of their beat. For the Birmingham Business Journal, that's Angel Coker. She joined the publication two years ago. Before that, she was an editor at a small paper in Mississippi, and also worked at the Tuscaloosa News for three years.
We asked Angel about her beat, how she finds sources and story ideas and what she's looking for when working with law firm marketing and PR folks.
Reputation Ink: What topic(s) do you primarily focus on?
AC: On my beat, I cover banking and finance, legal and transportation. Most of my legal coverage involves banking/finance, meaning I usually seek out legal sources to provide insight into banking/finance topics and trends. Otherwise, I might cover a case that involves a local company or person. And depending on what it is, I will cover legal trends as it pertains to my market. I also cover new hires at law firms and law firm office relocations or expansions. For the weekly Legal Roundup, I list honors and awards, and attorneys being named to boards, etc..
RI: What does your typical day look like? Do you have multiple deadlines?
AC: The minute I get in the office, I run through my emails in search of stories. Then I search for stories on the wire and other sites. In the mornings, I focus on getting my daily stories written for a 2 p.m. deadline so the editors can get our daily afternoon edition email out at 3 p.m. Then I work on longer-form items that are due soon, like cover stories and main items. Main items are due by end-of-day Tuesday or at the very latest noon on Wednesday, which is actually late. I do one cover story a month, typically, and those alternate with the other reporters in the office.
RI: Where do you get your story ideas, leads and sources from? What are your top three methods?
AC: My top three methods would be press releases, tips from sources and following trends. I check my email and the wire for press releases and news tips. Those tips also come from sources. For longer-form stories, I watch trends in the industries I cover. If someone new takes the helm of a large law firm, I'll try to get an interview with them to talk about their goals/plans in their new role. As for sources, I cold called local leadership of banks, finance companies, law firms, etc. when I started here. We also host breakfast briefs with companies, where we gather and introduce ourselves and have a casual conversation about what's happening in Birmingham. And we do a lot of events that create networking opportunities.
RI: Do you still look at press releases? Are they worth doing?
AC: Yes! If it says Birmingham, that catches my eye. I'll go deeper. Hopefully, it's newsworthy enough to proceed thereafter.
RI: How do you like to be pitched? By email? Phone? Social? Fax? Carrier pigeon?
AC: Oh, carrier pigeon, definitely. Gives it a little flair. Haha! Seriously, though, email.
RI: What do you look for in a good pitch? What will make you respond? What's your ideal pitch?
AC: Honestly, as long as it has the news content I would cover, it doesn't matter how it comes. If you're not sure I'd be interested, a couple of sentences via email explaining what you're thinking is good. Then you can follow up with a press release or interviews, etc. if I bite.
RI: What makes for a good source you'll come back to again and again?
AC: Someone who responds quickly! If you don't, I will move on because I have a deadline to meet. And, of course, it definitely helps if that source is knowledgeable about the topic I'm covering.
RI: What drives you crazy about the PR people who pitch you?
AC: When someone pitches a story or sends a release and then takes forever to respond if you have a follow-up question. More than that, a PR professional I have to go through to get a source for an idea I have who doesn't respond – like they only respond when they send me something they want out there vs. something I need without them presenting it to me. Another pet peeve is when there are obvious questions I should answer for my readers, but the information is not in the release, especially when I ask for it, and they don't have the answer off the top of their head.
RI: Do you do background briefings with potential sources? What kind of source do you do that for?
AC: This beat is filled with jargon and perplexing information. So, yes, I do need sources to offer background or to just plain get down to the nitty gritty of what something means. And any time a source wants to offer information off the record, I take that too. I can always use it to reach out to others to get the story without ever sharing a name.
RI: Finally, what advice do you have for law firm public relations professionals?
AC: Be reachable and responsive! Keep tabs on other firms' PR departments and what kinds of stories they're putting out there. Always have an accompanying photo with a press release, even if it's just a shot of the building with the firm signage. Be mindful of reporters' deadlines, and try to get them things at least an hour ahead of that if you can. Try to forecast any questions a reporter may ask so you can be ready to answer it, or go ahead and put it in the release if you think it could possibly be useful information. Keep in mind what kind of publication you're reaching out to. We're very niche, so we need things tailored a little differently than an everyday newspaper.