March 14, 2020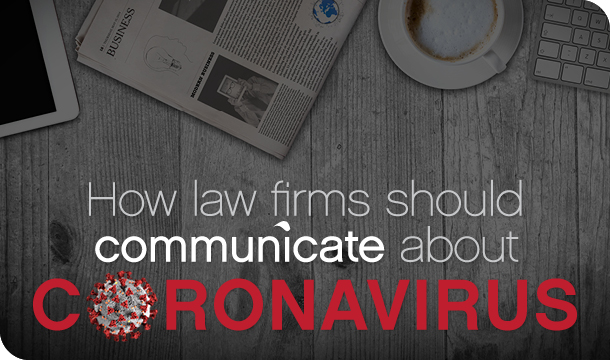 Unless you're living under a rock (which might be a good place to be right now), you know we are living through a global pandemic, as the novel coronavirus, or COVID-19, spreads throughout the world.
While this isn't a time to panic, it is a time for thoughtful, deliberate action. While I can't provide technology, human resources or other operational advice, there are some crisis communications best practices that are helpful to remember when considering your firm's approach to communicating about the virus.
1) Put employee communications first
Above everything else, place a high priority on communicating with your attorneys and staff. Remember that your people aren't operating at their peak right now — their lives may be disrupted and they may be worrying about loved ones. As their employer, your firm should not be a source of added stress. Show empathy and communicate frequently.
Don't let lawyers and staff hear about your firm's actions (such as office closures or travel restrictions) from other sources before they hear it from you. Remember that a lack of information breeds mistrust.
Consider developing messaging points for lawyers and staff to use when communicating with clients about the firm's policies. In addition, provide messaging directions to those answering the phones, as they may be the first point of contact for someone with questions.
If your firm is widely dispersed, consider a rapid notification system (such as text messaging) to reach everyone quickly.
For more information on Coronavirus considerations for employers, see the Center for Disease Control and Prevention's Interim Guidance for Businesses and Employers.
2) Communicate what actions your firm is taking
Remember Jack Welch's advice to over-communicate in a crisis. A lack of information leads to conjecture, uncertainty, fear and ultimately, chaos. Even when the news is negative, people prefer certainty over the unknown.
What communications should you prepare? At a minimum, I would start thinking about the following:
Office closures

Travel restrictions

Event cancellations or delays

Plans to clean and disinfect offices and other public spaces

Guidelines for in-person visitors to firm offices, such as

this one from Goodwin
See these draft messages from Furia Rubel as a helpful starter.
Even if the firm is still in a "wait and see" posture, a message to communicate that you are focused on the crisis and preparing plans is helpful. See this LinkedIn post by Fox Rothschild for an example.
And remember, simple messaging is best.
3) Check in personally with clients
Now is the time for relationship-building. Encourage attorneys to contact their clients personally — via email or phone — to offer their assistance with any coronavirus-related legal concerns.
However, it's important to not look like you're taking advantage of a serious crisis and are instead focused on their needs and concerns. You may even consider some pro bono counsel.
4) Be thoughtful about your tone of voice for non-coronavirus communications
While it may seem as if the business world is grinding to a halt, much of business will still move forward. And so should you. I do not suggest halting non-coronavirus communications, but instead be thoughtful about your tone of voice in those communications.
People are worried and rightfully so. If you seem to be ignoring the situation, you'll appear tone deaf and out of touch. However, good things are continuing to happen, despite the context. Celebrate the positive news, but reflect an appropriate tone. That said, I would hold on major announcements for the next few weeks. You'll have trouble getting the media's attention on anything non-coronavirus related and you may appear tone deaf.
Review any automated communications such as scheduled social media posts and email workflows and make sure they are appropriate going forward. You may consider stopping all automated or scheduled messaging for the time being.
Also, this is not a marketing opportunity to capitalize on. While I encourage thought leadership on the issue, I do not recommend appearing opportunistic about a negative event — ever. Don't be tempted to be snarky, humorous or "fun" when talking about the virus. It's a bad, bad idea.
The best way to ensure the right tone is to listen — follow news reports and social media feeds closely. Listen to what people are saying and how they're saying it. Then adapt accordingly.
5) Don't speculate
This is a fundamental rule for crisis communications. No one knows how long the crisis will last or how lethal it will be. State what you know (from reliable, expert sources) and nothing more.
This is especially important to remember with live communications, such as employee town halls, media interviews or webinars, as people often have a tendency to want to answer any question given to them. Instead, state what you know AND what you don't know. You'll earn more trust by being transparent and honest.
6) Share your expertise
Nearly every industry has some expertise that can be valuable in this crisis. Law firms are particularly well-suited to guide clients on the legal impacts of a global pandemic.
Many law firms have set up resource centers already. Here are a few:
Here's a good primer to help you brainstorm all the potential topics your firm can address. In addition, the Association for Corporate Counsel has a collection of law firm coronavirus topics and articles.
Here are a few more articles to spark your thinking:
7) Prepare to shift in-person marketing activities online
If you have in-person events planned, start thinking now about how you can reimagine the content into a virtual experience. For example, can you hold a virtual conference? States are already changing their CLE requirements, removing the face-to-face requirements to allow for virtual events.
However, don't assume that everything will translate well from an in-person to an online format. Do some training on how to present virtually and research ways to engage people digitally.
8) Prepare for media inquiries
As you prepare your internal and client-facing communications, keep the media in mind. Be prepared to answer questions about your firms' actions and policies regarding the COVID-19 outbreak as well as:
How the firm plans to continue servicing its clients (many law firm activities can be done remotely, but others — such as jury selection, oral arguments and going to trial — require in-person contact)

Work-from-home plans and policies

Steps taken to secure the safety of the firm's employees
If you had a major media announcement planned, you may want to rethink that. Not only might it appear tone deaf, but you may also face an uphill battle interesting the media in anything that's not coronavirus-related.
9) Stay up to date
Things are changing fast. Yesterday's advice may not apply tomorrow. Keep a close eye on all things coronavirus and tap into your industry's networks to share best practices and learn how others are responding. Here are a few resources to keep you up to date:
A disclaimer in closing: what applies today may not apply tomorrow. This is a rapidly changing event. The best advice I have is to closely follow the news and social media and adapt your response accordingly. Best of luck, and stay healthy everyone.