February 20, 2020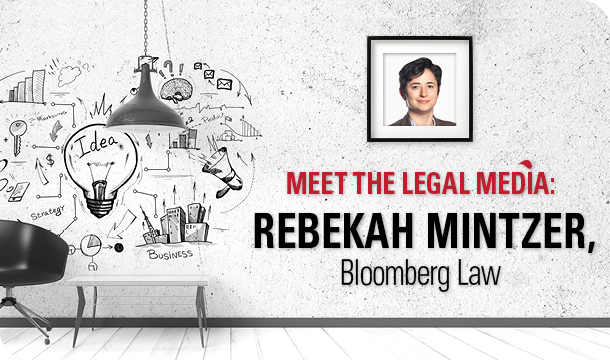 Bloomberg Law is known for its coverage of the business of law, particularly Big Law. It has become a go-to source for information on the legal industry as a whole, as well as specific practices with newsletters published under the Bloomberg Industry Group banner.
Rebekah Mintzer is a Deputy Team Leader with Bloomberg Law. For our Meet the Legal Media series, we asked about how she finds sources and story ideas, her preferences for working with law firm PR professionals and what tips she might share for getting coverage.
Reputation Ink: What topics do you primarily focus on?
Rebekah Mintzer: My group at Bloomberg Law is in charge of covering the legal industry and the business of law. That means we focus on the biggest and most important law firms, legal innovators and legal services providers. We also have colleagues that cover in-house counsel.
RI: How did you get into legal reporting? What was your path to it? Are you a lawyer?
RM: I am not a lawyer, though the law has always intrigued me. I landed an internship in legal journalism right out of grad school and was lucky enough to get the timing right and parlay that into a full-time job. I've been in the field as a reporter, then as an editor. I've learned so much about the legal space and I have really come to enjoy covering it.
RI: What does your typical day look like? Do you have multiple deadlines?
RM: My day usually involves a lot of organizing story ideas and taking pitches from both PR professionals and reporters, along with editing several stories. At the same time, I'm monitoring what's going on in the legal news sphere and what the competition is up to, as well as taking meetings with other teams. It's fast-paced with multiple deadlines, but a lot of fun.
RI: Where do you get your story ideas, leads and sources from?
RM: We hear from a lot of law firms and legal services providers about what they're up to, which serves as the inspiration and basis for a lot of our work. But the reporters on my team also spend a lot of time digging into what's going on behind the scenes. This often involves consulting with those a little further from the firms and companies we cover, such as recruiters, industry experts, technologists, you name it. We watch Twitter pretty closely as well because we want to follow what lawyers are talking about, and ideas come from that frequently.
Data has become a big help in our reporting. By following where lawyers are moving or where firms' money is going, we've gotten some pretty interesting story ideas. We've mined a lot of Bloomberg's proprietary data, including
Litigation Analytics and the extensive corporate and deal information stored on the Terminal. We hope to continue leveraging our databases.
RI: How do you like to be pitched?
RM: Email is still the best way to pitch. For a really big story that is perhaps being pitched as an exclusive or requires a bit more context, sometimes talking on the phone can be very helpful.
RI: What do you look for in a good pitch? What will make you respond?
RM: Relevance is key. It's easy for me and the reporters on my team to tell if the person pitching us knows what we cover. An irrelevant pitch, even if it's well-written and detailed, will lose credibility immediately because it's clear the person sending it didn't do any research about what we cover.
We always love to see the word "exclusive" on a pitch, but besides that, it's always good to see specific sources named in the pitch who are available to chat for that story. Also as journalists, we want to move the ball forward, so if a pitch is just going over the same old stuff that's been written about before without a genuinely new angle or element, we probably won't jump at it.
RI: Do you read law firm websites? If so, which parts?
RM: I mainly focus on what's new and what the news is for these firms because that can directly influence what my team covers. We also write about lateral hires, so of course, I am looking at lawyer bios quite a bit.
RI: Do you still look at press releases? Are they worth doing?
RM: Yes absolutely. That's usually the easiest way to communicate with us.
RI: What makes for a good source you'll come back to again and again?
RM: I like sources who make time in their busy schedules for us. Lawyers have a lot to do and we totally understand that clients come first. But making some extra time for us and calling when you say you will goes a long way. Also the ability to share honest opinions (and hopefully even some good news tips). Some attorneys are afraid to speak frankly with us, even off the record, and that can be frustrating.
RI: What drives you crazy about the law firm PR people who pitch you?
RM: I think one big one is saying there's someone who is going to be available to talk about a topic, then hours later that person still isn't available, but our story has to go up anyway.
Also, I think they could do a better job at times about regulating their clients' expectations around the amount of control the client will have over a story that involves them — especially when it comes to what journalists will be willing to change in a story after the fact. Lawyers are used to being able to negotiate the wording in their jobs, but that's just not the way the journalism world works most of the time. If we write something that's factual, fair and correct, let the client know that it's going to be a very tall order to get it changed after it runs.
RI: What advice do you have for law firm public relations professionals in terms of working with you?
RM: Keep working hard. As journalists, even if we are sometimes on the opposite side of the table, we know that you guys don't have it easy. It's tough being in the client service business.
I really enjoy working with most of the PR professionals I encounter. And I think the vast majority are doing a terrific job in a very tough business and most of them have a very good understanding of the nuances of journalism.