January 21, 2020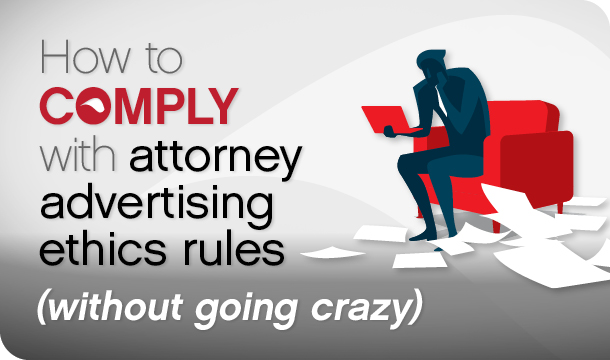 Let's say you're a marketer at a regional law firm, with offices in six states. Being a consummate professional, you know that the legal profession is governed by ethics rules, which vary state by state, but are all based on (but not identical to) the American Bar Association's (ABA) Model Rules of Professional Conduct.
Among many other things, the rules cover all forms of advertising, from the content on your website to social media and blogging. However, they are:
Different for each state

Written by lawyers, for lawyers

Frequently updated
So, how do you market your law firm while complying with all these aggravating rules?
Sigh. This is exactly why you did NOT go to law school, amirite?
While complaints about law firms' marketing practices are almost never brought by clients — but rather by competing attorneys or the regulators themselves — it's never a good idea to get your employer sanctioned by its regulatory body. Not only do you want to avoid the embarrassment of a complaint or disciplinary investigation, but violating the rules will mean added time and expense redoing marketing materials.
That's why we developed our "Legal Marketing & Advertising Ethics Checklist." While this document won't substitute for closely reading and adhering to the rules in each state where your law firm practices or is seeking clients, it will give you an understanding of their basic principles, and help you comply without going crazy.
Download the checklist by clicking the link below. I hope you find the information valuable as you navigate these complex rules (while creating killer marketing campaigns and dominating your market, as I know you are).