April 12, 2019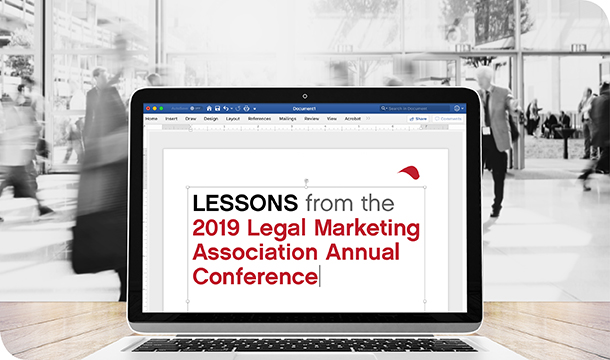 This week, more than 1,500 attendees gathered in Atlanta, Georgia, for the 2019 Legal Marketing Association Annual Conference. I try to attend the conference every year, as it's one of the best networking and educational opportunities in the legal marketing profession.
While I couldn't attend every session (I'm good, but I ain't that good), I wanted to give you a brief overview of three sessions covering three different, but critical topics: diversity, economic trends and marketing technology.
Note: To learn about the ever-popular GC panel — this year focused on the rise of alternative legal services providers (ALSPs) — read this recap by Corporate Counsel magazine.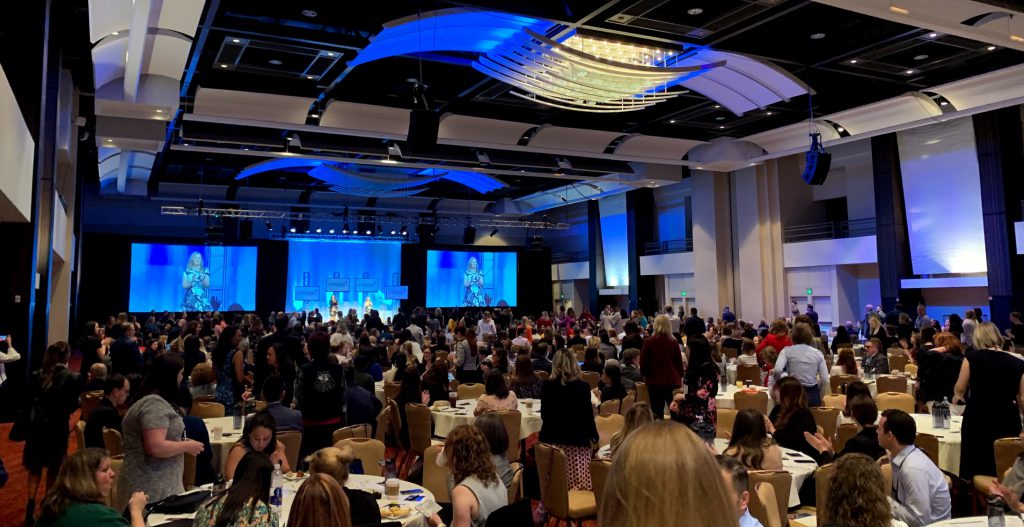 Session 1: "Diversity from the client perspective: Smart strategies to winning business"
Diversity is good for business. But don't take my word for it — take your clients' words for it. In this client panel (moderated by an in-house diversity director), the panelists demonstrated the imperative for firms to diversify and promote their diversity.
The panelists were:
Lia Dorsey, US Diversity & Inclusion Director for Dentons US LLP
Barbara Miller, Vice President and Associate General Counsel for the Federal Home Loan Bank of Atlanta
Candace N. Rodriguez, Associate General Counsel for The Home Depot
While the conversation was wide-ranging, below are four actionable recommendations:
1) Don't bait and switch client pitch meetings
Clients are becoming savvy to the practice of bringing diverse attorneys to pitches, then not staffing the work with those diverse attorneys. To guard against that, many clients are following up long after the work is awarded to ensure that diverse lawyers actually did the work.
2) Don't simply arm your attorneys with a diversity brochure — educate them so they can speak authoritatively on the subject
One panelist recalled attending a pitch with a law firm and asking the attorneys in the pitch about the firm's diversity programs. An attorney quickly handed her the firm's diversity and inclusion (D&I) brochure, but no one in the room could answer basic questions about the firm's D&I program. The firm did not get the work.
3) Seek out and apply for awards, certifications and diversity directories and portals to showcase your firm's diversity accomplishments and efforts
The panelists cited the following as credible and influential:
4) Look to your clients to build the case for diversity
For example, track RFPs that ask for D&I information, research clients who have signed pledges for diversity, and implement client interviews and surveys that address diversity.
Session 2: "Whither the bellwethers? How current legal market economics will impact your firm"
In a panel discussion about law firm economics, panelists discussed recent economic data and trends. Panelists included:
Greg Negus, Chief Operating Officer, Ogletree, Deakins, Nash, Smoak & Stewart P.C.
Silvia Coulter, Principal, LawVision LLC
Dwight Floyd, Director of Pricing & Value, Eversheds Sutherland LLP
Evan Glover, Law Vice President, NCR Corporation
The data was positive across the board:
Average revenue growth was up 4.2% in the fourth quarter of 2018
Demand was up again in the fourth quarter of 2018, marking three consecutive quarters of positive demand growth. In addition, demand was up across all segments — Am Law 100, Am Law 200, and small/midsize firms.
Firms' "worked rate" (the rate the client agrees to and is willing to pay) increased by 3% across the board, with Am Law 100 firms experiencing the majority of that growth
Productivity was positive from 2017 to 2018
Litigation and corporate are the two practice areas experiencing the highest growth
As clients look to drive efficiencies, the use of alternative legal service providers (ALSPs) has grown by 12.9%, exceeding industry expectations and outperforming traditional law firm growth (ALSP growth of nearly 13% compared to law firm revenue growth of 4.2%)
Marketing and business development spending grew by between 1% and 1.5% (in terms of dollars per lawyer FTE). However, the panelists pointed out that the growth was eroded when factoring in inflation of around 2%.
2018 marked the third straight year of record growth of law firm mergers and combinations
What do the statistics mean?
The panelists hypothesized that in-house counsel are preparing for a downturn, looking to outsource now to avoid right-sizing later on. As one panelist put it, "We've had 10 years of continued economic growth; the next recession is inevitable."
In addition, the panelists argued that tax reform drove a significant amount of work, and with corporate America experiencing an influx of cash, investors are demanding a return, leading to new innovations, acquisitions and more — all leading to new legal work.
As corporations continue to get larger in scale, the law firm convergence trend will follow suit, as corporations look to decrease the number of firms they manage.
Session 3: "Like a shark: How to apply intelligence and killer instincts to dominate marketing technology"
Jaron Rubenstein, President of RubyLaw, provided an overview of the "marketing technology stack" concept (a cluster of tech tools marketers use to achieve their goals) as well as an overview of the technologies available to (and commonly used by) legal marketers.
As both niche and one-size-fits-all tech solutions proliferate, marketers are challenged with finding the right solutions for their needs. To help, RubyLaw has compiled a comprehensive survey of these tools in its Marketing Technology Stack Blueprint (registration required).
I encourage you to download RubyLaw's PDF if you are seeking to understand the technology platforms available to you and how they fit within each of your functional areas, including:
Advertising and promotion
Content and experience
Social and relationships
Sales
Data
Management
As you'll see, integration across platforms, complexity and the use of data to mine insights increases along with firm size. In addition, as firm size increases, the degree of specialization among practitioners increases. For example, larger firms may employ CRM specialists to manage their CRM systems.
Did you attend the 2019 LMA conference? I'd love to hear your thoughts. Comment below or email me at michelle@rep-ink.com.