April 17, 2018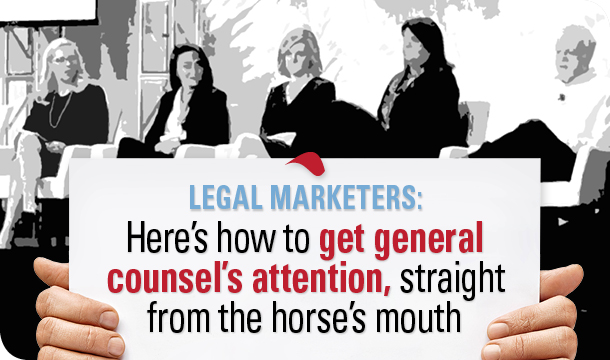 Four marketing strategies are particularly effective, says panel of GCs at Legal Marketing Association conference
Law firm marketers: Want to know what works to get the attention of general counsel (GC)?
Here's the short answer: high-quality, relevant and timely thought leadership content, in the form of client alerts, helpful articles vendita piscina gonfiabile con scivolo and speeches. In addition, well-written case studies help GCs understand your firm's experience in solving specific problems (that they may be facing themselves).
Five GCs sat down for a panel discussion at last week's Legal Marketing Association national conference and laid bare how they choose outside counsel, what gets their attention and how to cut through the clutter in today's information-saturated environment.
The panelists were:
Kristen Albertson, Vice President Global Ethics & Compliance Administration, Walmart Stores, Inc
Ezgi Kaya, Corporate Counsel, Amazon
Alison Wisniewski, Chief Legal Officer, Epiq (a global legal services and technology company)
Maria Feeley, Vice President, General Counsel and Secretary, University of Hartford
Mark N. Klein, General Counsel, Burford Capital (a global litigation finance and funding provider)
Here's what they said works:
1. Client alerts
A staple of law firm marketing, client alerts work.
According to Maria Feeley of the University of Hartford, client alerts sent via email catch her attention and help law firms get on her radar. However, they must be succinct, timely, relevant and not get caught in a spam filter.
Kristen Albertson of Walmart offered another caveat: She must opt in to your email communications. Receiving unsolicited, random emails in her inbox is a big no-no and can turn her off from a prospective law firm.
The takeaway: Commit to developing and distributing client alerts, but make sure they are timely, relevant to the audience, succinct and clearly written.
2. Helpful articles
Ezgi Kaya of Amazon says she researches issues online, starting with a Google search. If she finds helpful, informative articles, she will sign up for the authoring law firm's email list. She has also come across helpful articles on LinkedIn that have put outside counsel on her radar.
The takeaway: Write helpful, relevant content and make sure it's findable. Repost your blog articles on LinkedIn, use hashtags and make sure your articles are well-written and digestible. GCs are paying attention.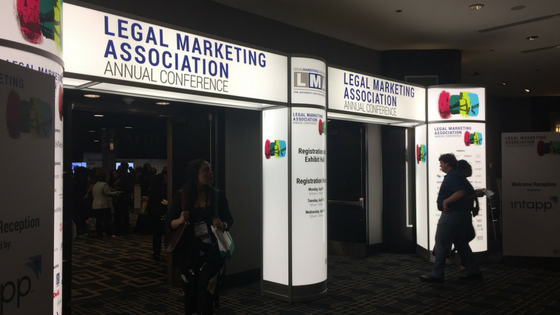 3. Case studies
When hiring counsel for a major piece of litigation, Kristen Albertson of Walmart researches similar companies that have had similar cases and reviews their outcomes.
Maria Feeley of the University of Hartford echoed this sentiment, commenting on the importance of a firm's website in helping her research a firm's expertise.
The takeaway: Commit to writing case studies that clearly articulate how your firm added value and delivered a favorable outcome.
However, don't write these case studies the way most firms list their representative matters. Tell a story that demonstrates what the clients' needs were and how your firm met those needs. There are GCs out there looking for this information, matching their needs to your clients' needs and analyzing how you performed.
4. Public speaking
Kristen Albertson of Walmart said she has gotten interested in hiring a firm because she heard an attorney speak at an American Bar Association (ABA) conference. The key: The speech was relevant to her needs, timely and well-articulated.
Maria Feeley of the University of Hartford said that when she goes to a conference, she is shopping for outside counsel.
The takeaway: Public speaking works to garner the attention of GCs. However, the speech must be relevant, helpful and clearly articulated.
One tip from Mark Klein of Burford Capital — attorneys should be aware that GCs may want to talk with them after the speech. Klein said he once wanted to speak with an attorney after his speech, but the attorney exited the conference room immediately after he spoke and was nowhere to be found.
Other takeaways
The panel offered other tips, including:
Diversity is an important selection factor, especially for global giants like Walmart and Amazon
Chambers rankings are used as reference check, verification tool and tie-breaker, but not as a way to get GC's attention
Overall, the panel stressed one key theme: Helpful, valuable and relevant thought leadership content helps get law firms on GC's radar. Legal marketers must help attorneys translate their expertise into digestible, succinct information that will gain the attention of decision-makers.
Did you attend the general counsel panel at #LMA18? If so, I'd love to hear your takeaways. Email me at michelle@rep-ink.com or connect with me on Twitter: @MichelleCKing.