November 14, 2016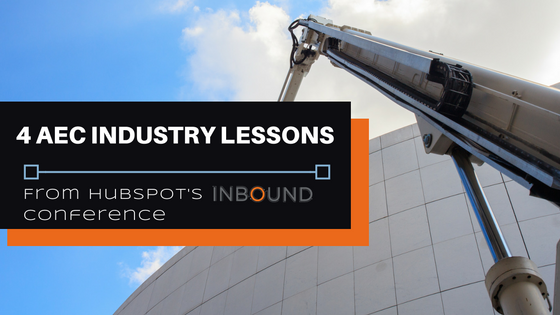 Friday morning I was listening to Alec Baldwin live (yes, he did a few Trump impersonation bits). The day before I watched Randi Zuckerberg interview Anna Kendrick. Why such a star-studded week? I attended HubSpot's annual INBOUND conference in Boston. It's the third year I've gone, and the second that I've brought my team. A few other people were there, too — a staggering 19,000 people from 92 countries hobnobbed with Baldwin, Kendrick et al.
Who the heck is HubSpot and what is INBOUND?
Why do I invest the time and money into this event? And why should the architecture, engineering and construction (AEC) industry care? HubSpot is a juggernaut in the marketing world. While it's just one tool in a marketer's toolbox (HubSpot is a SaaS-based marketing automation software for those not in the know), the company championed a new way of marketing: inbound marketing. And now it's become a movement. Founded just 10 years ago, today more than 19,000 customers in more than 90 countries use HubSpot's software, services, and support.
Inbound marketing is not perfect. But there's no denying that the way people interact with each other and make decisions has changed radically due to technology. Inbound marketing addresses that by focusing on helpful, valuable information (think non-salesy blog posts and e-books, rather than vanity-style brochures and sales pitches). In the AEC world, this means building a brand on expertise rather than just your project portfolio, helping companies move away from price-driven competition.
As a B2B marketer with deep AEC industry experience, I attended INBOUND looking for lessons for AEC marketers and sales professionals. Here are my top takeaways:
1) Inbound, meet outbound: we must close the loop between marketing and sales.
Inbound marketing relies heavily on creating quality content to attract leads to your company. But what happens if your sales force is not aligned with this strategy? Those leads go nowhere. In fact, the leads your fancy inbound marketing strategy is generating might not be the right ones to begin with.
Your sales and business development professionals are still the people who know your clients and prospects best. In the architecture, engineering and construction industry, many sales VPs are former project managers. They've worked alongside clients for decades. They know their pain points, challenges and opportunities.
To be effective today, we must align our inbound marketing strategies — the blogs, e-books, social media, lead generation programs, and more — with our outbound sales program. What does that look like? That's a subject for an entire e-book, but from a high level it means:
Equipping your sales team with valuable content — think e-books, not brochures
Training your sales team on inbound sales methodologies, helping them learn how to have meaningful, relevant conversations with prospects, solving their problems rather than hard selling
Developing service-level agreements (SLAs) between sales and marketing to define things like the kinds of leads marketing will deliver to sales, and how quickly sales will follow up on those leads
Training your sales professionals on social selling (e.g. how to find and engage with prospects on LinkedIn)
I could go on and on. But I'll stop here. Bottom line: we don't just need to generate leads. We gotta close 'em, too.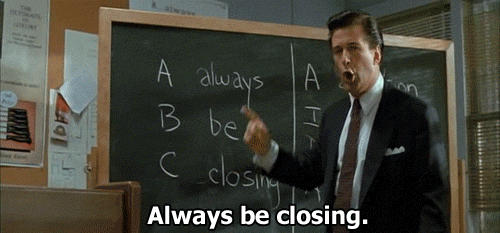 2) We used to use social media. We now live in it. Take heed.
One of the most interesting takeaways for me as a B2B marketer was the conference's emphasis on Facebook advertising for B2B companies. "Good luck ever convincing one of my AEC clients to do that," I thought. But here I am blogging about it. Bear with me:
We now live in social media. How much time do you spend on Facebook? If you're like me, quite a bit. While I'm sure a lot of you (ahem) older AEC professionals might say otherwise, trust me, the world's noses are stuck in Facebook. People on average spend nearly an hour scrolling through Facebook status updates, liking Instagram posts, or chatting on Messenger. What other platform can guarantee you AN HOUR of your prospects' attention each and every day?
Yes, they're there to distract themselves from business — for pleasure, not, um, pain. But here's what the interesting data shows: give them something they think will help them do their jobs better, and they'll click. Thus, QUALITY content matters more than ever.
As soon as I started thinking about B2B Facebook advertising, I began noticing relevant, targeted B2B "sponsored posts" (that's Facebook-speak for ads) in my feed that I was clicking on. Here's one: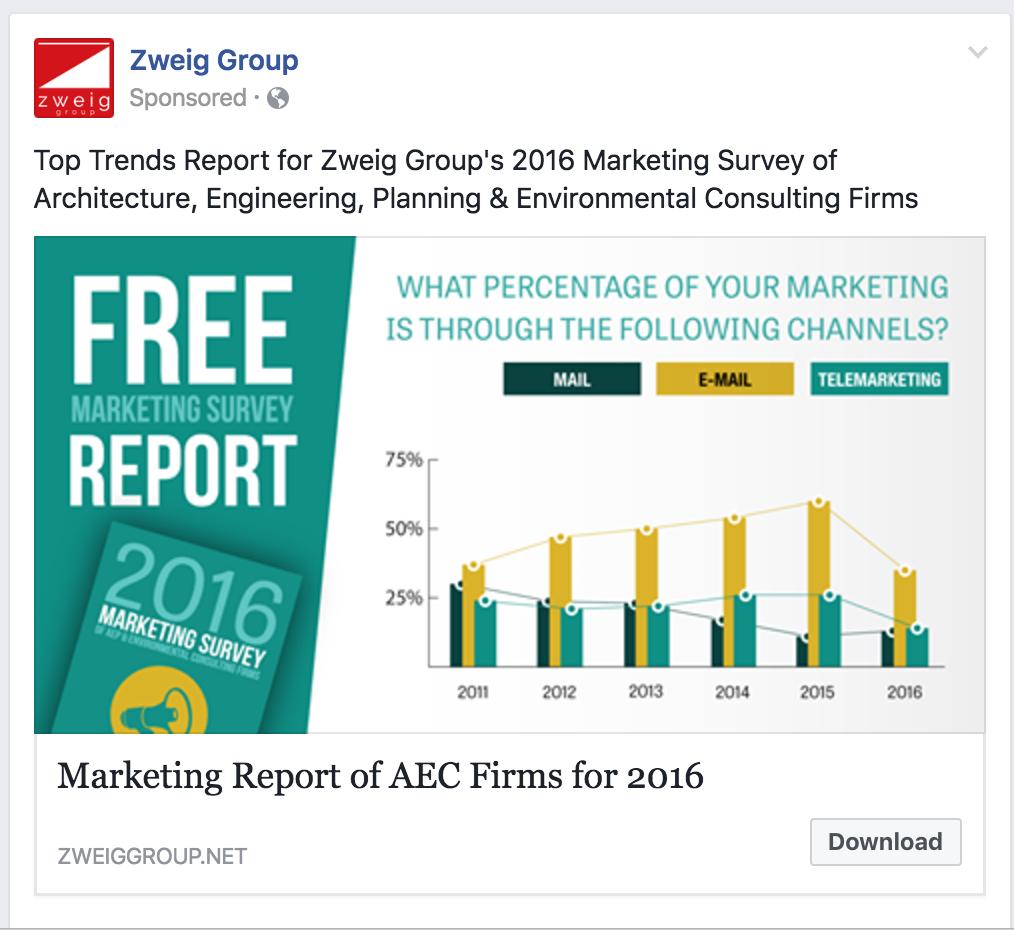 I was clicking and downloading. That meant the strategy was working. Could it work for you too? It's worth a try.
Brian Halligan, HubSpot co-founder, said this in his keynote: "If you're not advertising in Zuckerberg's world, you might as well be advertising in a trash can."
3) Video is eating the world. Get on board.
Cisco now predicts that 80 percent of all internet traffic will be streaming video content by 2019, and it's not just for cute cat vids.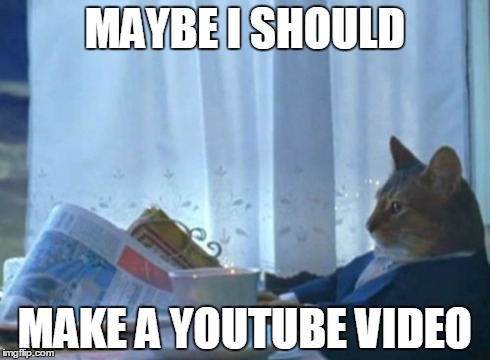 source: imgflip
B2B companies are seeing big success from video marketing and producing:
Customer testimonials

Explainer and tutorial videos

Thought leader interviews

Case studies

Live and on-demand webinars

Video blogs

Company culture videos
Here's an example from Bentley Systems:
Video presents enormous opportunity for architecture, engineering and construction companies, who have complex, highly visual "products" and challenges that are often difficult to fully convey only via the written word.
And, as an extremely relationship-based industry, video also presents a way for AEC prospects to get to know your company and how it does business, helping prospects feel more comfortable with who you are, the work you've done, and the way you work.
4) Clients want specialized expertise.
HubSpot conducted an extensive study on the 2016 modern buyers' decision-making process compared to 10 years ago. In his keynote, co-founder Brian Halligan described a critical trend:
Supply for products across nearly every industry is way up

At the same time, demand is flat

The result? Greater competition
Why is this? Halligan says a few revolutions are underway. There's a "maker revolution" in manufacturing, as innovations such as CAD tools, contract manufacturing and rapid prototyping make it easier for companies to "use atoms to build useful stuff for humans," according to Halligan. Similarly, software companies are building useful products out of bits, using innovations such as Amazon web services, agile methodologies, open source software and open APIs.
How to survive — better yet, thrive — in this hyper-competitive world? Specialize. With more and more options at their fingertips, clients today want specialized knowledge and expertise.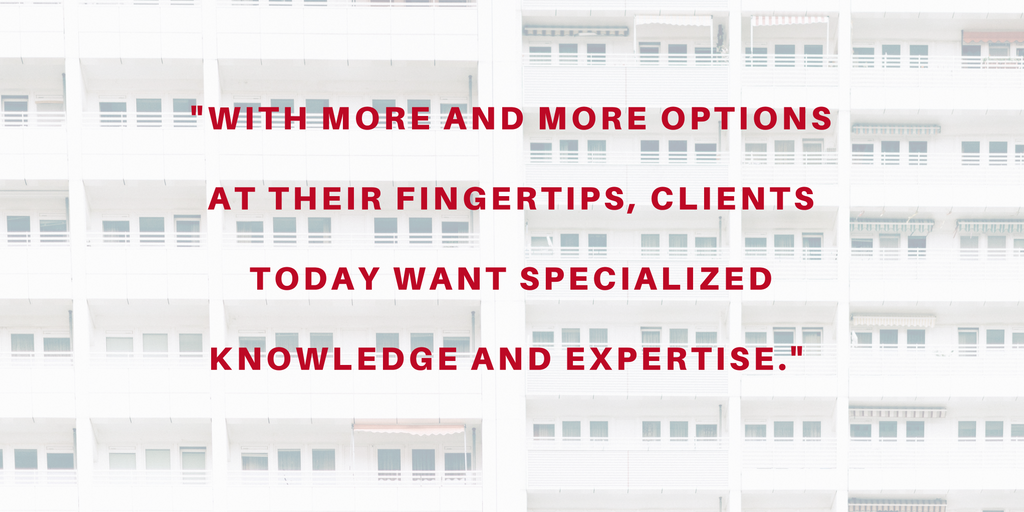 Whether by industry or service, they want to know you deeply understand their issues and challenges. That's how you'll win their business when you compete with the infinite other options available to them.
What do you do if you're a vertically integrated firm, with multiple service offerings? Or a generalist firm, with experience across a range of markets? Specialize in your marketing. Pick one or two industries and run targeted campaigns to show prospects that you've designed and built their types of facilities and you understand their issues and pain points. This will help you stand out in the increasingly crowded marketplace of players vying for their attention and business.
Are you an architecture, engineering and construction (AEC) firm looking to drive leads and close more sales? Contact me at michelle@rep-ink.com or (904) 712-3258.