October 7, 2016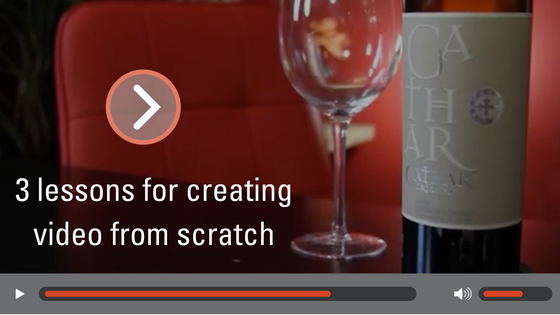 Everyone goes into content marketing and PR for the same reason — the fame. The promise of making viral videos that propel your business forward and hinder innocent trips to the grocery store as we are hounded by fans.
Source: Tumblr
Oh. Wait.
We're content marketers and writers at heart. Please just give us a laptop and a glass of wine cup of coffee.
However, as content evolves, so must we. It is the only way to stay connected to our prospects. So what is the latest wave in the industry? Multimedia. Specifically, the kind that moves. Video is changing the way everyone consumes media. This includes your prospects.
Just look at your Facebook feed and I'm sure you will find more shared videos than status updates. Times have a'changed, people.
Video has the capacity to track viewer interaction in a way that is not available for written content. We can learn what viewers are watching, when they are leaving our videos and what moments resonate. What if all of our viewers only watch when there is confetti? Well, cue all the confetti.
We kid. But seriously — written content doesn't (yet) have the ability to track what bullet points readers re-read, what paragraphs are losing readers' attention and what sections they skip all together. Video can. And the power of these analytics can seriously propel our content game.
And Rep Ink knows content and storytelling. It's what we live and breathe every day for our clients. Our challenge? Translating our content expertise to video. Any average Josephine can snag some quick video on an iPhone and upload it to a site. And plenty of video companies are already creating high-tech, super-slick videos. However, our advantage — and true differentiator — is our deep understanding of content marketing, and we wanted to translate that into video. This means creating strategic, content-driven video that provides value to viewers.
Learn with us as we develop Clink!, Rep Ink's video marketing program.
Lesson #1: Don't publish until it's great
Rep Ink's video strategy has been in the works for more than a minute. A few months ago, we rolled up our sleeves and spent a day recording our first ever Clink! episode.
Hours (and a couple bottles of wine) later, we had enough raw footage to produce an episode. At this point, you are probably thinking to yourself, "But wait! I am an avid Rep Ink fan. I obsessively follow their amazing Facebook posts and adore their Instagram photos. Why have I never seen this first episode? That sounds like something I would binge-watch!"
That is an excellent question.
We are proud of this video because it got our feet wet in the video scene and taught us more about the process. However, it wasn't what we wanted our video program to be.
Our vision is to produce videos that convey our company's tone while providing value to viewers. This first video didn't really nail either mark, tbh. We hadn't found our video rhythm.
However, never would we ever call this first day of filming a waste of time. And not just because we got to drink red wine at 10 a.m. on a Thursday! No. This video gave us something that would have been impossible to gain without beginning to film. A direction.
Our plan for the video evolved from a free-flowing Socratic circle into a straightforward, direct-to-camera style. We replaced six people on camera at once with one. We threw improv-ing out the window and developed a script. We set up a filming area, instead of circling our day-to-day workspace to collect footage. Basically, we used everything we learned from our first video to shape the filming for the next video.
We learned that we wanted Clink! to be full of clear lessons for viewers, filmed in a better format to suit our team and more strategic in the production phase.
With just as many Boomer close-ups.
Takeaways in hand, now it was time to plan our next filming day!
Lesson #2: Plan, plan, plan, and then plan some more
Moving forward, we knew what the vision for Clink! was: a short video to educate our B2B customers about the value of content marketing in their industries. Whew.
Here is a high-level overview of how we went from an awesome team of content marketers and PR experts to a, well, a production crew:
1. Create a team: Just as a blog needs an editorial director, a video needs a project manager. There has to be a central person who runs the show — checking equipment, managing schedules, developing scripts. All the nitty-gritty that turns the idea of a video into the, "Oh! We are really filming today!" Our team worked internally to decide who had the capacity/desire to manage our video series.
Source: WordPress
2. Do the research: Developing Rep Ink's video strategy from scratch was a new adventure for us. Before we started filming again, our team had to become more knowledgeable on video best practices, and how to reach our audience. Luckily, the internet can be a helpful place. There are an abundance of resources out there to help companies like yours (and ours) get a video strategy off the ground. (See Lesson #3 below!)
3. Write the script: One of the biggest challenges we had during our original shoot was capturing our agency's tone in front of the camera. After all, we are writers and content strategists — we prefer Google Sheets to microphones. Our improvisational, free-flowing conversation style just didn't work for the first video. We ended up with unclear takeaways for viewers, despite our expertise in the industry. We needed to figure out a way to get our message across in our brand's voice.
The compromise? Develop a script. A script allowed us to tighten our message, in our voice, away from the camera. Not only did this ensure we got the footage we wanted, but it allowed us to save time on filming day.
4. Design the graphics: Staying true to our brand infiltrated every aspect of planning. We want viewers to get to know us and our company through our videos. Just as the script will convey our message, so will the visuals. Using Canva, I was able to create some simple graphics to support our intended tone/ video voice. These were then used in the storyboarding process in tandem with the script to create a well-rounded game plan for filming day.
5. Execute a plan: After we developed our beefy skeleton of a plan, we were ready to execute! We had a script, visuals and a clear vision of what we want the final video to look like. So we did it! Stay tuned (both on INKsights and in your inbox) for the final, edited video fruits of our labor. Coming soon to a monitor near you!
Lesson #3: Lean on those who do it better
Before I go, I wanted to share some amazing resources that supported my planning efforts. Not to brag, but I was a pretty big deal in high school theater. If my name sounds familiar, it's because I was Georgia's 2nd place High School Monologue Winner, 2010. Needless to say, I've been on camera before (dramatic hair toss).
But, as crazy impressive as my credentials are, I needed help. Video isn't my main area of expertise, so I relied on the people who are experts. These resources helped me developed a strong plan that ensured I wasn't wasting my team's time when it came time to roll the camera.
Wistia blog—This blog has been my go-to for any and all questions. With everything from storyboarding to filming to editing, my Google Drive is filled with Wistia blog posts. They have slews of approachable content, all designed to make video marketing not so intimidating.

Video Marketing for Dummies—I'm an old-school learner. I love to hold a physical book while sipping coffee and balancing my reading glasses on my nose. (That's a learning style, right?) This book has been a helpful resource, providing lots of background information. It was published in 2012, so it isn't exactly up-to-date. But I have appreciated having this book in my purse for downtime review of video marketing.

The Jay Today Show—Watching episodes of "The Jay Today Show" was helpful for clarifying Rep Ink's video strategy. Host Jay Baer previously posted short, one-man videos several times a week. The video series has since ceased, but reviewing episodes has been helpful for understanding what succinct, helpful content marketing video looks like.
How does your business feel about video? Are you already rocking it, or just starting to get your feet wet? Let me know in the comments below!