March 2, 2016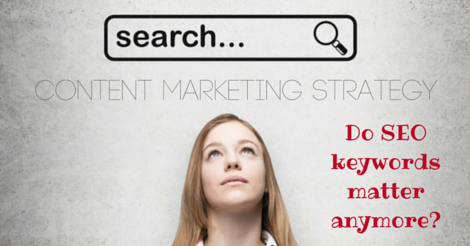 Remember when keyword stuffing rose to popularity? A rash of websites was built, stuffed with keywords that search engine optimization (SEO) experts had identified as the words searchers used to find their websites. The problem was, they literally "stuffed" the website copy full of keywords, offering no value. Instead, web users were left with vapid, redundant and awkward keyword-laden text.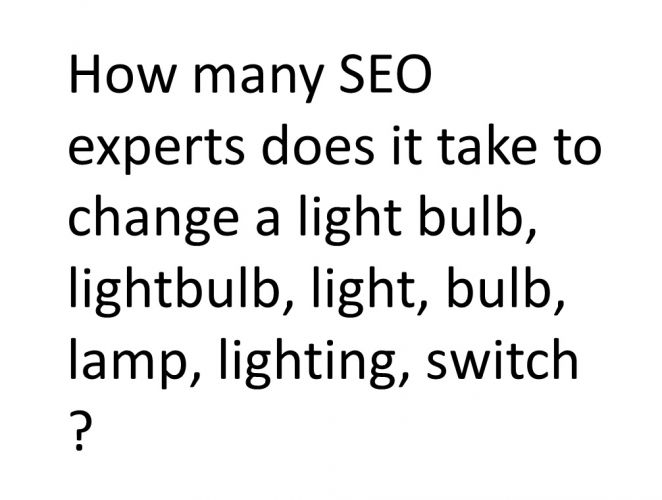 source: thedrum.com
For example, let's say the keyword phrase was "homes for sale Jacksonville, Florida," then the writer would attempt to squeeze the phrase into every sentence: "looking for homes for sale Jacksonville, Florida? If you're thinking of buying homes for sale Jacksonville, Florida, please contact our homes for sale Jacksonville, Florida sales specialists at Jaxfloridahomes.forsale@example.com"… ugh… the writer in me died a bit during that time.
But as Google continued to hone its algorithm, with a focus on delivering useful, information-rich content to Internet searchers, keyword stuffing no longer worked. In fact, Google penalized sites for keyword density, officially recognizing the practice as "black hat."
Take off your black hat and deliver great content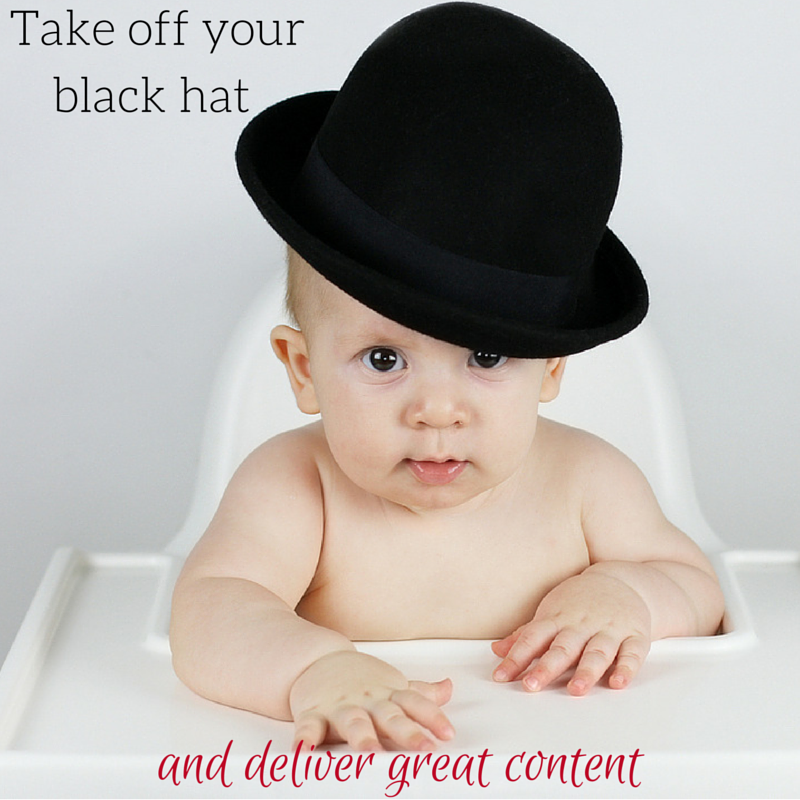 Today, the key to achieving high search-engine rankings is creating long-form, comprehensive content that meets the needs of your prospects. And, I can't say this enough: you must provide value. That's it. When people search the Internet, they are looking for something valuable to them. If you deliver it, you win.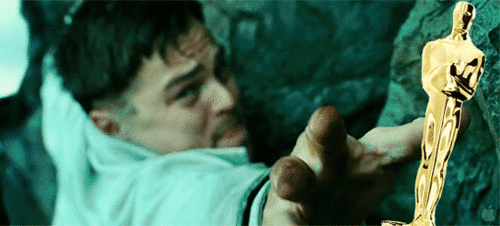 source: observer.com
So do keywords even matter anymore? Should your inbound marketing strategy include SEO keyword research? A lot of content marketing people will tell you no. They'll say that if you simply focus on the needs of your clients and prospects, and create content that meets those needs, you'll capture their attention and win the Google battle. They are partly right.
But content marketing is getting tough. As companies jump on the inbound marketing bandwagon in droves, pumping out blogs, e-books, reports, videos and more, it's becoming harder and harder to get people's attention and succeed with the strategy. Thus, it's critical that content marketers use every tool available to them to understand their audience's information needs and deliver exactly the content they are seeking. And that includes keyword research.
Google's interests and Internet searchers' interests are aligned
Google constantly refines and improves its algorithm to provide users with the best information (according to Moz, Google changes its search algorithm about 500 to 600 times a year). In other words, Google wants to be helpful. They want what their searchers want. Your prospects are telling someone their interests, challenges and needs, sometimes even their innermost secrets — and that someone is Google. How you use that information makes all the difference.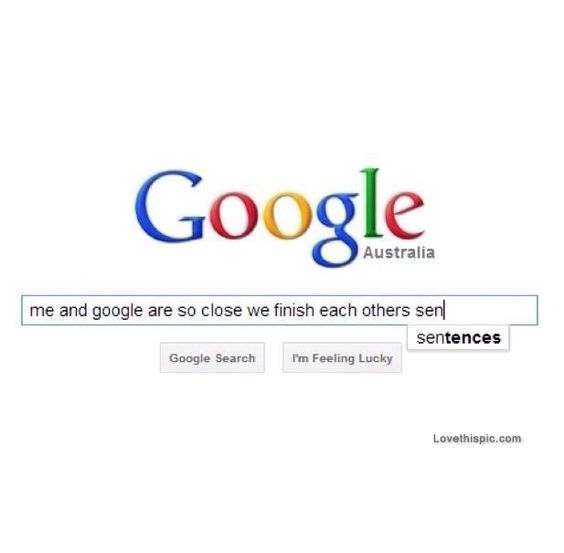 source: lovethispic.com
What's their intent?
Certainly, conducting keyword research forces you to think about the language your prospects and clients use when searching the web to solve their problems. However, instead of using keyword research to choose one or two words or phrases to write about, you should figure out what those problems are, group them into topics and figure out their intent — in other words, what do they hope to accomplish by conducting their search?
It's not about creating content with the right keywords. It's about creating content that answers the questions implied by those keywords.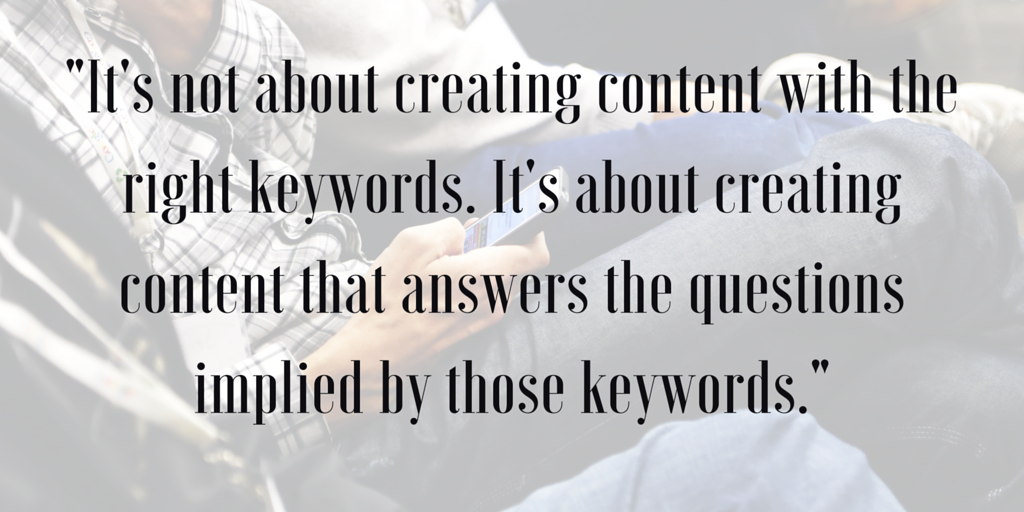 As Nick Stamoulis of Brick Marketing explains, when choosing keywords for their websites, many site owners select keywords with the highest search volume. This ignores user intent. He says:
"It has taken me years to zero in on exactly the right language for my own site based on how my target audience searches. For instance, someone looking for an SEO consultant and someone looking for an SEO company don't actually want the same thing. A website owner looking to hire an SEO consultant is usually interested in getting someone to audit their site and current SEO campaign and provide recommendations to take it to the next level. A website owner looking for an SEO company is usually interested in hiring someone to manage their SEO entirely. It's a subtle difference but dramatically affects the kind of language I use on my website and those individual pages."
How do you figure out user intent?
We've agreed SEO keywords and user intent are important to modern content marketing. How do you figure it out? After you do your keyword research using tools like HubSpot's Keywords tool, Google's Keyword Planner, Übersuggest, SEMrush and Searchmetrics' Keyword Analysis, it's a matter of brainstorming, creating content and testing.
The folks at Razorlight Media (now part of Oodle), created this handy checklist for determining user intent, which includes the following steps:
Brainstorm intent

Create "minimum viable product" (MVP) landing pages to match intent

Create pay-per-click (PPC) ads targeting each intent you've identified

Build out your landing pages based on click-through-rate winners in Google AdWords
Again, it goes back to being valuable. Answer the unanswered questions. Brilliantly and creatively address your prospects' who, what, when, where, why and how — which you now know and understand through your strategic SEO keyword and user-intent research.
Want to know more about how SEO keywords and user intent can improve your content marketing? Email me at michelle@rep-ink.com.