June 8, 2015
7 lessons I learned in my first four years of business (and a few extra tips)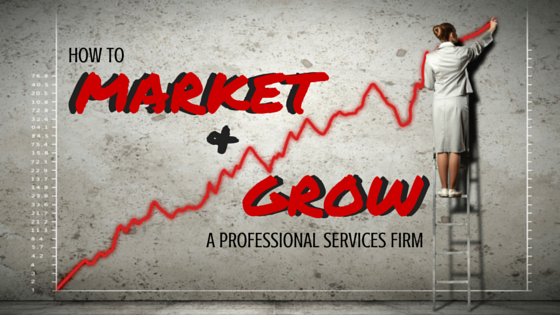 Last week, Reputation Ink celebrated its fourth year in business. I founded the agency in June 2011 working out of my home with one large client (who we still work with), and in the last four years, we've grown to include over 20 clients (including many large, global corporations), six full-time employees, several freelance writers we have established relationships with, and a group of specialist agency partners we collaborate with for technical and creative support.
We have more growth ahead of us, but I'm incredibly proud of what we've accomplished so far. I thought I would mark our anniversary by sharing what I've learned about marketing and growing a professional services business over the past four years.
1. Referrals and personal relationships are critical: In Reputation Ink's early years, our growth came solely from referrals. While I certainly had the skills to market the business, I didn't have the time or money to invest what I needed to do to market the firm to bring in business in the way that referrals did. And, as a one-person firm, referrals kept the growth in line with what I could support.
With numerous professional services clients, I've found this to be true for them as well. In fact, clients in many industries (such as the law, in which the American Bar Association outright banned advertising until the late 1970s) grew for decades solely off the back of personal relationships, referrals and simply doing good work. It's a shock to many corporate attorneys, CPAs, and financial advisors when they get to a certain point in their growth that it's no longer sufficient. Which leads me to my second point:
2. You can't rely solely on referrals and personal relationships as the business grows: While referrals will continue, you must ramp up your marketing engine to match the kind of growth and to target the kind of work that you want to do. Referrals bring in a business stream for a small professional services firm, but they don't support larger, more sophisticated businesses.
As many of my professional services clients have learned, today's buyer has changed. A 2012 research study by Google and CEB titled The Digital Evolution in B2B Marketing found that customers reported being nearly 60 percent through the sales process before engaging a sales representative, regardless of price point. More accurately, 57 percent of the sales process just disappeared.
What are buyers doing if they're not talking to sales? They are surfing corporate websites to identify and qualify vendors, instead of the sales force qualifying them. They are engaging peers in social media to learn more about their needs, potential solutions, and providers. And they are reading, listening to and watching free digital content that is available to them at the click of a mouse (this is where content marketing comes into play, but more on that later).
3. Market according to the work you want, and forget about the rest: A lot of my clients have trouble figuring out what they want to market or promote. I hear this a lot: "but if I say that I specialize in X, I might not get Y business." And my response is always to ask them what they really, really want to do. That's where your marketing efforts must focus. That's a hard choice when you're still growing and can't imagine turning away work. However, trust me, you'll still get business in areas where you don't specialize. But your marketing must focus on what really you want to do.
We have struggled with this ourselves. I want the high-end, strategic work. So the content that I produce is often high-end and strategic. Which alienates a lot of potential clients who don't speak that language. Who aren't at that level yet in their organization and don't have the budgets or infrastructure to support it. But that's OK. Because in the long-run I will attract the work that I want.
4. Don't name your firm after yourself: Yes, this is a personal decision, and certainly in the early years when the firm is basically you, naming it after yourself can have value. But since I'm offering advice I thought I'd throw this one out there.
If you are planning to grow a professional services firm that is larger than just you, I would advise not naming it after yourself. As I'll mention in a minute, professional services firms' number-one assets are their people. And I believe people feel more engaged and more ownership in firms that are not named after their owners. Think about what happens if you want to bring on a partner or two? How will they feel partnering in a firm with someone else's name slapped on it? In addition, I think it wastes the opportunity to think about your expertise and value and reflect that in a truly meaningful name.
5. Invest in your logo, your website, and your business cards: In terms of your basic "line-up" of marketing collateral, I'd forego some of the old stand-bys. Most people do not want paper anymore (we strive to be as paperless as possible in our office), so glossy brochures tend to be a waste of money in most industries. However, the one paper marketing piece that I still advise spending money on? Your business card. It's a first-impression piece that people will still gladly take (even if they scan it, upload the info and trash it when they get back to the office), but the impression made about your firm will remain. So spend more than usual on it—make it stand out and reflect quality, expertise, and professionalism.
We have written before about the importance of a high-quality website and are firm believers that your website (as long as it's a content-driven site) is your most important marketing asset, so don't neglect it. Similarly, your logo must reflect the quality that you infuse into everything you do. You can't achieve that by using one of those bidding sites that promise you a logo for $10.
6. Do content marketing: this may seem wildly self-serving (and yes, content marketing is what we do, but we know it works—otherwise, why would we be in the business we're in?). I didn't actually start doing content marketing for Reputation Ink until we renamed the business from Reputation Capital to Reputation Ink and launched a new website in March 2014. This is because I knew for quite a long time that I was going to have to rebrand and didn't want to build a strong online reputation under a different brand. And it took me A LOT longer to rebrand and launch a new website than I thought it would (story of everyone's life, amirite?).
Until that time, I had been doing content marketing for my clients and a ton of public speaking on content marketing, but I hadn't been walking the walk. This is called the cobbler's children syndrome—in other words, the cobbler's children are barefoot because they have no shoes. Honestly, it was embarrassing.
When we started blogging and became a HubSpot agency, our business truly changed. Not only did our inbound leads increase, but we became better advisors to our clients. I'm a firm believer that content marketing is one of the best training programs you can employ. In fact, I encourage my employees to blog on topics they want to learn more about.
7. Build your email database: Modern marketing today is largely email driven. Without a solid database of prospects, you have no one to market to and are at the mercy of the media (and their subscribers) and email list vendors. So start building a database early on through content marketing and you'll be in the driver's seat.
5 more tips (I just couldn't stop)
So, there you have it. Seven marketing tips. But I can't stop there. Growing a firm isn't just marketing. It's a lot, lot more. As everyone tells you, when you start a company you have to do it all, from being the CEO and consultant to the receptionist, janitor, bookkeeper, human resources professional and more. So here are a few more lessons I learned:
1. Employees are everything: I'm a little shocked every day at the quality of the people who work at Reputation Ink. It's sounds a little hokey and like I'm bragging (and it is and I am), but it's true. If I can manage to keep these people, I will achieve my number-one priority. Invest, invest, invest in your brand and your culture in order to attract the right people. Then work to keep them engaged. As you grow that will become your full-time job. That's worth repeating: as you grow, keeping your employees engaged will become your full-time job.
2. Expose yourself: No, I'm not telling you to become a streaker or exhibitionist. But I do think that starting a company requires a certain amount of vulnerability. You are telling the world that you hope to succeed at something. And that means that you might fail publicly. And unless you want to drive yourself crazy, you have to let go of your ego. Because there are people who are better than you. And you will make mistakes. And the more you are honest, open and vulnerable about those mistakes—and your desire to do better—the more likely you are to succeed.
3. Forget the competition: the firm with my original company name, Reputation Capital, published an article recently that I loved. In the article, Why I'm Not Scared Of My Competition—And You Shouldn't Be, Either, Mary Ellen Slayter says:
 "I spend very little time worrying about what my competitors are doing. I'm aware of it, but I don't stress because that mindset will only get you so far as an entrepreneur. If you want to successfully build an organization from scratch, you have to go beyond simply beating other people's (often mediocre) benchmarks."
Slayter says she has a pragmatic, cooperative, warm relationships with competitors, and I can attest to that. When deciding what to do about our name situation, I called her. She was incredibly nice, and well, pragmatic. We talked openly for a while. We are direct competitors with similar business models.
I take a very similar approach, but it's one I've had to learn the hard way. In the end, it just feels better to have friends in the industry rather than enemies.
4. Establish a culture of continual learning: There's a quote that circulates around social media every now and then that goes something like this: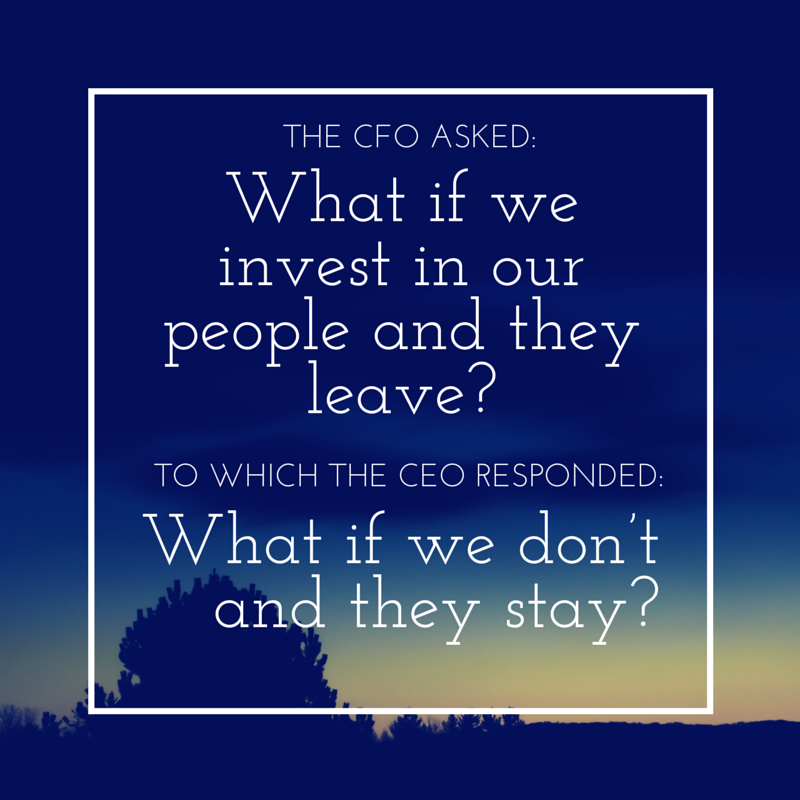 I love this. Thankfully our blogging and other content marketing efforts force us to continually learn, but we invest in training in other ways. We all plug away at HubSpot's certification programs, and recently Allison Banko began Copyblogger's Authority program, which she is blogging about.
5. Be authentic: Have you ever worked for a company that tried to be something it wasn't? Created a forced culture? As you grow, think about who you are and don't hide it. That won't work for everyone, including prospective clients and employees. But for those who "get" you, it'll be like peanut butter 'n jelly. It will just work.
Celebrate who you are. Don't force some "cool" version of a culture that you think people want (or a watered-down one to hide your funkiness). Just like in love, in business people are attracted to people who are authentically themselves.
Even if that means you drink wine on Friday "wine-down" afternoons, eat peanut butter straight from the jar, like the color red a little too much, are a grammar Nazi, have a giant dog named Boomer in your office, and listen to 80s music too loudly until clients call. You are also passionate about your work and committed to being the very best at what you do.
I'd love to hear your thoughts. Have you grown or marketed a professional services firm? Or just have thoughts or opinions on the lessons above? Let me know! Comment below or email me at michelle@rep-ink.com.