February 19, 2015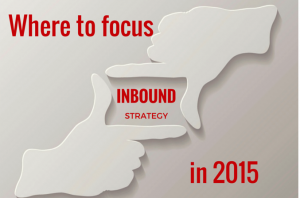 As inbound marketing gains in popularity, some companies are playing catch up, while others are reaping the rewards of their efforts and refining their strategies. The cardinal rule in content marketing hasn't changed along with the calendar year: it will forever be to focus on helpful, useful content that is well written and produced. As more and more companies see the ROI of inbound and shift more marketing dollars to content marketing, it's important to know where to focus your attention:
Visual Content
Visual content will only continue to rise in importance and popularity as marketers realize 65 percent of us are visual learners and that the brain processes visualization 60,000 times faster than words on a page. No, this doesn't mean you should focus solely on quick hits like infographics and videos. Readers still long for long-form content, it just needs to be presented visually for maximum retention and understanding (not to mention SEO).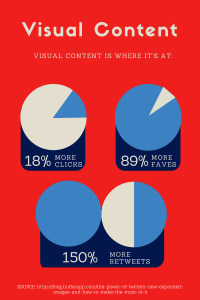 Here are a few great resources for creating content that will attract more views than plain-text counterparts, and should definitely be used to break up longer pieces of content:
Canva – as we've mentioned before, Canva is a great resource for creating quick and dirty infographics that don't look like they were easy to make. The tool itself is free with some premium backgrounds and images available for purchase (usually $1 each).
Visme – this infographic and presentation image creation platform is easy to use and available in subscriptions ranging from free to $16 per month. What's really interesting is the new analytics feature. Imagine how you can optimize your content when you have analytics for both compiled visits (total visits, unique visits, average visit time, sources) as well as individual visitors (date, time, duration, IP address, location and organization). Of course, this brand-new feature is only available with the premium membership.
Powtoon – don't forget about video! Powtoon allows you to create custom clips with or without audio. Simply pick a style, add some text and animate, then play around with the timing. Basic membership is free, and there is also premium content available for purchase.
Social Media
It's been said that social is the new SEO, and Twitter is one platform you don't want to ignore. Google and Twitter recently rekindled a former agreement where the social platform will share its stream of data in exchange for greater prominence in search results. This double-edge sword can mean positive and negative tweets about your company could appear at the top of search results in real time. Maintaining an active and positive stream of tweets about your brand could be one of the best weapons in your SEO arsenal.
Automation
There's just no good reason not to get on board with automation. It doesn't matter which industry you're in, if you're selling something, you need to be communicating to convert visitors into leads, nurture those leads and even surprise and delight your current customer base.
I'm partial to HubSpot, but there are several less expensive ways to go. Even MailChimp has the functionality to create workflows and schedule emails based on triggers like downloading an e-book, completing a form or simply visiting the pricing page of your website. The caveat here is that your content must not be spammy. It should always recognize where your audience is in the buyer's journey and help solve a relevant problem.
Curated Content 
In following the cocktail party rule, you're only supposed to promote your own content 20 percent of the time, and share high-value content from other sources the rest. Well if you've been producing your own original content for a while, you know how time consuming that can be, much less scouring the interwebs for the third-party content your audience will love, appreciate and share. Services like Curata work for you 24/7 to find relevant content from other thought leaders you can comment on and share, which will only help maintain your position as a trusted resource for your readers.
Did I leave anything out? Where do you plan on focusing your inbound marketing efforts this year? Please comment below or hit me up at heather@rep-ink.com.