January 21, 2015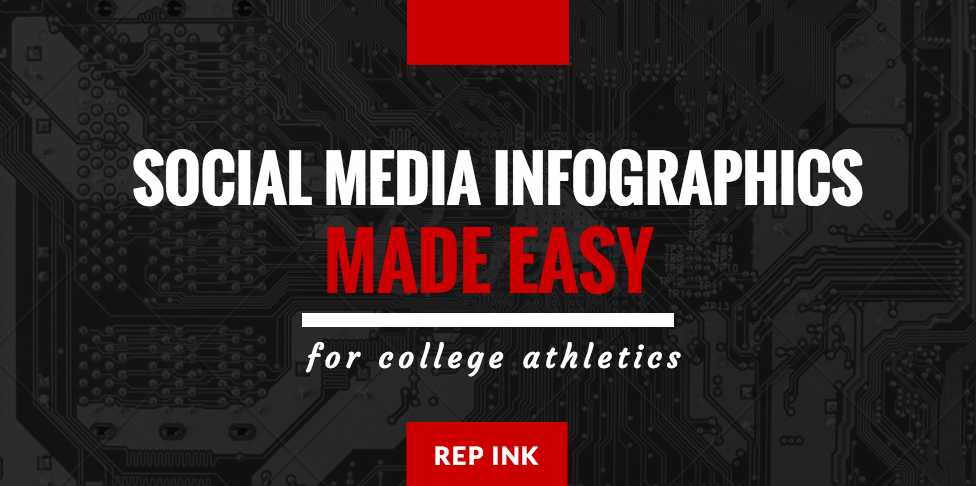 Reputation Ink recently partnered with CoSIDA (College Sports Information Directors of America) and Chris Syme of CKSyme Media Group for our "Social Media Best Practices in College Athletics Survey," picking the brains of athletic department communicators around the nation to discover what's working, what's not and what's ahead.
My colleague Kristi Dosh recapped the survey results in a two-part blog series for CoSIDA just last month. You can read them here:
About 83 percent of surveyors said their top goal for social media was to increase their number and reach of social media fans. (Join the club, right?)
We already know that visual content increases engagement on social—this is no secret. Take a look at the data from this HubSpot blog post:
Content can generate up to 94 percent more views if you add compelling visual elements and graphics

40 percent of users online will provide better and more favorable responses to a particular piece of visual content than other plain and text-based content

Use of visual content in Facebook campaigns generates 65 percent more engagement after only a month's practice
In response to, "Briefly describe the most successful social media initiative or post your department produced in the last year and why you think it worked so well," one major consistency in the 111 survey responses was the success of visual content—specifically infographics of post-game wins/scores. Well, this makes sense. People love winning and people love bragging about their team winning. Sharing and engaging with this content (whether it's retweeting, liking, favoriting or perhaps tagging a team rival), likely applies to (or makes sense for) most of your account's followers. Check out these examples:
By the numbers from tonight's game. We head to Georgia Saturday & back in the @OConnellCTR Tues. night. #ItsGreatUF pic.twitter.com/QEm8k91qrO

— Gators M-Basketball (@GatorsMBK) January 16, 2015
#Gators win! pic.twitter.com/XVCXyMJZSX

— Gators M-Basketball (@GatorsMBK) January 16, 2015
Final infographic presented by @louisianatravel – Martin (22 PTS), Hornsby (15 PTS), Quarterman (15 PTS) lead LSU. pic.twitter.com/TVupc6zl6G

— LSU Basketball (@LSUBasketball) January 21, 2015
The #Noles went into Littlejohn and defeated Clemson last night 59-55. #ThinkBIG pic.twitter.com/2SkBoSe887

— FSU Basketball (@fsuhoops) January 20, 2015
Tough one on the road. pic.twitter.com/LhYPEgWg9f

— Canes Hoops (@CanesHoops) January 17, 2015
Infographics of student athlete milestones and event promotions also made the list of successful social media campaigns.
However, as a communicator in college athletics, your game days (or, any days) aren't exactly equipped with tons of free time to toy with Photoshop. You've got media members to manage, gamers to write, quotes to snag, athlete interviews to organize, stats to round up—you get it. But you don't need tons of time to create an infographic—or sophisticated design skills (or patience).
There are tons of free design tools out there, but I've really taken a liking to Canva. It's super customizable, user-friendly and intuitive. As for an athletics communicator, specifically, it's a great resource for making infographics on the fly. (It's a great resource for your interns to use, too.) Plus, it's cloud-based. You can access your designs from your browser instead of in your computer files.
Here's a simple how-to for creating a social media infographic in a pinch. Keep in mind, this is a super simplified how-to. You can create some really amazing stuff. Take the time to play around with all of the tools and features. I like going to the design stream to get inspiration from what others are whipping up.
Sign into Canva https://www.canva.com/ (Again, it's free.)

Select the type of post you want to create.

Pick your background.

For a color (what I color codes by pressing "+" I use the free "Eye Dropper" Chrome extension. It allows you to pick colors from web pages.

For a photo: Select "Search" and "Grids." Drag and drop the photo you want into the layout of your choice.

For a pre-made layout you want to customize: Select "Layout." Pick your desired template and customize within.
4. Let your creativity loose. I began by selecting a picture for my infographic. You can upload your own pictures by clicking "Upload" in the side navigation.
5. I wanted to add some branding. I selected the circle-like photo frame from the "Frames" section in "Search." I then toggled with the transparency a bit.
6. Next, I added some text.
7. And some more text, along with some decorative lines from the "Lines" section under "Search."

8. Voila!
Again, this is a super simple example that you could do in minutes. I encourage you to play around with the tool, exploring all of the sections under "Search." I like getting inspiration from others' work on my Canva Design Stream (on the dashboard) or in the Design School blog.
Have you tried Canva? What did you think? Let me know in the comments.