July 18, 2014
Another week is almost in the books! We hope you had a great week. Some brands had better luck than others this week when it came to PR, content marketing and social media. We've rounded up the good, the bad and the ugly….
THE GOOD
LinkedIn's acquisition of Newsle gives you the power to stay in touch
It's easy to send that first email to a new contact saying it was nice to meet them, but how do you find excuses to stay in contact? Newsle makes it easy by allowing you to receive alerts when the person is mentioned in the news or in articles around the web. With LinkedIn's acquisition of Newsle this week, you can automatically start following alerts for all of your LinkedIn contacts. A similar capability exists for Facebook and your email contacts in Google, Yahoo, Hotmail, Outlook and more. You can also add contacts manually.
Newsle is like Google Alerts on steroids. Not only does it have the capability of integrating your current connections automatically, but instead of delivering email-only alerts you can view updates in a user interface that looks and feels like a social media dashboard.
THE BAD
The fine line between "trendjacking" in social media and breaking the law
A couple of years ago, Tide missed out on a great social media opportunity during the Daytona 500 to capitalize on its product being used to clean up jet fuel that leaked on the track after a crash. The Proctor & Gamble brand has upped its social media game since then, but has it crossed a line?
Attempting to capitalize on the buzz surrounding LeBron James' free agency, Tide tweeted the following just one day before "King James" announced he'd be returning to Cleveland: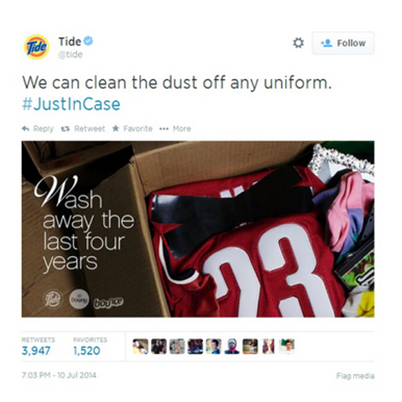 Creative, right? The problem is whether or not the tweet could be considered an infringement of the Cleveland Cavaliers trademarks, because of the use of the jersey, and whether there might be confusion as to whether the Cavs, NBA or LeBron James himself was endorsing Tide.
Tide has since removed the tweet. Uncertainty remains regarding whether a brand's posts on social media could be considered advertisements and the role trademark and copyright law might play, so attorneys urge brands to use caution.
THE UGLY
Attempt to cover up bad press leads to more bad press
City Light, a publicly-owned utility in Seattle, had a problem: the online reputation of its CEO, Jorge Carrasco. One issue was an article by Seattle Weekly in 2008 profiling Carrasco:
"…a short, slight Texan, Carrasco has brought a certain kind of cowboy justice to City Light, unsurprising, perhaps, from someone who earned the nickname 'Jorge Fiasco' while city manager in Austin, Texas, the first of three jobs he was ousted from before landing here."
In October 2013, City Light signed a contract with Brand.com to spend up to $47,500 attempting to eliminate and counteract the negative search results. Ultimately, City Light spent $17,500 with Brand.com and is now demanding a refund and considering a lawsuit after failing to see results. Seattle Weekly broke the story about the Brand.com deal, and the publicity for Carrasco has gone downhill from there.
"It was an experiment that certainly didn't work and we would not do it again," Sephir Hamilton told technology site Ars Technica.
Comcast's bad customer service goes viral
Ryan Block called Comcast to simply cancel his service. Instead, he became a viral sensation after uploading the audio of his interaction with the customer service representative. What made the call so interesting? For more than eight minutes the representative demands Block explain why he's leaving Comcast while refusing to cancel his service until he explains. Comcast issued a public apology, but the damage was done. Not great exposure for the cable company recently rated as the second-most hated cable company in the country.