April 14, 2014
US Airways tweeted a pornographic photograph today in response to a customer complaint. If that's not shocking enough, try this: it took a full hour for the tweet to be discovered and removed.
Thanks to US Airways, companies around the world are sure to be reviewing or developing social media monitoring policies. It's not the first time we should have all learned a valuable lesson about monitoring our social media accounts, however. Here's a look at two case studies from the world of sports that might further convince you that social media is a full-time responsibility, not just something you log onto when convenient.
How Tide blew a golden opportunity on Twitter
Monitoring social media isn't simply about preventing major mistakes like the one made by US Airways, it's also about not missing opportunities. One of the biggest missed opportunities in Twitter history came in 2012 during the Daytona 500.
NASCAR driver Juan Pablo Montoya crashed into a truck hauling a jet dryer while driving under caution and the jet dryer burst into flames, leaking jet fuel. Fans watched as a familiar product was brought out onto the track to clean up the spill: Tide.
Crews used powdered Tide to clean up the track for at least half an hour on national television, packages with the Tide logo stacked around the track and prominently displayed. It wasn't long before the Twitterverse chimed in, which is no surprise given that 41 percent of all tweets in 2012 (and 50 percent in 2013) were about sporting events, according to Nielsen.
I was reporting for ESPN during the 2012 Daytona 500 and had the opportunity to cover this story. Tag Garson of Wasserman Media Group told me the publicity value for Tide of the exposure during the cleanup was in the high seven to low eight figures. Social media experts said it could have been more if they'd only been on Twitter during the race.
Forget about the missed opportunity to engage with fans on Twitter though, which is tough to accurately quantify. Try this . . . .
A study on consumer engagement conducted by Taylor before the 2012 Daytona 500 revealed 54 percent of NASCAR fans will buy a sponsor's product if it's no more expensive than competing products, with that percentage rising to 61 percent among the prized 18 to 34 demographic. Eleven percent of NASCAR fans in that study would buy the sponsor's product even if it was priced higher than its competitors. Among the 18 to 34 demographic it was 14 percent.
Tide wasn't a current NASCAR sponsor when the Daytona 500 incident occurred, but could they have tapped into that fan loyalty by engaging with NASCAR fans on Twitter?
Driver Brad Keselowski tweeted a picture from his car immediately after the fire and continued to tweet throughout the delay.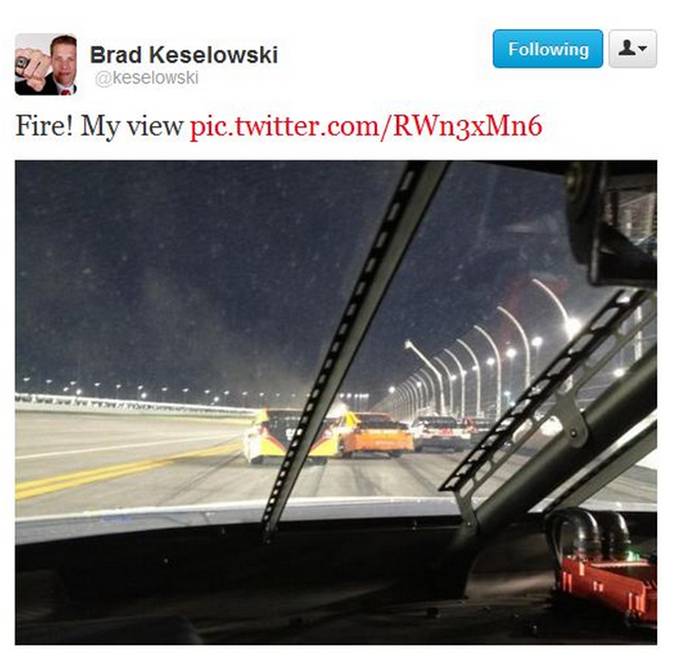 That initial picture was retweeted more than 5,000 times, and Keselowski's Twitter followers more than tripled to over 200,000 by the next day.
Tide, meanwhile, had to settle for a contest on Twitter and Facebook in the following days to caption a picture of the cleanup crew using Tide on the track.
How Oreo capitalized on the Super Bowl blackout
Perhaps Tide taught everyone in the sports world a lesson, because when an opportunity presented itself at the Super Bowl in early 2013, Oreo pounced on it.
During the 2013 Super Bowl there was a blackout. So, you guessed it, fans took to Twitter to discuss. And Oreo cleverly inserted itself in to the conversation with this tweet: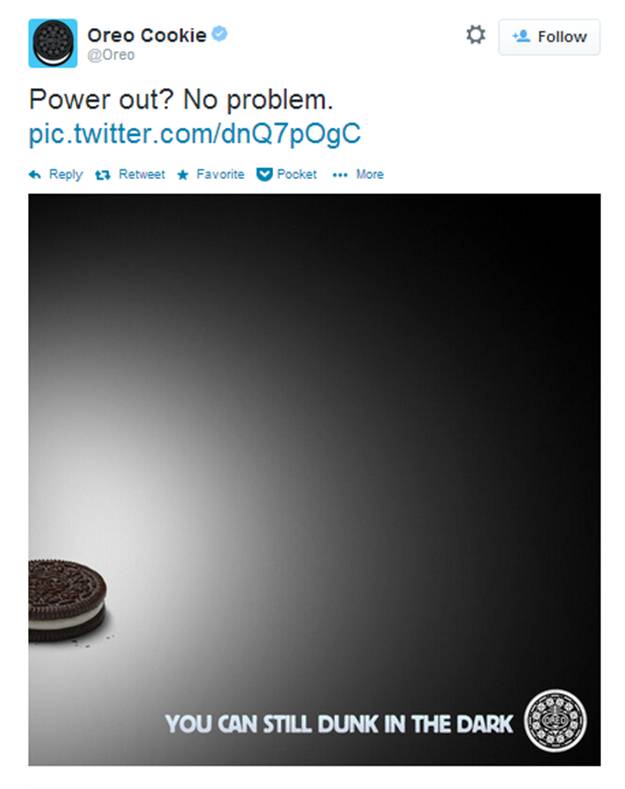 Oreo posted the photo to both Twitter and Facebook during the blackout and was rewarded. On Twitter, Oreo received over 15,000 retweets and over 6,500 shares. On Facebook, likes of the picture topped 21,000 and it was shared nearly 6,900 times. Fans tweeted back at the brand on Twitter and commented on the Facebook post as well.
Did Oreo just get lucky? No, according to a report by Wired, Oreo had a 15-person social media team prepared to respond to anything that might happen during the Super Bowl, including fan reaction to the company's advertisement during the first quarter. There were copywriters, strategists and artists on hand, and they were prepared to react immediately.
Turns out Tide learned its lesson from the Daytona 500. It too jumped into the conversation during the blackout: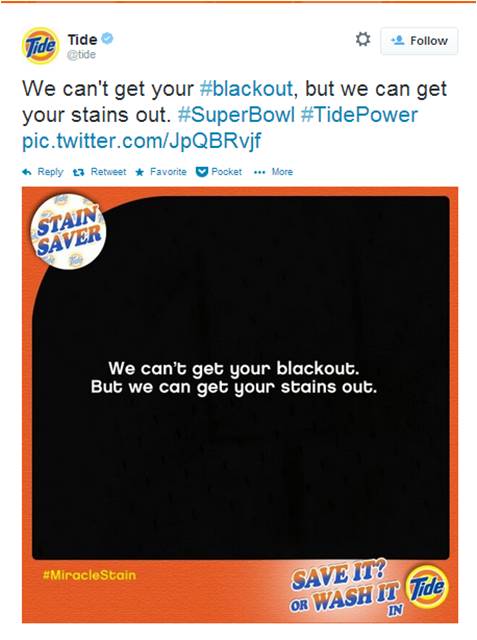 Maybe your brand isn't the next Tide or Oreo (although every company can create opportunities through social media), but you don't want to be the next US Airways either. Be aware of who has access to your social media accounts and put in place a policy to monitor those accounts. For companies, social media accounts should not be the responsibility of one person alone.
To learn more about best practices for social media, contact michelle@rep-ink.com.