October 23, 2023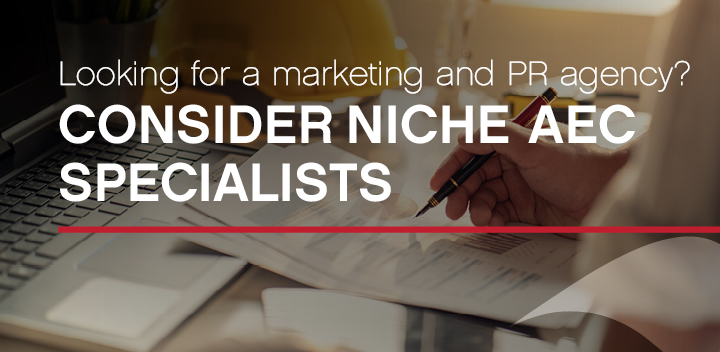 If your company or firm's marketing team needs a little extra help, or you're starting from scratch and want to build brand awareness and credibility for your business, hiring a marketing and public relations agency can be a game-changer. 
Maybe you've already decided to hire an agency and have begun your search, but how do you find one that is right for your firm? Instead of turning to a jack of all trades who reinvents the wheel with every new client, consider hiring an industry specialist agency.
This kind of agency (you may already know one!) focuses on one or a few particular sectors, such as the architecture, engineering and construction (AEC) industry (we work with legal clients, too). Because these agencies typically represent clients in only a few focused industries, they offer a level of insider knowledge and experience compared to one representing a grab bag of clients with various needs and nuances. 
So, what are the benefits? 
If an agency only works with AEC clients, its team of marketers and public relations professionals knows the industry inside and out, from conceptual design to commissioning. Thanks to years of niche experience, they understand how architects, engineers and contractors operate and function, what industry awards and publications actually matter, and the difference between shop drawings and as-builts. Here are a few of the advantages they'll bring to the drawing table.
They have industry knowledge
If an agency works specifically with AEC clients, its team of content and PR pros isn't starting from the ground level when it comes to industry trends and practices.
As an AE firm or contractor in today's market, you need a partner who understands your business and your clients. An AEC-focused agency keeps a finger on the pulse of the industry, meaning your subject-matter experts won't have to define BIM or explain the role of an HSE manager time and again. Having this established foundation means that specialized marketing and PR partner can accelerate the pace of progress by hitting the ground running while strategizing, not unlike the design-build delivery method.
They understand how to work with industry media
Public relations agencies generally know how to work with the media, but AEC agencies specifically understand how to work with AEC industry and trade media, which have unique objectives and approaches. AEC trades are often looking for more specific and nuanced content, whether interview quotes from an engineer or a thought leadership article on a more technical subject. Whereas a mainstream publication may only quote a CEO or representative in a sentence or two, an article in an AEC trade will more often do a deep dive into a particular case study or project, often providing longer quotes and fleshed-out information.
A specialized agency knows how to approach AEC trades, industry publications and mainstream outlets in a way that appeals to their unique needs and audiences. Because they follow industry news and trends, they can also leverage newsjacking and identify timely opportunities to insert your firm into the broader conversation. Plus, an AEC PR agency worth its salt will also have solid existing relationships with these journalists and won't be cold pitching them.
They know which awards are worthwhile (and which aren't)
Industry awards and recognitions can often be a dime a dozen, and the architecture, engineering and construction industry is no exception. Industry-specific PR agencies continually track AEC awards, lists and rankings that a generalist agency might not know about — and chances are, they've developed winning submissions for them before. 
These industry award programs can be painstakingly detailed, so enlisting a partner who (1) has successfully submitted nominations in the past and (2) can relieve a project manager or in-house admin of this time-consuming responsibility can be priceless. It's often the difference between a busy firm deciding whether even to throw its hat in the ring.
Beyond their ability to help you distinguish between credible awards and pay-to-play schemes with little to no ROI, an AEC agency is familiar with the professional associations and organizations where your peers, clients, competitors and prospects are networking. Whether it's developing inroads with associations that have award programs of their own (for example, Associated Builders and Contractors) or understanding how to leverage these networks to your company's benefit, engaging an industry-specific PR partner ensures you aren't starting from square one.
They come with a reputation
As the adorable (and sometimes creepy?) animatronic children at Disney World have reminded us for the last 50+ years, it's a small world, after all. That includes the AEC industry. Industry-specific PR agencies know the media players in the space, and those players know them. By working with (and making life easier for) journalists and editors, AEC agencies have built a reputation and relationships with these contacts. Oftentimes, journalists will even reach out to specialist agencies proactively looking for sources because they know these proven PR professionals can track down the insight or expertise that they need. 
Good PR agencies understand what's required to secure media attention for CEOs, subject-matter experts and project successes. Great PR agencies know how to secure media attention for your CEO, subject-matter experts and projects — and in the arenas that matter. They know where to place articles, source quotes and compete for awards that support their clients' long-term goals.
Ultimately, choosing a specialist agency is a win-win for AEC firms — so why delay the construction of your winning marketing and PR strategy?
Have questions about an industry specialist agency? Email me at info@rep-ink.com.