July 26, 2023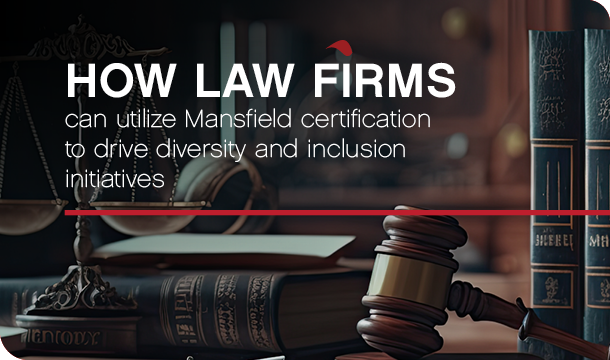 In the legal profession, diversity, equity and inclusion (DEI) have become crucial focal points for organizations striving to create a more equitable and representative environment. One prominent initiative attracting the participation of more and more firms is the Mansfield Rule Certification, created by Diversity Lab. 
What is the Mansfield certification?
Named after Arabella Mansfield, the first woman admitted to the practice of law in the United States in 1869, this certification program aims to promote diversity and inclusion by ensuring equal opportunities for underrepresented groups in leadership positions within law firms and legal departments. More specifically, it measures whether law firms have affirmatively considered at least 30% women, lawyers of color, LGBTQ+ lawyers, and lawyers with disabilities for leadership and governance roles, equity partner promotions, formal client pitch opportunities and senior lateral positions.
The first cohort in 2017 involved 35 American law firms. As of this year, there are now more than 300 Mansfield-certified firms in Canada, the United Kingdom and the United States, as well as more than 80 legal departments. 
The power of diversity, equity and inclusion in law firms
By committing to the Mansfield certification process, participating firms not only benchmark their own DEI efforts, but help push change across the industry. The long-term impact of Mansfield certification is significant:
79% of participating firms reported that their lateral partner hiring pool was more diverse, and 76% said their equity partner promotions pool was more diverse. 

92% of participating firms reported an increase in formal diversity discussions regarding succession planning for leadership and governance roles, and 85% increased formal discussions for lateral partner hiring.

57% of participating firms elected or appointed a higher percentage of diverse lawyers into Office Managing Partner roles.

94% of participating firms reported that their candidate pool for pitch teams was more diverse following the adoption of the Mansfield Rule. 

Prior to securing Mansfield certification, only 12% of firms tracked their candidates for leadership roles and 25% tracked their candidates for lateral partner hiring; now 100% are tracking these candidate pools.
Of course, the goal of pursuing Mansfield Rule certification is to promote DEI throughout the legal industry. But, as Reputation Ink is a legal PR and content agency, we'd be remiss in pointing out that participating firms can also benefit from promoting that they've been through the Mansfield process and secured certification. Demonstrating a visible, benchmarked commitment to DEI is one way for firms to stand apart, both in terms of business development and also recruiting. This is particularly the case as corporate legal departments increasingly demand proof of support for diversity in request for proposal (RFP) responses. Likewise, talented diverse lawyers at all stages in their careers will be more likely to choose firms that don't just pay lip service to diversity but walk the talk. 
In light of this, firms that achieve Mansfield certification should make sure to promote it on their website and social media. Mansfield usually provides a press release that firms can adapt for their own use as well. While national legal publications likely won't cover this, local outlets might and so it's worth sending the release to a local business journal, if appropriate. Certified firms also receive badges and other collateral to post on their website, use in RFP responses, include in recruiting brochures or display prominently in career fair booths. While firms should be tactful in promoting the certification and not seem to be patting themselves on the back for doing the right thing, announcing the news and giving the badge prominent placement is appropriate.
The path to becoming certified
Becoming Mansfield Rule certified is a rigorous and transformative process for law firms. Participating organizations embark on a 12-month pilot program, during which they track and measure their DEI efforts. Participants set ambitious goals and strategies to increase the representation of underrepresented groups at all levels within the organization. Firms are encouraged to consider diverse candidates for lateral hiring, promotions and client pitches, with a target of at least 30% representation for women, attorneys of color, LGBTQ+ attorneys and attorneys with disabilities.
Throughout the certification journey, Diversity Lab acts as a valuable partner, providing resources, guidance and support. The organization helps firms implement best practices, develop inclusive policies and collect data to assess progress. By working closely with Diversity Lab, organizations gain valuable insights and tools to build a more diverse and inclusive workplace that aligns with their long-term strategic objectives.
After becoming certified, firms have the opportunity to send their newly promoted historically underrepresented partners to the Mansfield Client Forums to build relationships with and learn from hundreds of influential in-house counsel leaders.
Breaking down the application process
There are three categories: Large (firms with more than 100 lawyers) and Midsize (small or midsize firms with 25 to 150 lawyers), and legal departments. The Mansfield Midsize certification process, modeled after the initial large firm version, has been fine-tuned to boost diversity in leadership at smaller firms.
To become Mansfield Certified, firms are asked to consider at least 30% historically underrepresented lawyers for the leadership roles and activities identified below and more:
All lawyer hiring searches/openings

Equity partner promotions

Election or appointment to Managing Partner/Chairperson

Election or appointment to other high-level firm governance positions, including:

Management/Executive Committee and/or Board of Directors
Practice Group Leader and/or Office Head
Partner Promotions/Nominations Committee
Compensation Committee


Participation in formal client pitches and formal client business meetings

Senior professional staff hiring and promotions

Transparent job responsibilities for governance roles

Transparent processes for governance appointments/elections
Mansfield also offers a Certified Plus option for certification. This indicates that, in addition to accomplishing the baseline certification requirements, the firm has successfully achieved at least 30% underrepresented lawyer representation in a notable number of current leadership roles.
The application process is the same for firms that are participating in Regular or Midsized Mansfield Certification, but the class cycles are different. Registration has closed for the 2023-24 class for both Regular and Midsize, but it is never too early to prepare for the 2024-25 class. 
Through Mansfield Certification, organizations lay the groundwork for a more representative legal profession that better serves its clients, advances social justice, and contributes to a fairer society overall. As the legal landscape evolves, the Mansfield Rule Certification will continue to play a pivotal role in shaping a more inclusive and equitable future for law firms, and the legal industry as a whole.
Interested in learning more about the Mansfield Certification process for your firm? Email me at info@rep-ink.com.