February 10, 2020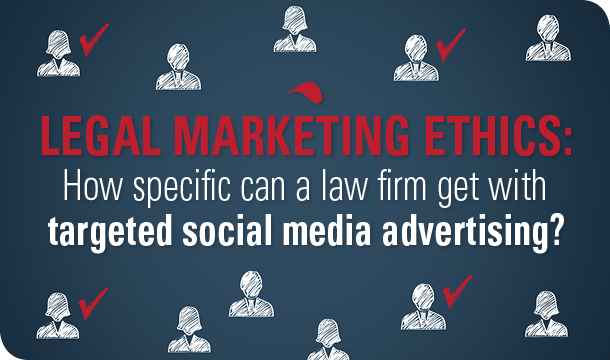 Law firm advertising and social media. These two subjects are complicated enough on their own, not to mention when you put them together.
Unlike radio ads and the Yellow Pages of yesteryear, today's social media platforms allow marketers to appeal to users in a more targeted and personal way than ever before.
But how much is too much? And where does that leave law firms?
State bar ethics rules still apply
While social media platforms like Facebook, Instagram and Twitter are unique, they aren't the Wild West. The standard legal advertising ethics rules still apply here: you can't guarantee outcomes, you can't provide false or misleading information, and so on.
Remember: Your firm's marketing, website and social media posts must always adhere to the rules of your particular state.
What if your firm practices in multiple states, you ask? While lawyers must comply with the rules in the states in which they are admitted, they also should comply with the rules of the states in which they are seeking clients, even if they are not admitted there.
That said, there are unique aspects to social media advertising that warrant discussion. Unlike broadcast media, which casts a wide net, social media advertising allows you to tailor your messaging to particular users based on certain demographics, behaviors, interests and more.
This is especially valuable given how many people are now on social media and how saturated news feeds are today. However, recent changes to Facebook's algorithm prioritize posts from friends and family that spark conversation over public content from publishers and brands. That's made it harder for marketers and advertisers to reach users without paying a premium.
So you want to reach the right prospective client and not waste your ad budget… but how specific can you be?
Getting personal: targeting vs. excluding
According to Facebook's advertising policies:
Ads must not discriminate or encourage discrimination against people based on personal attributes such as race, ethnicity, color, national origin, religion, age, sex, sexual orientation, gender identity, family status, disability, medical or genetic condition.
In other words, you can target certain demographics with your ad, but you can't exclude groups of people from viewing it based on criminal record, financial status, age, etc.
Furthermore, if the copy in your firm's advertising singles out or implies targeting of one of the above attributes, it will be rejected by Facebook's algorithm. That means you can't use phrases like:
"Have you been wrongly convicted?"

"Seniors like you are eligible…"

"Bad credit? We can help…"
In general, most states view a law firm's social media pages as equivalent to a website and thus subject to the state bar's advertising and marketing ethics rules. (Texas, in particular, has rather strict internet advertising rules.)
In general, it's wise to carry these rules across all social media platforms, though we're just referencing Facebook above. And when in doubt, reference your state ethics rules first.