February 23, 2017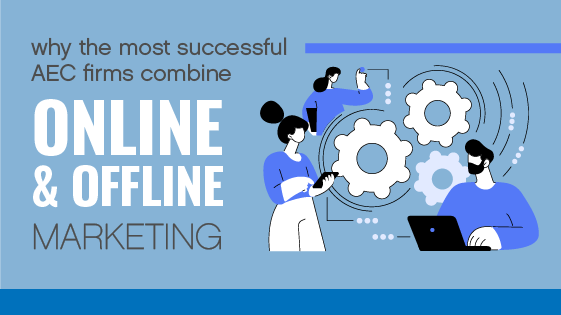 I've said it before, and I'll say it again: The internet has changed the game for how architecture, engineering and construction firms grow their business.
Inbound marketing, which "pulls" clients in by educating and solving their problems online, has stolen the spotlight from the traditional "push" tactics of outbound marketing (think: trade shows, advertisements, cold calls, direct mail).
So does that mean outbound marketing is dead and gone? I think not.
For AEC firms, the key to success is achieving a balance between inbound and outbound, a strategic blend of online and offline marketing.
Inbound and content marketing for the AEC industry
There's a reason inbound marketing has surged in popularity: it focuses on the client and caters to the demand of the modern day prospect — including in the AEC industry.
Your prospective clients live online, but you won't capture their attention if you don't meet them where they are. The inbound philosophy centers around the journey your prospects take and it looks like this:
By attracting visitors with answers to their questions, you can convert them into leads. Nurturing those leads with useful, targeted content can help you close deals and turn those leads into customers. Continuing to satisfy your clients' needs and delight them with additional resources after a project is completed can convert them into promoters who sing your firm's praises and continue the cycle on your behalf.
Your AEC firm can't afford to not adopt an inbound strategy if it wants to excel in today's marketplace.
4 reasons inbound marketing is crucial for AEC firms
The AEC industry is complex and research-based — Your prospects are smart and they do their homework. Entire committees often make decisions on whether to hire your firm for a project, so you need content to back you up. Is your firm's name popping up when they're doing their online research? Do you have enough content on your website that showcases your expertise, insights and approach? By letting prospects browse through e-books, blog posts, videos and more on your website, you empower them to make educated decisions. Today's clients have come to expect as much information as possible, at their fingertips, and if they don't have it, they'll go elsewhere.
Your services aren't a commodity — You don't sell a singular product or widget, you sell a highly skilled service. AEC projects are big money, and designing and constructing a building isn't an impulse buy. Before spending that kind of money, your prospects will have questions. Are you providing the answers?
All projects are ultimately stories — Construction and design projects are massive processes that take time. Prospective clients want to see how you do what you do. Case studies and other storytelling methods are how you turn your portfolio into lead-generating content.
You're up against a lot of competition — Your prospective clients have a ton of firms to choose from to complete their projects. You don't want to be the low-cost option, but how do you prove your worth? Quality content that provides value and establishes your firm as a trusted authority ensures you stand out.
What role does outbound marketing play in the AEC industry?
Okay, we know we can't ignore the inbound methodology.
But if outbound isn't dead, where does it fit into an AEC firm's marketing strategy?
Outbound tactics are still valuable in complex markets where critical thinking is paramount, specialized skills are involved and developing personal relationships have long been the ultimate sales tool.
For example, traditional channels like trade shows give prospects the opportunity to:
Meet face-to-face with firms and subject-matter experts (SMEs)
See demos and discuss specifics first-hand
Attend technical sessions so they can do their jobs better
Get to know the people they might want to do business with
Outbound tactics can sometimes produce quick results. For example, you can easily walk away from a weekend-long trade show with a pocket full of qualified leads. However, outbound alone isn't very effective.
To get results, you need to combine outbound tactics with inbound strategies.
For example:
After the trade show, that pocket full of qualified leads is entered into a lead nurturing campaign, filled with helpful, valuable content
You run a display ad campaign, but instead of simply talking about your firm, you promote your latest e-book, sending readers online to download your e-book, capturing their contact information and enabling you to market to them in a richer, longer-term, more value-added way
Instead of cold-calling leads to talk about your firm and ask for a sales meeting, you call instead to offer them a resource, such as a research study or white paper
The biggest benefit to outbound marketing is the in-person or human connection it can provide — but this only works well when paired with inbound strategies. Yes, trade shows, in-person meetings and follow-up calls are still important, but think of it this way:
The problem with cold calls isn't the "calling" part, it's the "cold."
Nowadays, you must invest in online marketing. There are countless examples of firms that are leveraging content marketing and inbound strategies to grow their business. Balance your plan of attack and you're on your way to winning more contracts.