July 28, 2016
A field trip through the 7 key elements of a great release
As a kid in grade school, the words "we're watching a movie today" was music to my ears. Would it be another boring PBS documentary or something exciting like "Bill Nye the Science Guy?" No, even better — "The Magic School Bus."
I was never a fan of science (art class was my happy place), but somehow, the ridiculous and lighthearted Ms. Frizzle knew how to make the dullest of science content seem like a trip to the fair. Thanks to her, I could expect a solid A on those science tests.
So, in an attempt to channel my inner Ms. Frizzle, I'll be taking you on a bus ride through the anatomy of a press release.
Understanding the basics of the press release
The content — A press release is a short description of the news you're announcing (think one to two pages), not the full-length story. Did I mention you should keep it short?
Lucky for us communication professionals, the press release hasn't changed much since the first one in 1906 (shout-out to the man Ivy Lee for changing the world of media relations). Without waiting to see how journalists would report a Pennsylvania railroad accident, Lee, financial newspaper reporter turned public relations officer, took it upon himself to write up a release to distribute to journalists.
Before you start writing anything, you need to know your purpose. Answer questions such as:
What's the purpose?
Who is it for?
What do I want to say?
Uncover these answers first, and it will make the press-release-writing process much smoother.
The format — Press releases should be written in Associated Press (AP) style for maximum media-friendliness. Get acquainted with the AP Stylebook (or as I like to call it, the "journalist's bible") for quick references on proper capitalization, terminology and formatting for every word or phrase imaginable. A well-written press release is readable and understandable to someone who has no prior knowledge of the announcement.
The anatomy of a perfect press release: 7 key pieces to include
1. Eyes (logo and headline): Headlines are like the eyes of the release — it's the first thing the reader sees so you must make it catchy but informative. Include keywords to make it easy to search on your website and "FOR IMMEDIATE RELEASE" to ensure that the news goes out ASAP.
2. Neck (subheadline and dateline): A subheadline supports and elaborates on the headline, helping the reader quickly understand the release subject matter. The dateline precedes the first paragraph and consists of the:
3. Shoulders (lead paragraph): Every release needs to follow the inverted pyramid style, so all of the most important information should be towards the top. Most people don't read past the first paragraph, so it's crucial you put the most compelling information in the lead to hook readers and the media. All of this information should articulate the:
4. Torso (body paragraph): The body paragraph provides further detail on the lead paragraph. While still keeping the release short, you can elaborate on why this announcement is important. Also ensure your release is not a sales pitch. Press releases are strictly for reporting news.
5. Arms (quotes): While press releases must be fact-driven, it's always smart to include a statement from your organization, or even a third-party representative, to add more credibility. Be careful with your quotes though, as they should shape your announcement by not only supporting it but also adding something to your overall message.
6. Legs (boilerplate): The boilerplate is the most consistent element of your company's press releases and should be in every release. A boilerplate consists of a few succinct and straightforward sentences that strategically describe your company.
7. Feet (contact information): I'm sure you've guessed it — the contact information section gives the name, title and email of a person the reporter (or whoever is reading the release) can contact for further information. This should be someone you've trusted to represent the company. She/he should be trained for media if asked for an interview or statement.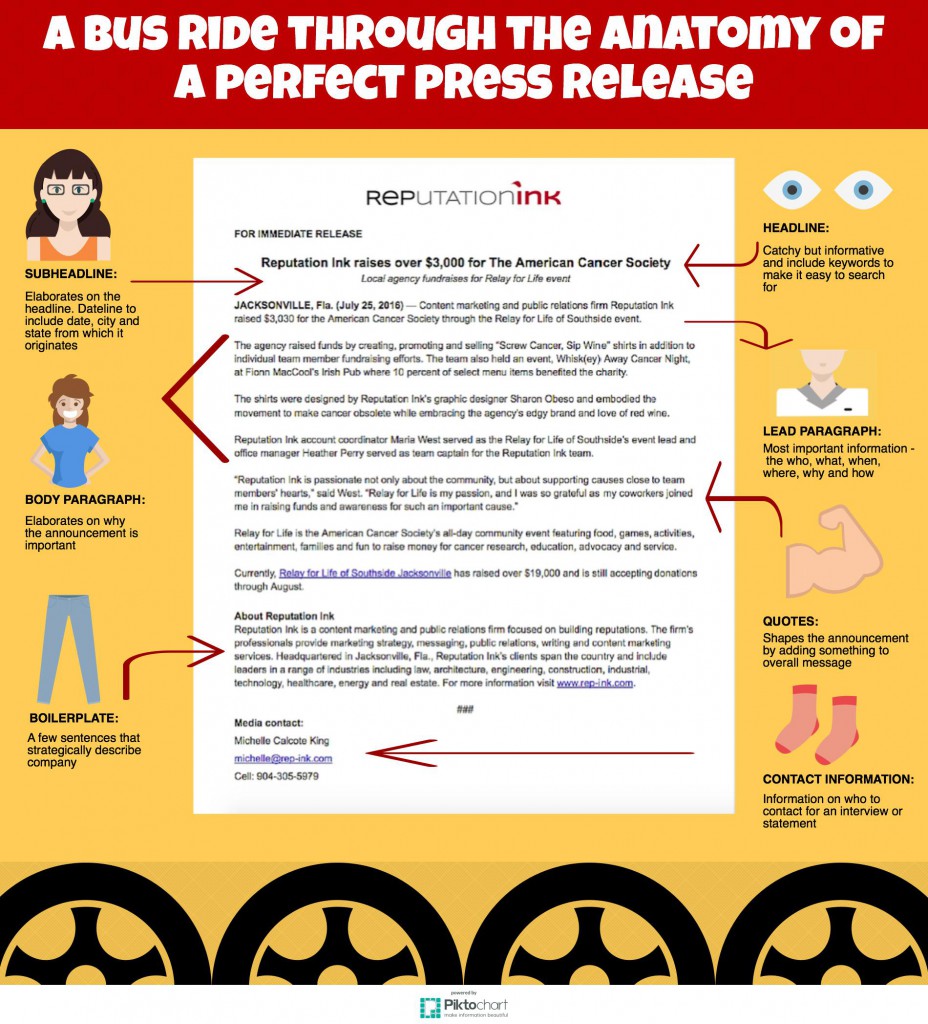 Next stop: Build your media list
We've explored the ins and outs of a perfect press release, so now what? Before you get too click-happy and send it to every media outlet in existence, do your research on the outlets that could benefit from the release. The information that your company deems as important may not seem that way to the public and could affect your reputation. The best way to figure out who you should send it to is to build a media list. It takes a while (I would know — so do spreadsheets, glossaries and even press releases, for that matter. But what else are interns for?) but it's something you can use for your entire public relations strategy.
Next time you have press to pitch, ensure you think like Ms. Frizzle. Examine your press release, checking for the seven crucial elements for press success.