March 30, 2016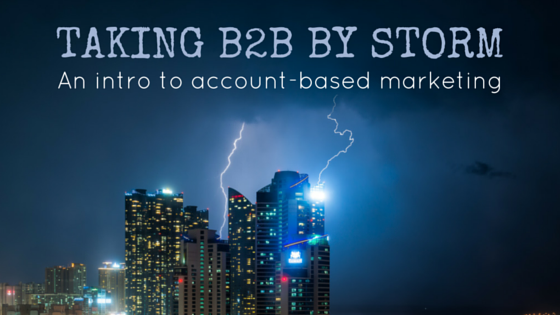 Hey there.
You're probably reading this because you:
a) like reading everything I write
b) think lightning is BA
c) want to learn the basics of account-based marketing (ABM)
Whoever you are, welcome. And unlike IRL introductions, there are no sweaty handshakes involved, so let's get down to business(-to-business).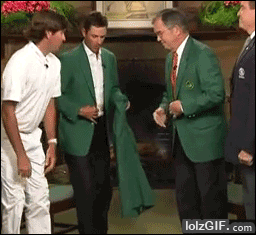 Source: lolzGIF.com
What is ABM?
ABM is a marketing strategy that hones in on accounts, or targeted businesses, instead of trying to rake in many single leads. ABM software company Engagio put together this handy 124-page e-book (I'm telling you, this thing's a beast), but I'll just be covering the basics here.
Here's Engagio's definition: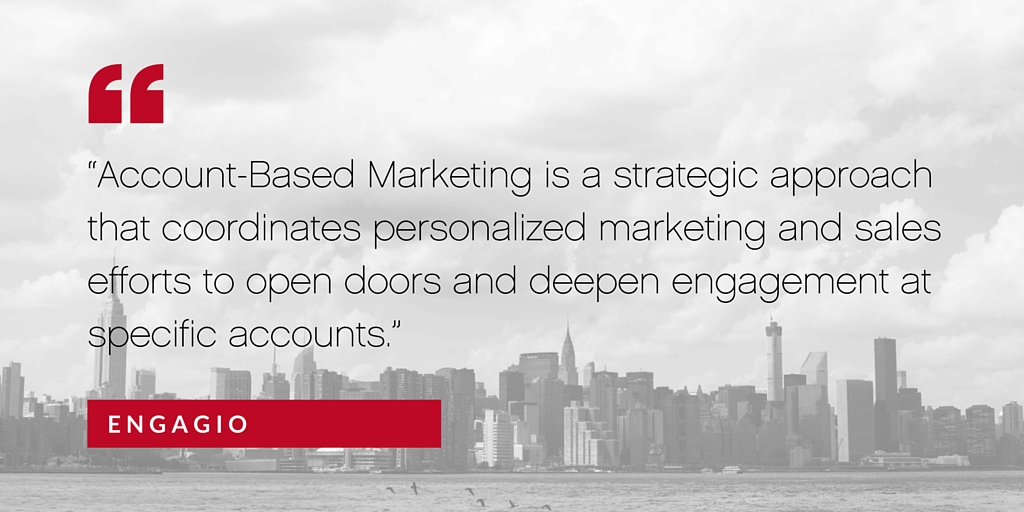 Instead of developing buyer personas and developing content to attract leads who fit those buyer personas, marketers pursuing an ABM strategy target actual people at actual companies, and strategically pursue that business through a mix of both marketing and sales tactics. In short, it's ultra-targeted, smart and to-the-point.
Electrify your strategy
Why does ABM focus on "accounts" versus "leads"? Bear with me as I make this storm analogy real quick:
A lead is a raindrop —  Raindrops are single baby bodies of water that fall into a bigger body of water (eventually). So do B2B leads in your sales funnel. The only problem is that these leads aren't necessarily making decisions for the company alone; in fact, up to 17 people influence a B2B deal. Not only does that mean the ones doing the preliminary "to-pursue-or-not-to-pursue" research aren't the ones with decision-making power, but that a buying decision has to travel down a choppy river of potential death.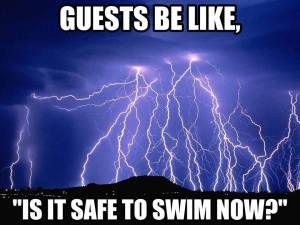 Source: trokspot.wordpress.com
An account is that swimming pool you're not supposed to be in during a storm — Eligible accounts are attractive to the lightning of your ABM strategy. They are a collection of water droplets put together as one body and are all shaped uniquely — the company. They respond to electricity and make the decision to shock as one, and fast. The electricity spreads horizontally, targeting anything in the water. And like lightning when it strikes, account-based marketing efforts can spread throughout an account's organization for more business without wasting its time with rubber (non-decision-makers and unqualified leads).
When does ABM make sense? 
In addition to companies that target large accounts and deals, B2B companies that have a specific clientele and a clear list of eligible accounts are a perfect fit for account-based marketing. For example, a company that sells habitat equipment for manatee rehabilitation centers would have an ideal account list.
BTW, the Jacksonville Zoo is getting a manatee rehab center and I'm pumped.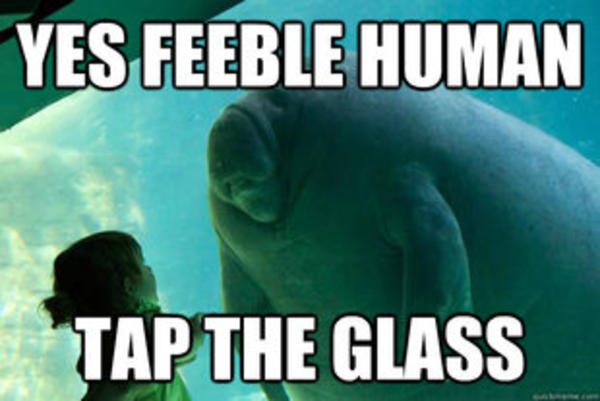 Source: knowyourmeme.com
How do ABM and content marketing work in tandem?
At Rep Ink, we love content marketing. We eat, sleep and breathe it. Content marketing teaches that if you provide buyers with valuable, helpful content focused on their needs, they'll reward you with their attention, trust, respect, and ultimately, their business. However, while content marketing works, it doesn't work alone. Content must be promoted, and it must be integrated into your sales organization.
Just as inbound marketing is content-driven, so is ABM. And you must apply the same content marketing principles: be helpful and valuable and stay laser-focused on your buyer, not your company's agenda.
With ABM, instead of publishing content to bring in a wide range of prospects into your funnel (the typical inbound marketing and lead generation strategies), you are identifying targets first, then developing highly personalized, relevant and helpful content for them, which is typically delivered by your sales team.
Why account-based marketing is worth loving
Engagio lists these benefits of ABM that are evidently working for companies already practicing this strategy:
Max efficiency — all of your marketing resources, time and budget are put into the accounts you want to close and the people you want to close with
Bigger deal wins — bigger deals = bigger revenue. Demandbase found account-based marketing deals were 40-percent higher for mid-market and 35-percent higher for enterprise accounts than traditional lead gen
Close rates on steroids — Demandbase saw 285-percent higher close rates with ABM. BAM
Acceleration of deals — communicating with the decision-makers means buying arrangements can be made fast without the weight of a tiered path
Alignment of marketing and sales — when marketing and sales teams get along, everyone wins. A clear strategy on who you're selling to means sales teams can use the necessary insights to close those deals
Better customer experience — personalization in sync with a business's needs means accounts can get the attention they want from vendors who seem to have a relevant, cohesive story just for them. Great customer service is always a competitive advantage
Expansion of the account — ABM enables you to use your existing relationship with the client to dive deep and wide into new business opportunities, creating a steady flow of cash money for you

Source: tumblr
Here are some other electrifying stats: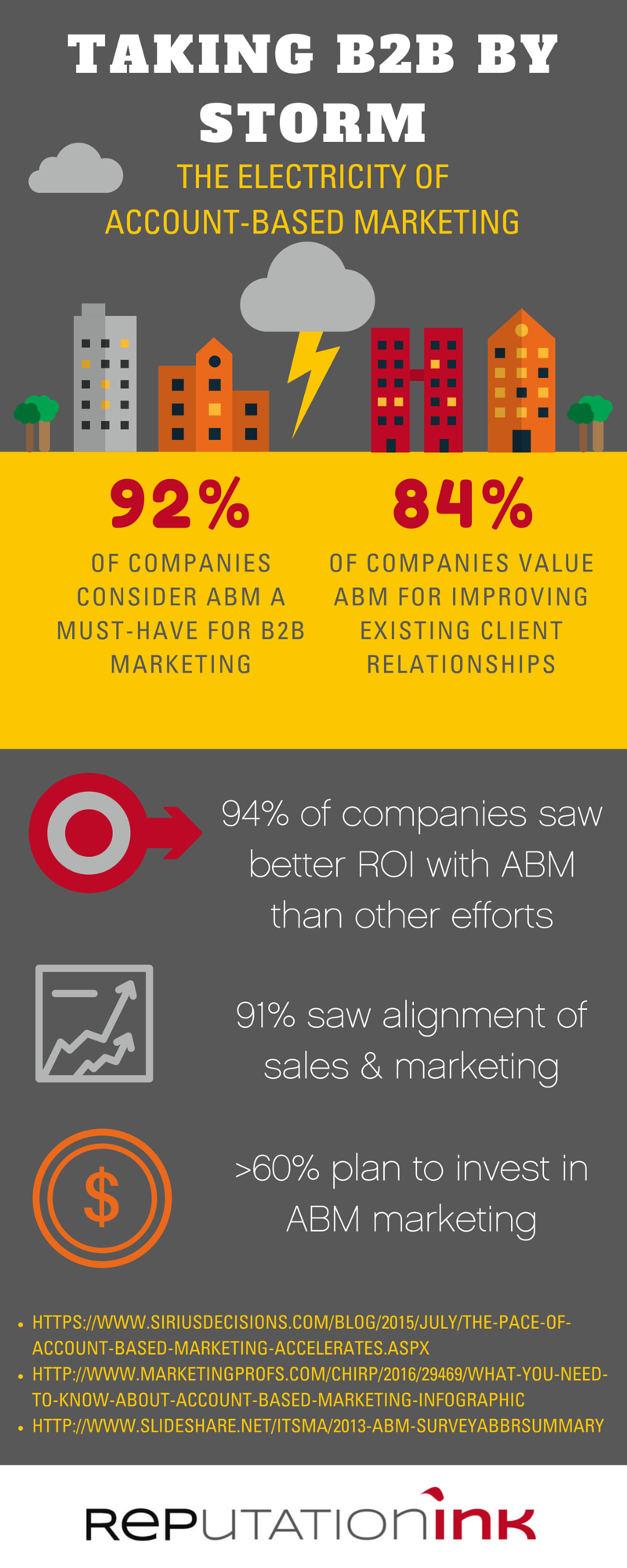 After doing a little more digging on ABM, you'll be ready to dive into Marketo's recommended tactics for implementing account-based marketing:
Know and define your target accounts — Who do you clearly need to target? Consider factors such as deal size, long-term / repetitive sales and influence in the market
Identify key players — Who will likely be involved in making purchase decisions? This means creating good-ol' buyer personas, because remember, accounts are made of people
Get that content under way — What material does your target want to know or need? Think about their specific business challenges and produce content around that
Pick your channels — Where are these people spending time online and how can you optimize your communications for their worklife? Consider all social media accounts, email and paid ads
Measure, tweak and go —  What's working or not working? What are the trends? How can you make it better? Remember to be patient — businesses take time to make decisions (and even longer than they expected in the first place, according to a survey by CEB)
So, my dear reader, I hope you enjoyed meeting ABM today and find it useful to beast up your marketing strategy and impress your boss.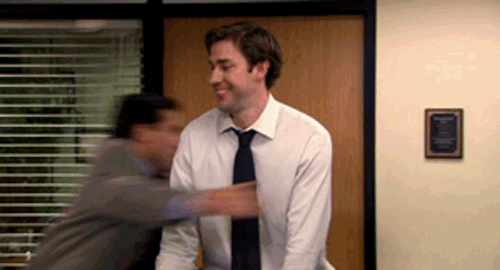 Source: bookish.com
As marketers and their tactics continue to evolve, what big trends do you see happening this year? Share your thoughts with HubSpot for its 2016 State of Inbound report here.